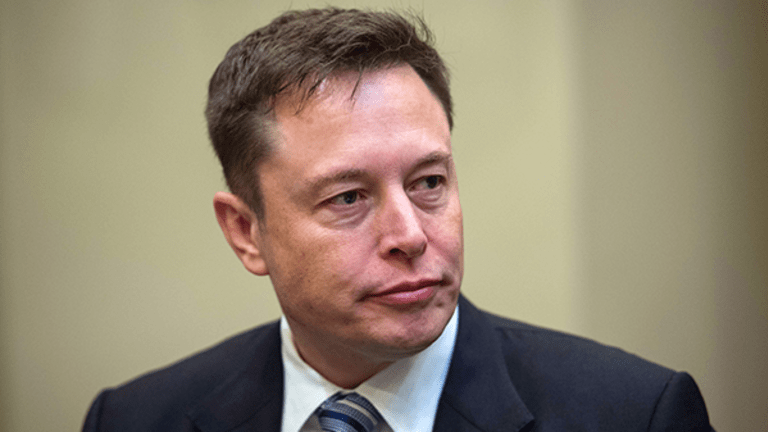 Tesla Is Extremely Overbought and Institutions Look Like They Are Dumping Stock: Photo
It could get ugly for Tesla bulls.
Time for a reality check on Tesla (TSLA) - Get Tesla Inc Report .
There was a potential blow-off top in Friday's session on the daily Tesla chart, suggesting that buyers are exhausted and that the stock is headed lower. A bearish engulfing candle formed and volume spiked over 150% relative to the 50-day moving average of volume, which is reflective of institutional selling. The stock has reached a price objective measured off the December 2016 low and rallied over 100% in that time, taking it into an extremely overbought condition. It may require a pullback to recharge its batteries, and a tradable intermediate-term top could be in place.
View Chart »View in New Window »
The technical signs on the weekly time frame put the daily price action in context.
Tesla had been making a series of 42-week cycle highs over the past three years that tested resistance in the $280.00 area. The brief pullback after the March retest this year was followed by a breakout that took the stock up to the $375.00 level. This is a measured move objective arrived at by adding the height of the December 2016 low to the $280 level, and then adding it to the resistance breakout. The high-wick candle on this chart suggests trader sentiment shifted quickly once the stock price reached the $375.00 level, and that is confirmed by the action on the daily time frame.
View Chart »View in New Window »
A wide-range bearish engulfing candle formed in Friday's session on the daily chart. The high was made at the measured move target price and at the top of a regression channel calculated over that same time period. The relative strength index is moving down and out of its overbought zone but moving average convergence/divergence has yet to catch-up with the recent price action. Volume surged on Friday relative to the 50-day moving average of volume, and positive Chaikin money flow dropped sharply suggesting institutional distribution and a potential blow off top.
Tesla is a speculative short at its current level using an initial buy-to-cover stop above Friday's high. The fundamentals do not apply to this stock and while the technicals have done a better job of predicting price action, this trade requires close monitoring.
Visit here for the latest business headlines.
This article is commentary by an independent contributor. At the time of publication, the author was short Tesla.