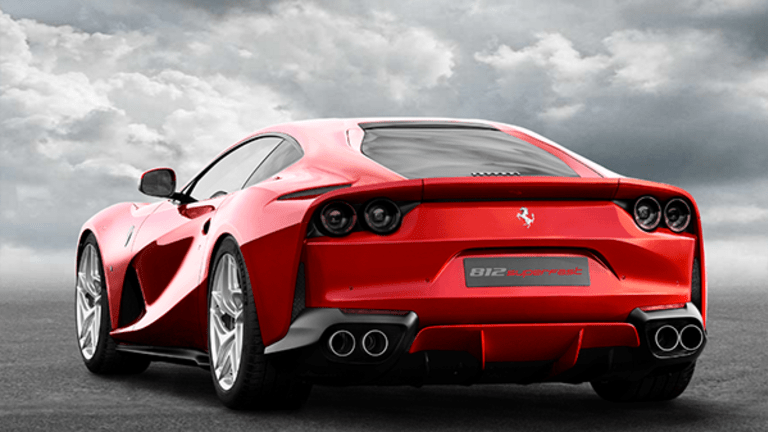 Tesla Headlines This Lineup of 12 Amazing New Cars for 2018
Tesla isn't the only car-maker looking to make great looking cars. Here's a peak into some hot models fro 2018.
Fossil fuel-powered vehicles may soon begin disappearing from roads in the United Kingdom.
Britain's clean air strategy released earlier this month calls for an end to the sale of new gas and diesel cars by 2040, just as automakers such as Volvo Cars and Toyota Motor Corp. (TM) have announced a greater focus on electric vehicles, which release zero emissions. The U.K. government will also grant more than 200 million pounds, or $260 million, to local governments to reduce air pollution.
France has also set a 2040 target to end the sale of traditional cars, as a part of Paris climate change accord of which Britain is also a member. Norway has set a deadline to sell only electric cars starting in 2025, and India plans to do so by 2030.
Automotive manufacturers have made several big announcements recently about increasing the accessibility of electric vehicles. Earlier this month, Volvo announced all of its vehicles will carry an electric engine by 2019. Shortly after, the Model 3, Tesla Inc.'s (TSLA) first vehicle built for the masses with a $35,000 starting price, began production.
Toyota has said it is developing a solid-state battery that could provide twice the range of electric vehicles using lithium-ion batteries and be able to charge in minutes, The Wall Street Journal reported.
For now, the 2018 model-year vehicle lineup boasts several anticipated vehicles, a few of which are electric or are available as hybrids. Here are a dozen such cars.
Car Enthusiast? Don't miss these galleries..
These 13 Cool Cars From the 1980s And 1990s Are Absolutely Worthless Collectibles
These Are the 30 Most Expensive Cars Ever Sold at Auction
10 Station Wagons That Are Better Than Your New $50,000 Compact SUV
10 Hot Luxury Cars to Buy Instead of a Tesla
Dodge Challenger SRT Demon - $84,995
The limited-production Challenger SRT Demon from Fiat Chrysler Aug Rg (FCAU) is a street-legal drag racer. With a supercharged 6.2-liter V8, the vehicle can sup up to 840-horsepower. Dodge claims it is the largest functional hood scoop opening ever. The Demon can accelerate to 60 mph in just 2.3 seconds and travel a quarter of a mile in 9.65 seconds at 140 mph. It is also the first production car to do a front-wheel lift, according to the Guinness World Records, and generates the highest G-force at launch ever recorded in a stock model.
Here is TheStreet up close and personal with one. 
Ferrari 812 Superfast - $335,275
The 6.5-liter 789-horsepower V12 engine on this Ferrari (RACE) lives up to its name, able to travel from zero to 60 mph in 2.8 seconds with a top speed of 211 mph. It is the fastest car Ferrari has ever made, but it is also the company's first to come with electric power steering. The driver will need to it to react at that pace.
Lamborghini Huracan Performante - $274,390
A retuned version of the base model's 5.2-liter V12 engine puts 631 horsepower into all four wheels through a seven-speed dual-clutch gearbox. The Lamborghini can reach 60 mph in just under three seconds, flying with the help of light-weight materials such as aluminum and carbon fiber being used as well as the company's new "Ala" active aerodynamics system.
Meanwhile, here is the Lambo TheStreet just drove. 
Honda Civic Type R - $33,900
This Civic from Honda Motor Corp. Ltd. (HMC) is really a late 2017 model, but it has a 2.0-liter turbocharged four-cylinder engine that packs 306 horsepower in a small, lightweight frame. The coupe runs the power through its front wheels by way of a proper short-throw six-speed manual transmission (with no automatic offered) and a helical limited-slip differential; it rides and handles adeptly via an adaptive suspension, and stops on the proverbial 10-cent piece with a solid set of Brembo brakes. And yes, there's a giant-wing spoiler at the rear for the sake of both visceral and visual appeal.
Lexus LC - $92,000
This new top-drawer rear-drive luxury performer comes with a 5.0-liter V8 with 471 horsepower and a 10-speed automatic transmission. It can accelerate to 60 mph in 4.5 seconds. It also comes in a hybrid version, which includes a 3.5-liter V6 with dual electric motor and generators for a combined 354 horsepower.
Tesla Model 3 - $35,000
The Model 3 is a smaller and less-expensive alternative to the Tesla Model S. The five-person seater can run for a claimed 215 miles on a signle charge and hit 60 mph in around 5.6 seconds. Similar to the Model S and Model X SUV, it comes with Tesla's Autopilot system for a taste of the self-driving experience.
Elon Musk enjoys the Model 3 handover party.
Nissan Leaf
Nissan Motor Co. (NSANY)  is expected to reveal the redesigned version of its electric four-door Leaf in September. Its  maximum operating range is expected to be more than 200 miles on one charge. The vehicle is expected to offer multiple battery options, have one-pedal driving and include the debut of Nissan's ProPilot technology for limited self-driving on the highway, according to Forbes. For the most part, however, little is known of the automobile, including its sticker tag.
Buick Regal GS - $39,990
The newest Regal line from General Motors Co.'s (GM) Buick division adds a our-door coupe Sportback and Tour X station wagon in addition to a redesigned GS sports sedan. The GS is the performance leader in the Regal line with a new 3.6-liter 310-horsepower V6 engine and a nine-speed automatic transmission. The Sportback and Tour X both have a 2.0-liter, 250-horsepower turbo-four engine. All-wheel drive is an option on the Sportback and comes standard on the Tour X.
Honda Accord - $23,330
Among the industry's top models, the Accord sedan becomes shorter and lower for 2018. The car has a choice between two turbocharged four-cylinder engines, with the base 1.5-liter producing 192 horsepower and a new 2.0-liter engine releasing 252 horsepower and 273 pound-feet of torque. A new two-mode driving system allows drivers to select between normal and sport settings. Honda allows provides a hybrid edition with an electrified 2.0-liter four-cylinder engine for extra miles per gallon.
Toyota Camry
Also a top seller, the Toyota Camry midsize sedan features a new sportier style. In the SE and XSE versions, a 2.5-liter four-cylinder engine with 206-horsepower comes standard, though an updated version of its 3.5-liter V6 with 301 horsepower is available, as well. Both come with an eight-speed automatic transmission. The hybrid version has an estimated 52 combined city-highway miles per gallon.
Car Enthusiast? Don't miss these galleries..
These 13 Cool Cars From the 1980s And 1990s Are Absolutely Worthless Collectibles
These Are the 30 Most Expensive Cars Ever Sold at Auction
10 Station Wagons That Are Better Than Your New $50,000 Compact SUV
10 Hot Luxury Cars to Buy Instead of a Tesla