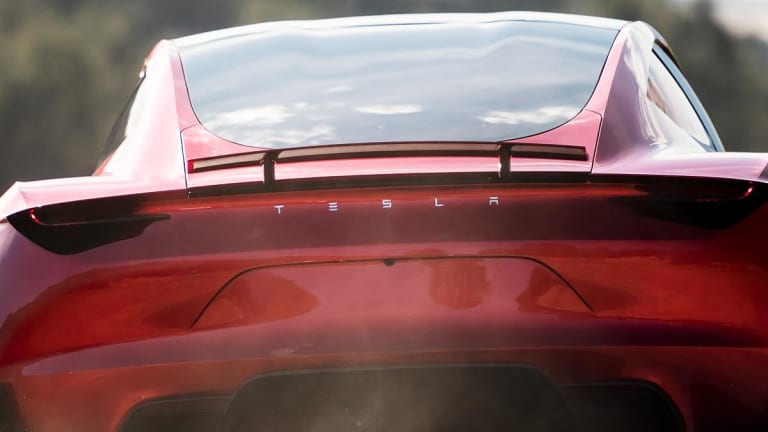 Tesla Falls on Report That Saudi Arabia Hedged Most of Its 4.9% Company Stake
The hedge protects the company if Tesla's shares take a wild downturn, but also caps gains if the stock rises sharply.
The Kingdom of Saudi Arabia's Public Investment Fund is hedging most of its 4.9% stake in electric vehicle maker Tesla Inc. (TSLA) - Get Report , the Financial Times reported.
The Kingdom used JPMorgan Chase to help it hedge its bet on the company shortly after the market closed on Jan. 17, sources told the Financial Times. 
The fund still holds the company's shares but now has insulated itself if the company's stock price falls. However, the fund also has capped its gains should Tesla rise, in essence freezing its $2.9 billion investment in the company. 
This development comes just four months after Tesla CEO Elon Musk settled fraud charges after he claimed that the Saudis backed a plan of his to buy out shareholders and take the company private. 
Musk responded to the Financial Times report saying, "To the best of my knowledge, there has been no communication with PIF for months. I thought they had probably sold their shares. We don't know if they own any at all." 
The Securities and Exchange Commission charged Musk with making "false and misleading statements," which led to Musk settling with the regulatory body by paying a personal fine of $20 million while also agreeing to step down as chairman of the company. 
Tesla shares have been under pressure over the past couple of weeks after the company announced that it is cutting 7% of its workforce while also warning that it was facing a "very difficult" time ahead as it ramps up production of its mass market Model 3 sedan. Tesla reports quarterly earnings on Wednesday.
Shares of Tesla fell 0.2% on Monday.