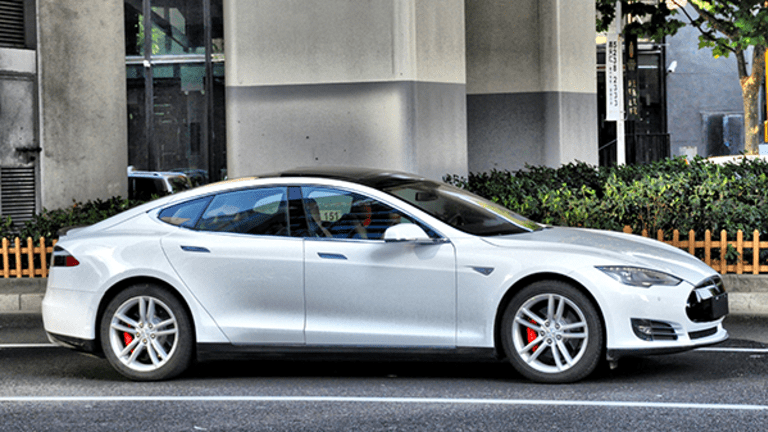 Researchers at Argus on Tuesday upgraded Tesla Inc. (TSLA) - Get Tesla Inc Report shares to buy from hold and assigned the Elon Musk-run electric car pioneer a $444.00 a share price target.
The analyst, Bill Selesky says he lifted his rating to account for strong Model 3 orders, which he pegged at 1,800 a day. He also believes that Tesla will meet its 25% gross margin goal on the car, the fourth one it has released.
He suggested not surprisingly that ramped up production should also help drive down costs.
Selesky trimmed his loss estimate for Tesla's fiscal 2017 to $5.36 from $5.48 and said he expects Tesla to earn 50 cents a share in fiscal 2018.
"We now look for Tesla to reach breakeven two quarters earlier than we previously expected and to achieve full-year profitability in FY19," the analyst concluded.
The news comes shortly after Musk, on a call with investors hosted by Goldman Sachs to discuss its just-unveiled $1.5 billion bond offering, said he thinks Tesla could eventually produce 700,000 Model 3 cars each year, according to Electrek. Musk previously estimated 500,000.
"They are constantly spending on the next big innovation, whether the public knows what that is or not," James Albertine of Consumer Edge Research LLC. "The market should want to give innovative companies more capital as long as they perform, and Tesla is clearly performing."
More of What's Trending on TheStreet:
Google Fires Diversity Memo Author -- Here's What Top Experts Are Saying
The Stock Market May Be Poised for a Replay of the 1987 Crash