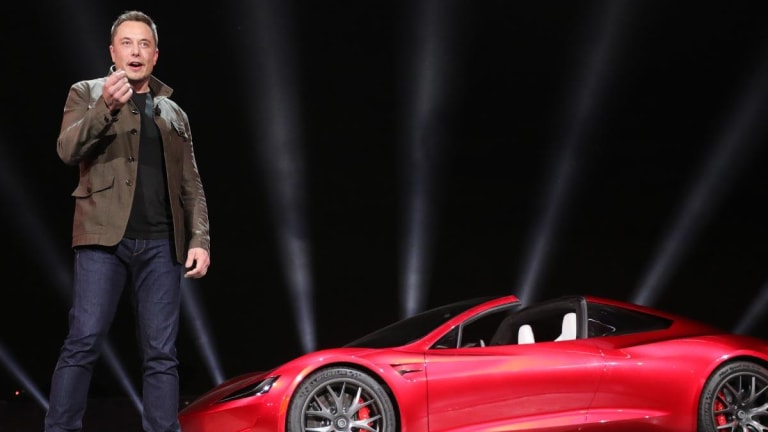 Tesla's Deliveries Report Featured Few Details About Its Financial Performance
Unlike some previous reports, Tesla's Q3 report didn't feature any commentary about near-term margin, profit or cash-flow trends.
In addition to Tesla's (TSLA) - Get Tesla Inc Report deliveries miss, the lack of color shared by the company about its Q3 bottom-line performance might be contributing to its Thursday selloff.
To recap: Tesla reported delivering 97,000 vehicles in Q3 -- up by 1,800 sequentially and around 13,000 annually, but below a consensus analyst estimate of 99,000. Deliveries for the Model 3 sedan came in at 79,600, up by 3% sequentially and 43% annually. By contrast, combined deliveries for the Model S sedan and Model X crossover totaled 17,400, down fractionally sequentially and down 37% annually.
Tesla's stock has dropped 5.1% in Thursday trading to $228.62 following its report, leaving it down 31% on the year. Worries about Model S and X delivery trends, sales model changes and -- as sales of cheaper versions of the Model 3 become a bigger part of Tesla's mix -- margin pressures have all weighed on shares this year.
The deliveries miss has raised some fresh concerns about Tesla's ability to hit its full-year guidance for 360,000 to 400,000 vehicle deliveries. The company will need to deliver about 105,000 vehicles in Q4 to hit the low end of its guidance range; currently, the Q4 deliveries consensus stands at 104,000.
The Q3 deliveries report did have some silver linings. Tesla said (without sharing a figure) that its net orders hit a record in Q3, and that its order backlog grew sequentially. In addition, Elon Musk's firm disclosed that 15% of Model S and X deliveries and 8% of Model 3 deliveries involved transactions subject to lease accounting, which on average carry higher margins.
In a Thursday note, Nomura analyst Chris Eberle, who has a Neutral rating on Tesla, estimates that the percentage of total deliveries subject to lease accounting grew by three points sequentially to 9%. He added that Tesla's gross margin (GM) on lease vehicles was about 49% in Q2, far above a margin of 17.7% for cash sales.
But while it shared some lease accounting data, Tesla provided no commentary in its deliveries report about its broader financial performance during Q3. Nor did it share anything about its expectations for Q4, whether in terms of deliveries or profitability.
This lack of color continues a recent trend of Tesla sharing less information in its deliveries reports. Excluding the paragraphs sharing its quarterly production and deliveries numbers, Tesla's Q1 deliveries report featured six paragraphs about its performance and expectations. By contrast, the Q2 deliveries report featured just three such paragraphs, and the Q3 deliveries report contains just two.
As I mentioned earlier this week, Tesla has reached a point in its journey where markets arguably care as much about how profitably it's selling its cars as they do about how many of them are being sold. This particularly seems to hold true in the wake of the company's Q2 earnings report, which featured a major EPS miss amid a weaker-than-expected GM that raised questions about the margin profile for cheaper versions of the Model 3.
For the moment, Tesla is expected on average by analysts polled by FactSet to lose $0.13 per share in Q3 on a non-GAAP basis, and to report slightly negative free cash flow (FCF). The company is still expected to be profitable and cash-flow positive both in Q4 and over the whole of 2020, but consensus estimates have fallen sharply over the course of 2019. For example, whereas Tesla's 2020 FCF consensus stood at $2.07 billion at the end of 2018, it currently stands at $617 million.
Against such a backdrop, any info shared by Elon Musk & Co. that would calm investor worries about Tesla's near-term margin, profit and/or cash-flow trends is bound to go over well. Unfortunately, virtually no such info was shared in Tesla's latest deliveries report.
Save 57% During Our Fall Sale. Join Jim Cramer's Action Alerts PLUS investment club to become a smarter investor. Click here to sign up and save!