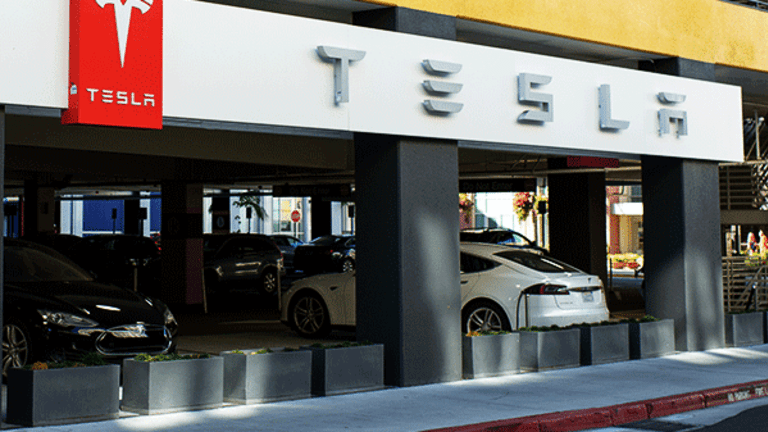 Tesla Could Explode to Record Highs As Company Reportedly Comes Closer to Making Cars In China
Tesla's stock run poised to continue.
Tesla Inc. (TSLA) - Get Tesla Inc Report shares are expected to open sharply higher Tuesday amid reports the group may open a new production facility in China, a move that would avoid tariffs in the world's second-largest economy but risk the ire of U.S. President Donald Trump's "buy American, hire American" industrial policy.
Bloomberg reported late Monday that Tesla could reach an deal with officials in China to build a new plant in the Lingang development zone near Shanghai, but would first need to arrange a joint-venture agreement with a local manufacturer in order to comply with Chinese law. 
Tesla shares were indicated to open 2.5% higher, based on after-hours trading, from Monday's close, suggesting an opening price of $379, just $5 shy of their all-time high, in a move that would extend their year-to-date gain to 73%.
However, opening a production facility in China, which is the world's biggest car market, could also ignite a reaction from President Trump, who has vowed to slap "substantial" border taxes on companies that move production bases overseas and then import products back to the United States.
"A company that wants to fire all of its people in the United States, and build some factory someplace else, and then thinks that that product is going to just flow across the border into the United States - that's not going to happen," Trump said in January. "They're going to have a tax to pay, a border tax, substantial border tax."
That said, CEO Elon Musk has never been afraid to challenge the President's assertions, Tweeting his unhappiness with Trump's decision to leave the Paris accord on climate change earlier this month and praising China's desire to pursue clean electricity over the next 15 years.  
Furthermore, any Tesla factory in China would, ostensibly, focus on sales to that market only, where a current tariff of 25% puts the bulk of its fleet at a substantial disadvantage to other clean-energy competitors - around 200 of which have already announced plans to set up manufacturing hubs inside the world's second biggest economy.
Visit here for the latest business headlines.
Read More Trending Articles:
Costco Sees an Extremely Damaging Flush In Aftermath of Amazon's Big Whole Foods Deal
Intel Just Got Smoked By AMD In the Race to Unleash a Super Chip
McDonald's Joins 5 Other Mega Brands In Ditching the Olympics