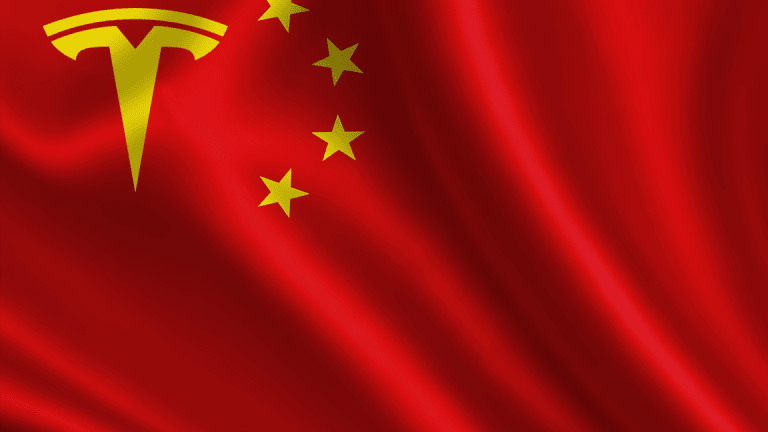 How Tesla Could Sidestep President Trump's Trade War With China
Tesla has announced that its Shanghai factory plans are underway -- here's why that could be critical in avoiding an impact from the trade war rhetoric.
Tesla has announced that its Shanghai factory plans are underway -- here's why that could be critical in avoiding an impact from the trade war rhetoric.
The "trade war" talk is back.
President Trump approved 25% tariffs on as much as $50 billion worth of Chinese goods, a move described as payback for intellectual property theft. The timing is interesting. China just announced lower tariffs for car imports, as well as allowing automotive manufacturers to have wholly-owned factories in the People's Republic for the first time.
The possibility of an escalating trade dispute with China isn't a welcome prospect for U.S. investors, and the major market indices are all down Friday as a result.
But not all stocks are getting knocked lower as a result of the brinksmanship.
Tesla Inc. (TSLA) - Get Report could actually have a silver bullet in its China strategy.
China is Tesla's fastest-growing market, thanks in large part to an aggressive policy of government mandates for electric vehicle adoption. It's also the biggest luxury car market on the planet, a status that makes it a perfect fit for Tesla's high-priced electric cars. And Elon Musk realizes that China could become an even more critical piece of the company's overall revenue mix in the years ahead; that's why Tesla is in the process of building a new wholly-owned Gigafactory in Shanghai.
By building cars specifically for the Chinese market in China, Tesla avoids having its cars taxed as a U.S. import.
They'll still be subject to tariffs, of course. Because Tesla's new factory is reported to be in Shanghai's free-trade zone, production is still likely to be subject to China's new, lower import tariffs, unless Tesla has worked out another arrangement with the government.
But the critical element is that, once the factory is up and running, Tesla won't be importing cars from the U.S. anymore. It'll be importing them from the Shanghai free-trade zone. That distinction could help Tesla stay out of the drama between the two countries.
Everything You Need to Know About Tesla Via TheStreet
Likewise, there is the possibility that Tesla cars built in China could actually skirt tariffs if Tesla sources parts locally. That could also open Tesla up to additional government subsidies for electric vehicles, which Chinese domestic automakers currently benefit from. It's unclear at this point whether Tesla's Chinese production will qualify for those subsidies.
Even without them, and with around a 50% price premium to Tesla cars sold here in the U.S., growth in China remains breakneck. Tesla's brand cachet is a powerful sales tool that Tesla is using to appeal to a growing population of wealthy Chinese car buyers.
While the final word on the China tariff war is quite a while away, Tesla may be able to steer clear of the kerfuffle.
This article is commentary by an independent contributor. At the time of publication, the author held no positions in the stocks mentioned.