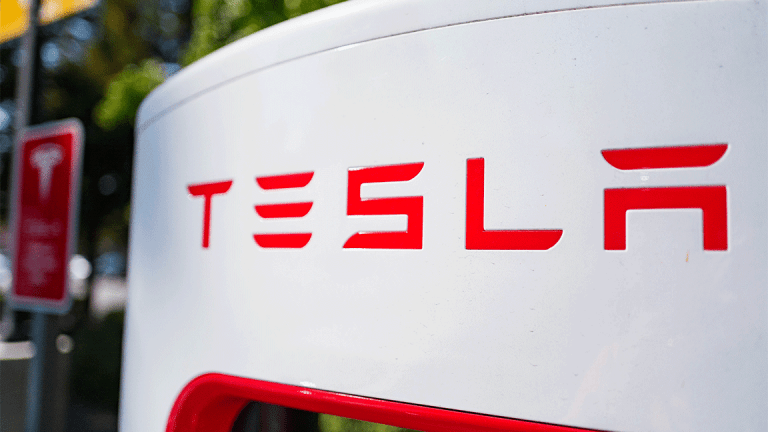 Why Tesla's China Business Could Explode
Tesla still needs a catalyst to break out of its momentum slump; could the latest news from China this week be it?
Tesla (TSLA) - Get Tesla Inc. Report could be sitting on a goldmine in China thanks to the latest news about the potential trade war with the People's Republic.
Chinese President Xi Jinping promised Tuesday to lift foreign ownership restrictions in the car industry, and reduce tariffs on imports of foreign cars. Tesla is arguably one of the biggest beneficiaries from this shift -- Tesla plans to build a factory in China, and its car sales in the country have skyrocketed in the last year, doubling to more than $2 billion.
With reduced tariffs, the firm stands to see even stronger growth numbers in 2018.
Likewise, Tesla has been investing heavily to support its Chinese fleet, building out its Supercharger network and expanding its retail presence.
Analysts are predicting that China could eventually become Tesla's biggest market for electric vehicles. And the latest round of news from the government could help to accelerate that.
Shares of Tesla are up more than 5% as of this writing on the news. The question now is whether that's a good enough reason to buy this stock.
To figure that out, we're turning to the chart for a technical look.
At a glance, the prevailing trend in Tesla's stock price is pretty unmistakable. Shares have been stuck in a shallow downtrend since last summer, a trajectory that's only really become clear with the benefit of hindsight.
That downward pressure on Tesla shares is significant because it means that investors should think twice before jumping into this stock -- at least for now.
Tesla has failed to break higher on the last four attempts to test trendline resistance, and while shares managed to catch a bid off of early April lows following concerns about the risks of autonomous driving after an Uber self-driving car killed a pedestrian in Arizona, it's still a little too early to say that buyers are back in control of things.
Simply put, Tesla still needs a catalyst to break out of its slump.
Maybe lowered trade barriers with China will be that catalyst.
For investors, the key level to watch remains trendline resistance at the top of Tesla's trend channel, currently right around the $350 level. If shares of Tesla can muster the strength to push through that price line, then we've got a clear indication that buyers have retaken control of the price action.
Until then, it makes sense to stay out of the driver's seat.
Before You Go
Get ready for the must-attend investing conference of 2018, hosted by none other than TheStreet's Jim Cramer. From an exclusive interview with PayPal CEO Dan Schulman to expert panels that touch on investing in the stock market to alternative investing, you won't want to miss the event TheStreet is hosting on May 5. Details are below.
How to Diversify Your Portfolio: A Boot Camp for Investors
Date: Saturday, May 5, 2018
Location: 117 West 46th Street, New York City
This article is commentary by an independent contributor. At the time of publication, the author held no positions in the stocks mentioned.