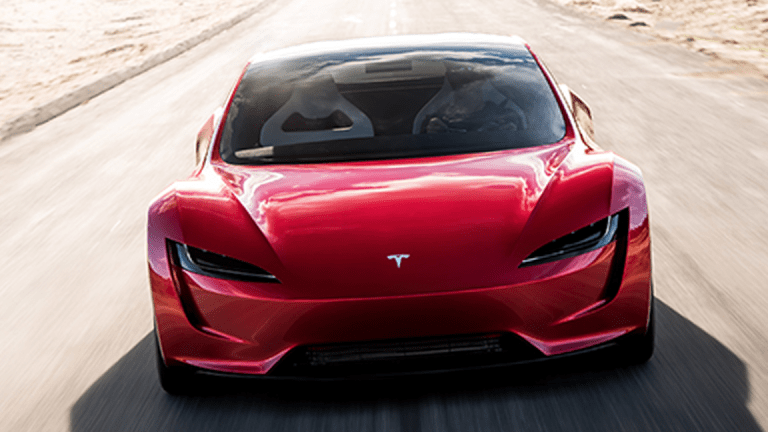 Tesla's Stock Chart Shows a Death Cross Fast-Approaching
The chart of Tesla shows an ominous signal for the stock.
Everyone likes Tesla (TSLA) - Get Tesla Inc Report , right? The cash burn king is up 46% year to date. One thing you can sure say about Elon Musk is that this guy is great at raising money. This firm has built a cult following among investors. I have already tried to go short this name twice this year, first getting my face ripped off early in 2017, and then making most of that back as September turned into October. I am currently flat, but am somewhat inclined to consider the name from the short side once again. Let's talk about it.
Last quarter, TSLA reported revenue growth of nearly 30%. Huzzah. Gross profit margin came storming in at 28% for the third quarter. Pretty good, huh? Not so fast. Consider that gross profit margins were more than 39% in the third quarter of 2016. Net profit margin? Don't go there. It's ugly. Try -20.75%. Whoa. EBITDA earnings? Try -$104 million for the quarter.
Debt? The current ratio (current assets divided by current liabilities) is above 1.0, just barely. The quick ratio -- which takes out inventories to leave just cash, accounts receivable and marketable securities in the numerator -- is just 0.66. What does that mean to someone who invests based on fundamentals? Clearly, this identifies a firm that could have difficulty meeting short-term cash needs. It looks as if this firm and its leader may have to go to the well, yet again.
So, let's take a look at a daily chart of TSLA going back more than a year. The good news, technically, is that the stock has already seen a 61.8% retracement of the move from the March lows through the double top culminating in September, and actually seen significant support in that spot. Relative strength has come off oversold levels, and money flow has clearly improved as November turned into December. All of those are largely positive developments.
Now, for some signs of trouble. Just as sure as we have seen support around $298, we have seen stiff resistance develop around $315. As the stock has remained range-bound between these two levels for about six weeks, the 50-day simple moving average (SMA) (thin blue line, currently $326) has been in steady decline. That line is rapidly converging on the 200-day SMA (thin red line, currently $324).
What happens should the blue line cross over the red line to the downside? That's called the "death cross" for a reason. See the stock's response to the 50-day SMA crossing over the 200-day SMA on the upside, way back in February. That was a "golden cross" and the stock behaved extremely well over an eight-month period in response. Reason to sell? A break here, and there is really nothing on the chart down into the $260s.
(This is an excerpt from Stephen "Sarge" Guilfoyle's Morning Recon, which now appears exclusively on Real Money, our premium site for active traders. Click here for a free 14-day trial and receive Morning Recon every day, along with exclusive columns from Jim Cramer, James "RevShark" DePorre, technical analyst Bruce Kamich and more.)
More of What's Trending on TheStreet:
At the time of publication, Stephen Guilfoyle had no positions in the stocks mentioned.