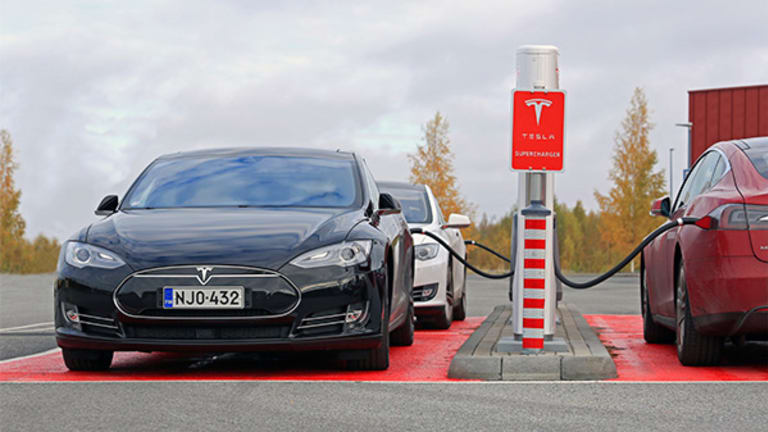 Tesla Cars Are Fast -- but Delivery Isn't
Tesla unveils a new battery pack that makes the Model S one of the fastest cars ever produced. But can the company deliver enough cars?
Tesla  (TSLA) - Get Free Report has been one of the most polarizing stocks over the past few quarters, but despite weak quarterly revenue and a track record of missing vehicle delivery expectations, Tesla stock has climbed more than 20% over the past six months. 
Tesla weathered disappointing results now by promising substantial growth down the road. Tesla's ascent has not been without its valleys, as an ill-advised takeover ofSolarCity  (SCTY) as well as mixed quarterly results have hampered the stock. 
But every time Tesla looks cooked, wunderkind CEO Elon Musk makes a new announcement that turns sentiment back in his favor. On Tuesday, the company announced the introduction of a 100-kilowatt battery pack for its Model S and Model X vehicles as an upgrade that will give those vehicles' batteries a range of 315 miles on a single charge.
As a comparison, the Nissan (NSANY) Leaf, the world's top-selling electric vehicle for the past five years, has a range of about 80 "real-world driving" miles on a single charge. Tesla's current Model S already offers a range that is three times farther, but its $75,000 starting price has hampered its widespread adoption. 
In spite of Musk's signature confidence, there are serious questions as to whether Tesla will ever be able to reach its delivery goals. Tesla delivered 14,402 units in the second quarter, consisting of 9,764 Model S vehicles and 4,638 Model X SUV vehicles.  Total production was just 18,345 units. Wall Street was expecting Tesla to deliver 16,000 vehicles while producing 20,000. 
"While a $300-$400 bull case could be in play if Tesla gets full credit for its innovation and can execute, the slowdown in Model S order rates is eyebrow-raising," Pacific Crest analyst Brad Erickson wrote earlier this month. "Further increases to production run rates in order to meet the low end of deliveries implies further risk." Erickson maintained his Sector Weight rating on the stock.
However, the new battery will make the Tesla S one of the fastest cars, electric or traditional, on the planet. 
"The Model S P100D with Ludicrous mode is the third-fastest-accelerating production car ever produced, with a 0-60 mph time of 2.5 seconds," Tesla wrote in a blog post. "However, both the LaFerrari and the Porsche 918 Spyder were limited-run, million-dollar vehicles and cannot be bought new. While those cars are small two-seaters with very little luggage space, the pure electric, all-wheel-drive Model S P100D has four doors, seats up to five adults plus two children and has exceptional cargo capacity."
Tesla customers will be able to upgrade their current P90D battery packs for between $10,000 and $20,000.
Upgrades to Tesla's battery packs are a nice touch, but most investors are waiting for the company to meet and exceed its delivery goals. Most analysts are looking ahead to next year for the mass production of the company's more affordable Model 3 sedan.
"We continue to believe that the Model 3 ramp next year will be key for the stock," FBN Securities Shebly Seyrafi wrote in a recent note.
Erickson laid out both a bull and a bear case for Tesla, saying the stock could peak at $400 based on a 20x upside on Pacific Crest's 2018 earnings estimates. But the firm could also see the stock halving to about $120 per share as further Model X missteps into 2016 "could portend future difficulty around Model 3 and Tesla's ability to reach longer-term goals."
After going as high as 34 million shares in February, short interest in Tesla fell to about 27 million shares  in July. 
Editor's Note: This article was originally published on Real Money at 2:40 p.m. on Aug. 24.
Employees of TheStreet are restricted from trading individual securities.