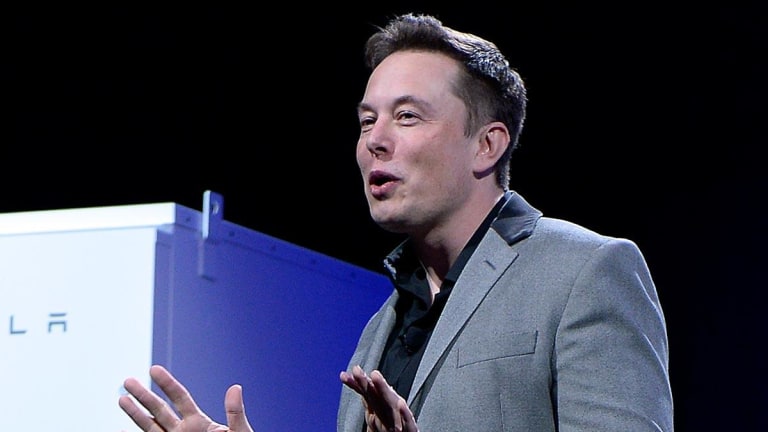 Tesla's Capital Needs Are Beginning to Show
Tesla's asking its suppliers for some money back. That doesn't look good for the cash situation.
Updated from 2:40 PM ET July 23rd to reflect clarifying comments from Tesla.
Traders didn't waste any time giving Tesla Inc.  (TSLA) a healthy beatdown Monday morning. 
Shares fell more than 5% in the first hour of trading, although bulls have been able to stop some of the bleeding. As of this writing the stock was down about 4% to roughly $300. That's bad news, though, as it leaves shares teetering on vital support. Below $300 and things could become rather precarious going forward.
With earnings on Aug. 1, management better have all of its ducks in a row. That means no more tantrums from CEO Elon Musk because the questions are too boring. It also means giving a serious update to the capital situation.
We already knew Tesla was sitting in a tight spot, financially speaking. When we last saw its quarterly results back in May, cash had shrunk about 32% year-over-year to $2.78 billion while debt had climbed by about 32% to roughly $10.75 billion. The fact that Tesla went on a hiring spree in order to meet its Model 3 goals would suggest that it spent plenty on personnel and supplies during the current quarter.
The most obvious sign that Tesla needs cash? Over the weekend a Wall Street Journal report made the rounds, saying that Tesla is asking for some suppliers to refund a portion of the money it has already paid. This is being done in an effort to become profitable. According to the report, the automaker "described the request as essential to Tesla's continued operation and characterized it as an investment in the car company to continue the long-term growth between both players."
Tesla has since issued a comment to clarify, saying it reached out to less than 10 suppliers and is attempting to improve its costs as it ramps Model 3 production. Further, some of these requests were aimed at reducing capex that dates back to projects beginning in 2016 but are not yet complete. 
Tesla's comment helps clarifying some of the concern that easily knocked shares below $300 in early Monday trading. However, even if it helps justify the move, it does suggest that cash is pretty tight for the automaker. Given the cash burn from the first quarter and suspected cash burn from this quarter, how could it not be tight? If Tesla needs cash thisbad, how is it going to fund the Gigafactory 3 in China? How will it develop the Model Y? 
Tesla recently changed its website up, too. Instead of placing a Model 3 reservation with a $1,000 refundable deposit, interested customers can now "place an order" on their vehicle instead. However, this does not include orders for the base $35,000 Model 3. Instead it's for the performance, long-range and all-wheel drive versions of the vehicle and it requires an "order payment" of $2,500.
While not necessarily unreasonable, going from a $1,000 reservation payment to $2,500 also quietly tells investors that Tesla needs more capital. It's not as blatant as its reported requests to some suppliers, but telling new buyers to fork up more cash certainly tells me that Tesla will take anything it can at this point.
More On Tesla's Future From TheStreet
Given these developments, some may be surprised Tesla's 2025 bonds aren't taking any heat Monday. Perhaps that's investors way of saying they're not worried about Monday's headlines. Cash flow and liquidity concerns would be a key catalyst to dropping the bond's value, which are trading at roughly 90 cents on the dollar almost a year after being issued.
If these bonds start to slip, investors should be concerned.
This article is commentary by an independent contributor. At the time of publication, the author had no positions in the stocks mentioned.