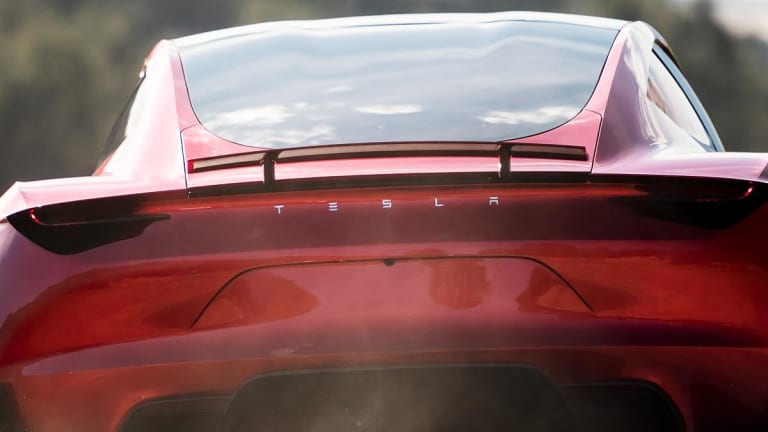 Tesla Bull Says Company's Fundamentals Are Still 'Underappreciated'
Tesla shares are falling Monday after the company announced it was dropping plans to go private.
Tesla Inc.'s (TSLA) - Get Reportwild ride continued Monday, Aug. 27, as the company's stock declined 2% in morning trading after CEO Elon Musk announced over the weekend the company was abandoning its consideration to go private. 
However, longtime Tesla bull, Ben Kallo of Baird, said he sees a silver lining for the electric vehicle company.
Kallo believes that Tesla shares will be under pressure in the near-term, but that in the mid-term the company's still "underappreciated" fundamentals will lead the stock forward.
"We are buyers on weakness as we expect shares to move higher ahead of Q3 deliveries and results," the Baird note said. "We believe progress on the Model 3 production ramp could be a significant positive catalyst for the stock."
Kallo maintained the firm's "outperform" rating, which Baird has held since 2016. Baird currently has a price target of $411 on Tesla. That bullish view is based on the firm's belief that the ramp in the company's Model 3 production will eventually bring Tesla to profitability. 
Tesla's stock has been on a downward slide since it was revealed that the Securities and Exchange Commission was investigating Musk's claims earlier this month that his company had funding secured to go private.
"I knew the process of going private would be challenging, but it's clear that it would be even more time-consuming and distracting than initially anticipated," Musk said in a statement published by Telsa's official Twitter account Friday. "Although the majority of shareholders I spoke to said they would remain with Tesla if we went private, the sentiment, in a nutshell, was 'please don't do this.'