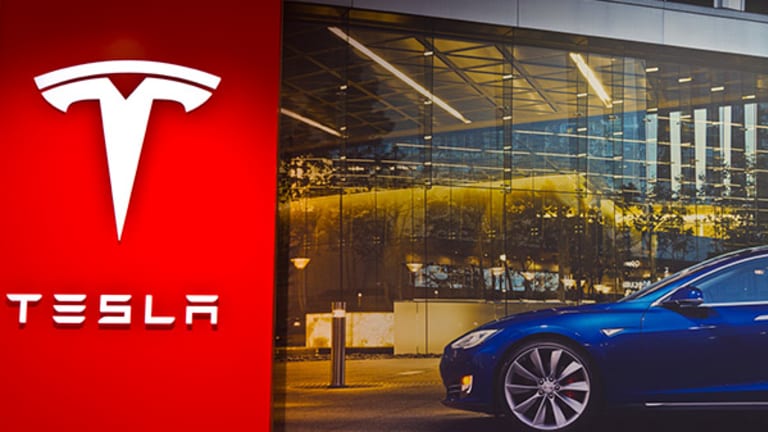 Tesla Breaks 300 Mile Range Barrier
The automaker formally announced a new 100 kilowatt battery option for its Model S sedan, giving the vehicle a 315 mile range and better acceleration
Tesla Motors (TSLA) on Tuesday unveiled a new version of its Model S capable of going more than 300 miles on a single charge, the first automaker to break the 300 mile barrier in a production vehicle.
The company said the new 100 kilowatt battery would also be available on its Model X SUV, and would increase the acceleration of both models making them the fastest 0 to 60 mph vehicles in their classes. Customers who have ordered vehicles with the existing 90 kWh battery packs but have not taken delivery can upgrade their vehicles for an extra $10,000, while existing owners can upgrade the pack for $20,000.
The extra cash could be important for the company, which faces massive bills in the quarter to come as it finishes development and begins production on its lower-cost Model 3 sedan while continuing to build its network of retail outlets and charging stations and provides funding for acquisition target SolarCity (SCTY) .
Tesla in a statement said that while the new P100D "is obviously an expensive vehicle, we want to emphasize that every sale helps pay for the smaller and much more affordable Tesla Model 3 that is in development." The company implored interested customers not to wait until the Model 3 hits the market next year to buy a car.
"Without customers willing to buy the expensive Model S and X, we would be unable to fund the smaller, more affordable Model 3 development," the company said.
Shares of the company traded up less than 1% into the close Tuesday. The company's stock jumped nearly 2% earlier in the day after CEO Elon Musk tweeted that Tesla would have a product announcement later in the day, but gave up much of that gain when the actual news was revealed.
The upcoming larger battery was known to markets, as the 100 kilowatt version was registered with the Dutch organization responsible for European Union vehicle registrations earlier this month.
Tesla bulls and bears are much more focused on whether they company will be able to get the Model 3 to market on time, and whether the company will be able to turn a profit on the less-expensive, mass production vehicle. Still, the extra battery capacity is important if electric vehicles are going to appeal to a broader swath of the market.
Jessica Caldwell, executive director of industry analysis at Edmunds.com, in a note said that better range is "the sort of innovation that will improve the electric car's reputation" with skeptics. The challenge, she said, is making such technical advances available at lower price points.
"Range anxiety has long been one of the biggest obstacles for the adoption of electric cars," Caldwell said. "By developing vehicles with longer range batteries, Tesla is moving the ball forward not just for itself but the entire EV industry."
While Tesla's Model S will be the first member of the 300 mile range club, it will soon have company. Volkswagen is expected to release a vehicle with similar numbers before year's end, and a range of automakers including Audi, Mercedes and Porsche all have new long-range vehicles in development.
Separately Tuesday, Tesla merger-target SolarCity said it was selling $100 million worth of new bonds to Musk and two senior SolarCity officials. SolarCity, which provides solar panel installations to corporate and residential customers, has struggled in recent quarters.