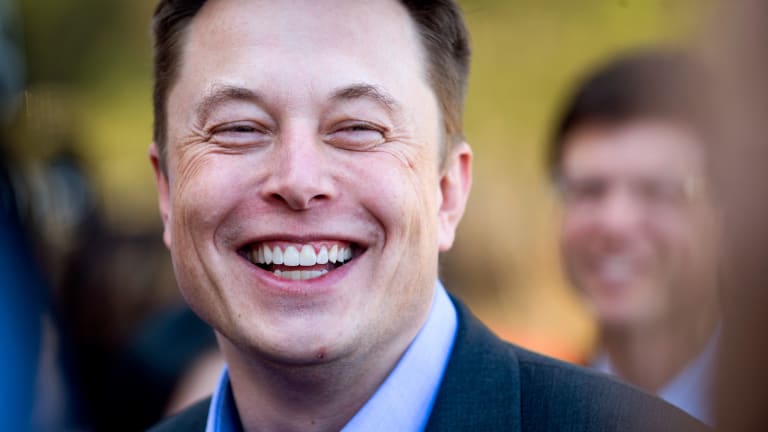 Tesla Just Got a Billionaire Ally -- At a Very Interesting Time
One of Tesla's billionaire allies just anted up, as Model 3 production reaches a new high.
Elon Musk isn't the only billionaire betting on big things for Tesla Inc. (TSLA) - Get Free Report .
According to new SEC filings, George Soros' Soros Fund Management took a $35 million stake in Tesla's March 2019 convertible bonds during the first quarter of 2018. Those bonds have been under pressure in recent months, shedding about 15% of their value since a peak last summer.
Because they're convertible, the bonds can be converted to shares of Tesla Inc. at a ratio of 2.7788-to-one. That implies a $359 per share conversion price for the bonds. Tesla's current stock price is still around 26% shy of reaching that line in the sand (and another 30% shy of the point where bondholders would be able to convert them into shares).
Everything you need to know about Tesla here.
Simply put, Soros' Tesla bonds stand to pay off in a big way if Tesla goes for a retest of its highs last fall. 
Soros has a long history with Tesla; his firm previously held shares of Tesla, but sold them last year. Likewise, his firm also played a role in facilitating the deal for Tesla to acquire SolarCity in 2016.
But the timing of Wall Street finding out about this latest bet is interesting.
An email from Elon Musk obtained by Electrek yesterday revealed that Tesla expects to exceed 500 new Model 3 vehicles per day this week, putting the firm at a run-rate of 3,500 cars a week ahead of a pre-planned end-of-May plant stoppage to implement new assembly line fixes. That's around a 75% production jump from last month.
Likewise, Soros' Tesla bond position comes at a time when Tesla's long-term and short-term technical pictures are aligning in a potentially bullish way, following a stretch of underperformance in 2018.
Tesla continues to be the most heavily shorted stock on the market, with short interest reaching an all-time high of more than 39 million shares heading into May. That's approximately 31% of Tesla's float that's betting on shares to fall. At $35 million, Soros' bullish bet on Tesla is hardly a concentrated position (Soros Fund Management reports about $5.5 billion in aggregated holdings in its SEC filings), but it's a high profile one to say the least.
And if Soros and company are right, it means that Tesla's stock price could be heading much higher in the near-term.
This article is commentary by an independent contributor. At the time of publication, the author held no positions in the stocks mentioned.