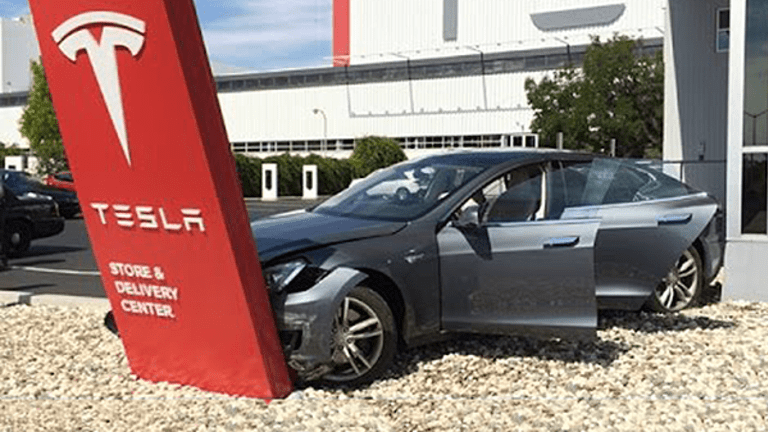 Updated from 7:17 ET with comments from Jim Cramer.
Tesla (TSLA) - Get Tesla Inc Report is now totally out of favor over at Goldman Sachs.
The investment bank downgraded its rating on the electric car maker to sell on Monday and revised the price target to $185. Three concerns on Tesla, says Goldman analysts, are Model 3 execution, cash needs and an unproven solar business in the newly acquired SolarCity. 
Shares are down about 5% in early Monday trading and have fallen more than 10% in the past three trading sessions. However, while Goldman Sachs may have downgraded the stock to a sell, it only lowered its price target by $5 per share, TheStreet's Jim Cramer pointed out on CNBC's "Mad Dash" segment.
This essentially means that the analyst missed the entire recent rally, with shares still up about 25% over the past three months, said Cramer, manager of the Action Alerts PLUS portfolio.
Investors should be careful, as there are a number of analysts and bearish investors "gunning" for Tesla, he reasoned. There are other concerns, too, such as the company's upcoming capital raise and the lack of clarity around its solar acquisition, SolarCity. 
These too could weigh on the stock in the short term, but many bullish investors believe Tesla is the next Amazon (AMZN) - Get Amazon.com, Inc. Report , Cramer concluded. 
Amazon is a holding in our Growth Seekers portfolio. Learn more now.
The downgrade may mean the stunning rally in Tesla shares may be over. Since arriving at this intersection of resistance in both time and price, the stock has pulled back and formed identical topping patterns on the weekly and the daily time-frames.
The stock was able to reverse a prior downtrend late last year and form a base which triggered the rally this year. A swift series of higher highs and higher lows took it back up to long-term resistance in the $285 area, where a shooting star candle formed, which is a candle defined by a narrow opening and closing range and a large upper shadow. It is often seen at tops and is a sign of rejection, that supply overwhelmed demand.
Over the next several trading sessions, an eveningstar pattern began to form, and this pattern consists of a large white bullish candle, followed by a small narrow opening and closing range doji candle, and completed by a large down or bearish candle that represents a transition from bullishness to bearishness. In this particular case, the pattern has two center doji candles, but the inference regarding trader sentiment is the same. The stock made an attempt to hold at the previous April high $265 level and did manage a brief bounce, but then gapped lower after reporting earnings recently. The price action and the resulting candle patterns on this time-frame suggest the path of least resistance is lower.
The weekly chart shows the long-term resistance level in the $285 area and the 43 week cycle highs, and another eveningstar formation, an unusual twin pattern, developing in conjunction with the daily pattern. This second eveningstar has the same bearish reversal implications as the daily formation, and is additional confirmation that a top is in place. This preponderance of technical evidence for a pullback does not mean the stock will drop as fast as it rallied, the more likely scenario is a period of backing and filling as seen after previous cycle highs.
This bearish confluence of time, price and patterns is unusual, and suggests that another long-term top has been made and, if the frequency of the cycle pattern continues to repeat, the old highs will not be retested until November this year. Selling Tesla shares into strength appears to be the logical intermediate-term strategy.
Short. 
At the time of publication, Cramer's Action Alerts PLUS had no position in companies mentioned.