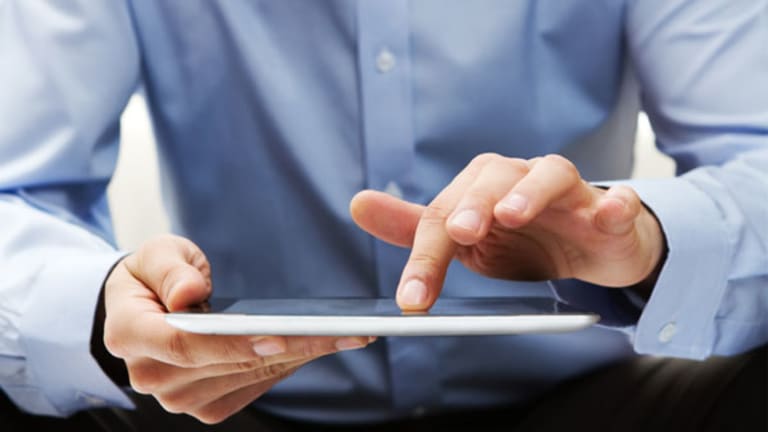 TechWeek: Software Shopping Spree
The sector's M&A merry-go-round keeps spinning.
M&A is a game the software sector never seems to finish.
In the last three years,
Oracle
(ORCL) - Get Oracle Corporation Report
,
IBM
(IBM) - Get International Business Machines Corporation Report
,
Symantec
(SYMC) - Get Symantec Corporation Report
and
EMC
(EMC)
have collectively spent more than $30 billion buying companies including PeopleSoft, Siebel, Veritas,
RSA Security
( RSAS) Documentum,
FileNet
( FILE) and
Internet Security Systems
( ISSX).
Even so, there are plenty of tasty morsels still on the table, and the barest whiff of a deal can send shares soaring.
That was the case this week when the rumor mill said that
Business Objects
( BOBJ), the French business intelligence vendor, was about to be snapped up. The stock had been moving steadily since it reported
a better-than-expected second quarter in late July, running up from just under $20 to $29.30 at Tuesday's close.
But the big move came on Wednesday, when word spread that the company was about to be acquired. The stock closed at $32.67, a gain of better than 11% on volume that was more than three times normal.
So far, though, there's no indication that the rumor is true -- this time. At least one source says that a hedge fund holding shares may have started the speculation in hopes of sparking a short squeeze. In any case, the air is leaking out of the stock's balloon as investors take profits from the run-up.
It's worth nothing, though, that business intelligence is a hot sector, one being eyed by all of the major platform vendors. Oracle CEO Larry Ellison has said that business intelligence, along with security, is a top priority. And with a market cap of about $2.86 billion, Business Objects would not be out of reach.
IBM also is mentioned as a potential buyer, although Big Blue generally partners with application companies rather than buying them. That could change, of course, and Steve Mills, who heads IBM's red hot software unit, refused to rule out such a shift in strategy in a
recent interview.
Meanwhile, Canaccord Adams analyst Peter Misek says
Open Text
(OTEX) - Get Open Text Corporation Report
, now in the process of acquiring Canadian software maker
Hummingbird
( HUMC), could itself become a takeover target. Open Text is the largest remaining player in the enterprise content management space (ECM), and now competes with EMC, which purchased rival ECM vendor Documentum in late 2003 for $1.7 billion, and IBM, which is acquiring FileNet for $1.6 billion.
On Friday, Hummingbird's shareholders approved the $489 million, or $27.85 a share, takeover bid.
Misek also notes that short interest in Open Text's shares has been climbing since the middle of May, rising from 7.7 million shares to 10.1 million shares as of Aug. 15, setting the stage for a potential short squeeze. Canaccord Adams is seeking investment banking business with Open Text.
Good News, Bad News
Data-hungry tech investors had a full meal this week, with generally good news on inflation and consumer confidence coming out of Washington and Michigan and
bad news on PC sales coming from Stamford, Conn., the headquarters of Gartner, a market researcher and technology consultancy.
First the bad news: Worldwide revenue in the PC industry is expected to total $198.3 billion in 2006, compared with $203.3 billion in 2005. That marks the first year of negative revenue growth since 2001, although unit shipments in 2006 will increase 10.5%, according to Gartner.
That's especially hard on
Dell
(DELL) - Get Dell Technologies Inc Class C Report
which is already struggling to keep margins up in the face of tougher competition from
Hewlett- Packard
.
Interestingly, founder and Chairman Michael Dell felt the need to give CEO Kevin Rollins a vote of confidence this week, saying "blame me too" regarding the company's recent problems. Fair enough, but "Dell 2.0," as the company called its latest strategic re-evaluation, did not get good reviews. Simply put, Dell 2.0 doesn't look terribly different than Dell 1.0, a model that once worked beautifully, but is now in need of a major overhaul.
Much better news, though, was delivered by the Department of Labor, which said the core consumer price index for August rose 0.2% for the second month in a row. Sure, the year-over-year increase was still high -- 2.8%, the biggest jump in nearly five years -- but the rate of increase has slowed significantly, says Jeff Kleintop, chief investment strategist for PNC Advisors.
"Clearly the momentum of inflation is fading; the inflation fears that shook investor confidence a few months ago are fading," says Kleintop, noting that the four months preceding July and August featured CPI ratings of 0.3%.
Moreover, he adds, inflation indicators in German and Japan last month were lower than expected.
Then there's the manufacturing report. The
Federal Reserve
said that industrial production fell 0.1% in August, weaker than the 0.2% climb expected by economists. However, the biggest component of the decrease was in the utility sector, which slowed because energy usage dropped in most of the country as summer heat faded. But other sectors, including autos and electronics were up. "It doesn't look like the slowdown in housing has spread," he said.
All in all, the basket of reports make it more likely that the Fed will refrain from doing anything too drastic about inflation. Indeed, the market is betting on at least one rate cut, and maybe more, as evidenced by fed funds futures contracts for July 2007 which are priced at just 5%, compared with 5.25% now, says Kleintop.
And that's good news for tech investors.