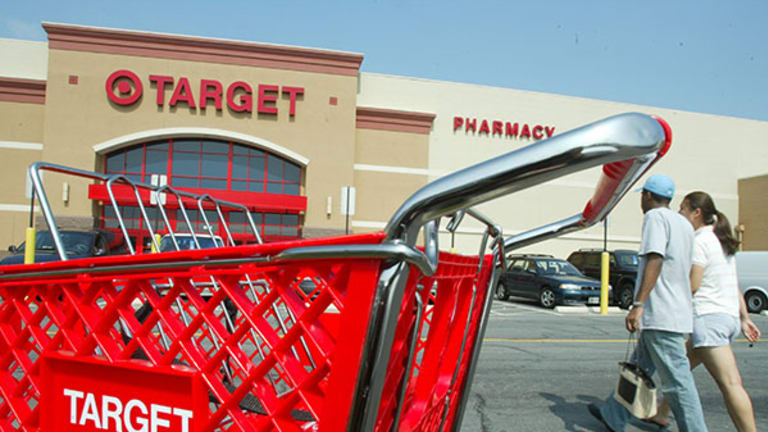 Technology Will Help Target Boost Sales, but It Won't Solve Walmart's Problems
Walmart and Target are both planning to spend billions to beef up their respective online divisions. Only one of them is likely to get a good return on the investment.
NEW YORK ( TheStreet.com) -- In their quest to better match the merchandise they sell to the shifting preferences of consumers, retail giants Walmart (WMT) - Get Report and Target (TGT) - Get Report have been doubling down on technology.
Both have improved their e-commerce offerings, introduced in-store apps to streamline operations, and promised to invest more than $1 billion in the coming quarters to shore up and improve their digital operations -- and grow profits.
But these similar new initiatives may result in very different outcomes for each company.
"Walmart has a people problem," says Paula Rosenblum, an analyst with Retail Systems Research. "Until now, there is no evidence that technology can help solve that problem."
Here's what The Street's Jim Cramer had to say about Target, which is the largest holding in his charitable trust, AAP:
I think that Target's e-commerce runs rings around Walmart and it was responsible for a very big part of their comp store gain. It was really the standout.
Want to be alerted before Jim Cramer buys or sells TGT? Learn more now.
By "people problem," Rosenblum is referring to issues around perceptions of Walmart as an exploitative employer, with demotivated employees and an uninspired product mix.
"Changing consumer perceptions is very difficult to do for a firm like Walmart, especially given how fast information flows with social media," says Kenneth Perkins, an analyst with Morningstar, a Chicago-based research consultancy.
According to Rosenblum, Target, which has battled website crashes and perception problems of its own, will have "more upside" with its technology initiatives because of its unique product mix and relatively stronger reputation among consumers.  
"Given that IT expenses should peak next year, we still think that [Walmart's] profitability could be pressured over the near term," adds Perkins.
Recently, Arkansas-based Walmart has made some significant changes in order to buff up its tarnished reputation and cultivate new markets, including raising the minimum wage for its workers and launching a service designed to compete with Amazon's (AMZN) - Get Report Prime.
But Rosenblum is skeptical of the company's efforts.
"There is no such thing as an infinite market," Rosenblum says. "[Walmart] is simply cannibalizing its own customer base to drive incremental improvements."  
According to Rosenblum, Walmart's new subscription service -- code-named Tahoe -- will not gain traction with customers, despite being cheaper than Amazon Prime. This is because Amazon's service has "value-added content" such as streaming video services, and greater product variety (such as books and items that arehard to find in physical stores) compared to Walmart's new offering.
Walmart CEO Doug McMillon is taking every opportunity to tout his company's digital credentials. But those credentials have yet to result in substantial revenues. Online sales still constitute a small fraction (approximately 2.5% in the latest quarter) of Walmart's total sales.
Target, which has recovered from its data breach battering, is doing better. A recent note by an analyst from Cowen & Co gave the company "a slight edge" over Walmart for its e-commerce initiatives. Cartwheel -- Target's app that surfaces in-store deals -- has reportedly generated over $1 billion dollars in revenue since launch.
What's more, the items in Target's top-earning categories -- health and wellness, baby, and kids products -- are better suited to online delivery than perishable groceries, which is the segment that drives a majority of Walmart's revenues. No wonder then, the Minnesota-based company reported a 38% increase in online sales (vs. 18% for Walmart) in its latest quarter.
Target's digital sales, however, still constitute less than 5% of its total sales. "Given that digital sales are a very small base, we think that Target can sustain high digital sales growth over the next several years," says Perkins.
Digital sales platforms also attract a specific type of technology-savvy customer: people who are conscious about their ecological footprint. In response, major retailers such as Whole Foods (WFM)  have introduced new initiatives and programs aimed at these customers.
Walmart, which has always emphasized its low prices, is losing out among this customer segment. "There is a halo and an aura and a snob value around customers for such retailers [as Whole Foods and Trader Joe's] or, even, Amazon," explains Rosenblum. That snob value translates to new markets, where customers willing to pay premium prices for unique products delivered via multiple channels.
Walmart has only recently woken up to the changing demographics and preferences.
"For Walmart, low prices are everything," says Rosenblum. "But if that was the end of everything, then they would have had enormous upside in recent times [given the recession and shrinking customer budgets]." The Arkansas-based company, however, has reported seven consecutive quarters of declining profits. And while technology may help the retail behemoth change course, it may not be able to root out the company's fundamental problems.
"Mr. McMillon has a difficult task ahead of him," says Rosenblum. "He has to turn a large boat, which has been oblivious to everything around it."
This article is commentary by an independent contributor. At the time of publication, the author held no positions in the stocks mentioned.