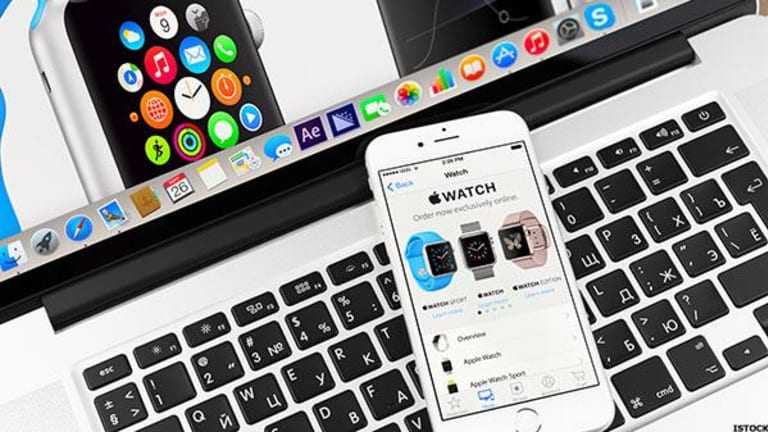 Technology Firms Gear Up to Defend Patent Infringement Cases
A U.S. district court judge recently tossed out a verdict that required Apple to pay VirnetX $625.6 million.
A U.S. district court judge recently tossed out a verdict that required Apple to pay VirnetX $625.6 million.
Patent trolls have been targeting technology giants for at least a decade, but given the latest patent-infringement case in the courts, it looks as if the trolls won't be able to grab at Apple (AAPL) - Get Report the way they plucked BlackBerry .
Late Friday, U.S. District Court Judge Robert Schroeder tossed out a verdict that required Apple to pay internet security and technology company VirnetX (VHC) - Get Report $625.6 million for patent infringement. The judge said it was unfair to Apple that two VirnetX lawsuits had been combined into a single trial, with confusing references to the earlier case resulting in an unfair trial, according to a Reuters report.
VirnetX's cases involved unresolved issues related to damages owed to VirnetX for infringement by Apple's original VPN-on-demand product and an alleged infringement of Apple's original FaceTime product. The judge ordered both cases to be retried separately, with the first beginning Sept. 26.
"My understanding of the VirnetX holding is that it's a procedural holding. That means that it will delay any ability for VirnetX to collect on the verdict, and gives Apple more chances to have the verdict overturned," said University of Pennsylvania law professor Polk Wagner in an email to Real Money.
Apple stock reacted to the ruling, gaining slightly more than 2% on the Friday of the decision and on the following Monday. Apple is a holding in Jim Cramer's Action Alerts PLUS portfolio.
And this is not the first patent infringement case for the tech giant -- Apple was the subject of 92 lawsuits by patent assertion entities (PAEs) from 2010 to 2013. The Federal Trade Commission labels PAEs, sometimes referred to as "patent trolls," as firms with a business model based primarily on buying patents and then attempting to generate revenue by asserting them against businesses that are already using the patented technologies.
Canada-based BlackBerry was nearly shut down in its prime thanks to another patent troll, NTP, which has mobile email patents. It took legal action against what was then Research In Motion, now known as BlackBerry Ltd. In March 2006, after a five-year legal battle and the possibility of a court-ordered shutdown, Research In Motion agreed to pay $612.5 million to NTP, according to a Wall Street Journal report. The day of the settlement, Research In Motion shares jumped nearly 19% to $85.40 in after-hours trading, the Journal reported.
Now e-commerce giant Amazon (AMZN) - Get Report is gearing up for several patent cases of its own. In July, two patent infringement cases were filed against Amazon. Virginia Innovation Sciences claims that the online retailer violated several of its patents and demanded a trial by jury. Amazon has been ordered to file its responsive pleadings no later than Sept. 14. And a complaint by Global Equity Management for patent infringement was dismissed Monday.
While one case was dismissed, Amazon still faces other suits. But Chris Versace, co-manager of Growth Seeker, a model portfolio that includes Amazon, said in a phone interview that these patent lawsuits are nothing new for Amazon or the entire smartphone industry.
According to data compiled by Unified Patents -- a self-proclaimed "anti-troll" that collects data and advocates on behalf of patent troll victims -- 2015 saw the most patent disputes in history, the majority (64%) of which involved high-tech patents. That includes fellow tech giant and Action Alerts PLUS holding Alphabet (GOOGL) - Get Report , which faced suits relating to its Android operating system in 2015. The company has already has seen three patent-infringement complaints just since the beginning of June this year.
The real question, according to Versace, is whether the companies actually violated the patent.
Brooklyn law professor Johnathon Askin said in a phone interview Tuesday that it all comes down to the invention. The patent troll undermines a constitutional mandate for innovation, Askin explained, but noted that the U.S. Patent Office has been trying to make patents more tangible.
"The development of software ideas need to be tethered to hardware," Askin said. He also said it has become increasingly difficult for investors to patent certain ideas.
This plays into the notion that there is a greater patent problem in general.
"There are substantial problems with the patent system, mostly surrounding the uncertainty associated with the scope and validity of patents themselves," said Wagner. "This then leads to opportunities for strategic litigation -- sort of like 'slip and fall' type litigation."
While Wagner said this is "not good at all," he added it is not necessarily suggestive that the system is doomed. But most important, "virtually none of the proposed solutions to the patent troll problem seem at all likely to address the actual problems with the patent system, and indeed seem likely to cause unexpected damage."
Meanwhile, Askin believes it is "almost inevitable" that some company is going to build a world-changing product and have a patent troll waiting in the wings for it to become valuable and make money off the patent.
So while Apple made it past the latest patent troll, another is likely lurking for opportunities to capitalize.
This article was first published on Real Money at 6:09 p.m. on August 2.