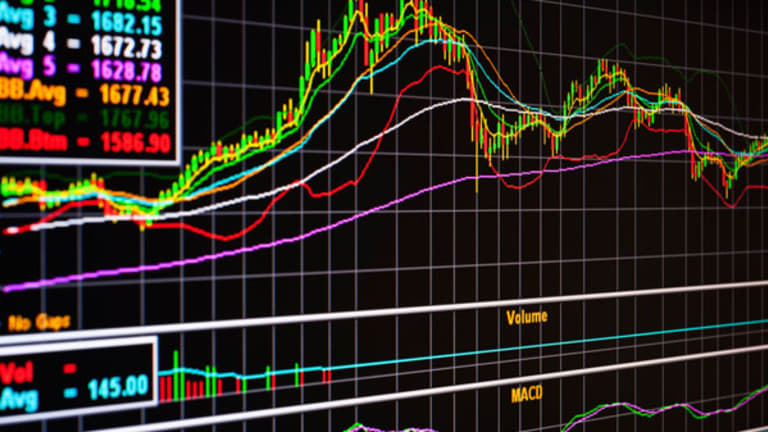 Publish date:
Technical Setups: Frontline, Gen-Probe
These stocks, including Frontline, Gen-Probe and Novell, could be staging a technical move in the coming week.
These stocks, including Frontline, Gen-Probe and Novell, could be staging a technical move in the coming week.
By Jonas ElmerrajiWhile this week may be news heavy with Dubai, TARP repayments and more economic updates hitting newswires and share prices nonstop, that doesn't mean that you should eschew the technical plays. Disciplined traders can turn technicals into trading profits on a consistent basis, even in the worst of markets.
Technical analysis is a way for investors to quantify qualitative factors such as investor psychology based on a stock's chart patterns and trends. Once the domain of cloistered trading teams on Wall Street, technicals can help top traders make consistently profitable trades and can aid fundamental investors in better planning their stock execution.
But all too often investors who want to take a look at technicals don't know where to start. That's why Stockpickr takes a look at stocks that could be staging a technical move in the coming week and compiles a portfolio of promising
. Here's a look at this week's stocks.
Frontline
(FRO) - Get Report
, a Bermuda-based tanker ship operator, has been having a mediocre year in 2009.
The company's stock is essentially flat year-to-date, and revenue has declined steadily in the last five quarters alongside profitability. That hasn't stopped shares from appreciating 30% in the last three months as the company slashed at its fixed expenses by canceling ship orders. But that rally is looking like it's nearing an end now as a head-and-shoulders pattern emerges in the stock.
The head-and-shoulders (in the chart above) is a bearish pattern that's characterized by three peaks: two shorter "shoulder" peaks separated by a taller "head" peak. At present, Frontline's head-and-shoulders pattern isn't fully formed -- only a left shoulder and head are complete, with the right shoulder about halfway formed. That gives us plenty of time to plan our attack. If the right shoulder breaches the blue "shoulder line" above, that means that we should expect a downward move that's about equal to the distance between the head's peak and the shoulder line.
That's a mouthful, but it means that if the stock breaches the $27.50 shoulder line in the next week, expect a fast move down to the $25 level. Don't mess with a head-and-shoulders pattern until the trade triggers.
On the upside this week is scientific instrument maker
Gen-Probe
(GPRO) - Get Report
. Gen-Probe's story this year has been a stark contrast to Frontline's.
The company has managed to eek out small but important sales and profit growth in the trailing five quarters, and investors have caught interest in this science play as a result.
Gen-Probe's market positioning supports a move to the upside right now. The company's products are used to screen more than 80% of U.S. blood donations, and it has products in the pipeline that should give it access to new and more-profitable niches. The technicals support an upswing in the stock as well.
The stock just saw a crossover of the 50-day moving average over the 200-day moving average, a bullish signal that supports the recent uptrend the stock has been on. At present, shares are trading right at a significant support level, the 50-day moving average (the thin blue line above). That's significant because it means that investors who go long shares of Gen-Probe have a safety net in the form of the 50-DMA. The fact that stocks rarely sit on uptrending support levels for long also means that a bounce higher is a real possibility in the next week.
With the next meaningful resistance level all the way up at $45, the upside potential for the next several trading sessions looks good for shares of this company.
At first glance,
Novell
(NOVL)
sports a very similar chart to Gen-Probe's above.
But there are some significant differences that could make the software company an interesting downside play.
Rising competition and an aging portfolio of products is putting pressure on Novell's share price right now. But in the shorter-term, the technicals are giving us a conditional sell signal. That condition is an important one.
The chart above shows that Novell had a recent peak that sits at a price level that's about the same as the stock's 50-day moving average right now. That level could prove to be a significant resistance level that's only 3% higher than the stock's current price level. And unlike Gen-Pro, Novell doesn't have a significant support safety net anywhere close. This stock hasn't triggered yet, but a downward bounce off the $4.23 price level is just what you should be looking for to bet against this stock.
To see these plays in action, check out the
portfolio on Stockpickr.
As a reminder, on Thursday I'll be taking a look at the technicals on the stocks that you recommend.
To submit a stock worth looking at, just add a comment below this article that includes the stock's ticker.
Now see this week's Rocket Stocks >>>
At the time of publication, Elmerraji had no positions in stocks mentioned.
Jonas Elmerraji, based out of Baltimore, is the editor and portfolio manager of the Rhino Stock Report, a free investment advisory that returned 15% in 2008. He is a contributor to numerous financial outlets, including Forbes and Investopedia, and has been featured in Investor's Business Daily, in Consumer's Digest and on MSNBC.com.