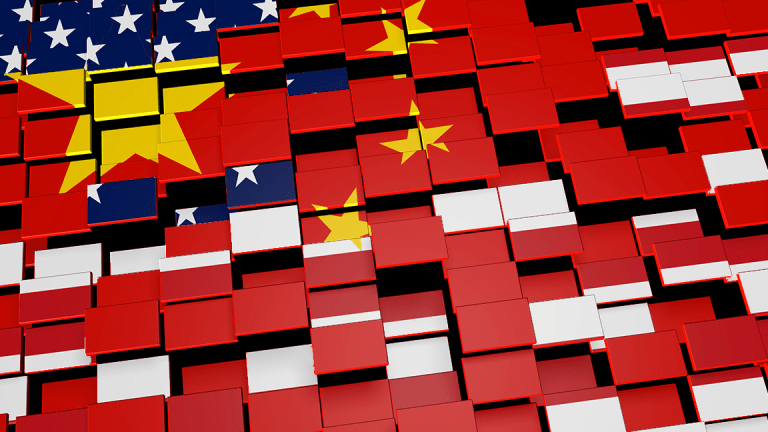 Worries About a Trade War Could Throw Wrench Into the Tech Stock Rally
With the Nasdaq trading above 7,700, it's not hard to see how worries about tariffs, export controls and other potential consequences from a trade war could weigh on tech stocks.
With the Nasdaq trading above 7,700, it's not hard to see how worries about tariffs, export controls and other potential consequences from a trade war could weigh on tech stocks.
It's quite possible that the tariffs imposed by the Trump administration on Chinese tech and industrial goods, and the retaliatory tariffs that Beijing quickly announced in response, won't remain in place for long.
However, markets do hate uncertainty, and with the Nasdaq trading near its highs, worries about the impact of a trade war on the tech sector could throw a wrench into the recent tech rally until they're resolved.
To be fair, the estimated $50 billion worth of 25% tariffs just announced by the Trump administration -- they were originally floated in early April, and are now set to go into effect on July 6th -- could benefit some U.S. tech firms that make rival goods. Analog chipmakers, circuit board makers, industrial laser makers and printing equipment makers are among the companies that could benefit.
And it's worth noting that to a large degree, the retaliatory 25% tariffs announced target American goods made by other sectors, such as chemicals, agricultural goods, energy products, medical devices and cars. Some of these tariffs are due to go into effect on July 6th, while others haven't been given a start date yet.
However, should the tariffs go into effect, U.S. tech hardware and electronics makers will have to contend with higher prices for Chinese-made components going inside their products. In addition, as the Semiconductor Industry Association (SIA) has pointed out, the tariffs could result in many U.S. chipmakers paying tariffs on their own chips, due to the fact that China handles a lot of packaging and testing work for chips that are designed and manufactured elsewhere.
Watch what Stifel Financial CEO Ron Kruszewski told TheStreet about a trade war and the markets.
The White House's plans for stricter export controls on the transfer of "industrially significant" technology to China (an announcement is set for June 30th) could also cause headaches for U.S. tech companies. Research firm Semiconductor Advisors notes that if the items that end up on the list for export restrictions are similar to the ones on the U.S. tariff list, chip equipment makers such as Applied Materials (AMAT) - Get Report , KLA-Tencor (KLAC) - Get Report and Lam Research (LRCX) - Get Report would be vulnerable.
Finally, there are a variety of non-tariff-related moves that Beijing could make to make life tougher for U.S. companies, in the tech sector and elsewhere. These run the gamut from stalling the approval of large M&A transactions to encouraging boycotts of U.S. consumer goods to urging Chinese companies not to buy hardware and software supplied by U.S. IT giants. One has to wonder if the conflicting reports that recently emerged about Chinese approval of Qualcomm's (QCOM) - Get Report $44 billion deal to buy NXP Semiconductors (NXPI) - Get Report -- shortly after multiple reports arrived stating the deal had been approved, Reuters reported approval hasn't yet been granted -- have something to do with political pressures related to trade tensions.
It's certainly possible that a compromise will be reached in the coming weeks that renders such concerns moot. Washington and Beijing have been quite willing to hold talks this spring as trade tensions have simmered, with Chinese officials on more than one occasion offering to take steps to increase Chinese purchases of American goods and services if no new tariffs are imposed. Just maybe a fresh offer leads both countries to pull back from the brink prior to July 6th.
However, with the Nasdaq having more than erased its February/March declines, and with pockets of frothiness now arguably existing in the tech investing landscape, it would hardly be shocking if some profit-taking occurs until it's clear to investors that fears of a full-blown trade war are misplaced.
This column originally appeared on Real Money, our premium site for active traders. Click here to get great columns like this sooner.
Expert Advice for a Risky Market. We asked top experts from Bank of America, Fisher Investments, Invesco and Wells Fargo what smart investors should do right now. Register for freeto watch what these market watchers recommend.