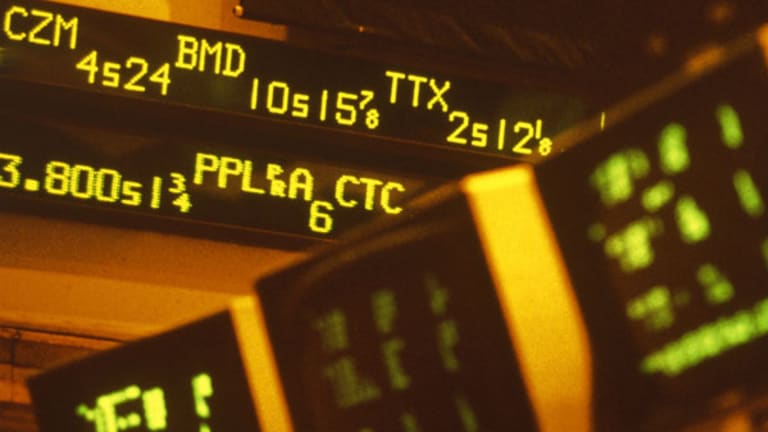 Publish date:
Tech Stock Short-Squeeze Plays for June
These heavily shorted tech stocks, including Blackboard and Synaptics, could surge higher on any positive catalyst.
These heavily shorted tech stocks, including Blackboard and Synaptics, could surge higher on any positive catalyst.
BALTIMORE (Stockpickr) -- With spiking volatility and dropping share prices, the last month and a half have been anything but auspicious for investors. For short-sellers, though, it's been a different story. With hopes that we could be watching stocks tumble back to much lower levels, short-sellers continue betting against stocks.
At the beginning of June, short-interest ratios were nearly unchanged over the trailing month, despite the fact that stocks had fallen by double digits in the previous 30 days. That suggests that short-sellers are holding open short positions, hoping for a further fall from Wall Street. But if June's uptrending turn is any indication, we could be looking at a potential short-squeeze opportunity.
A short squeeze is the buying frenzy that ensues when a heavily shorted stock starts to look attractive again to investors, causing short-sellers to cover their positions -- and share price to skyrocket. One of the best indicators of just how high a short-squeezed stock could go is the short interest ratio, which divides shares short by average daily trading volume in order to get a ballpark estimate of the number of days it would take for short-sellers to cover their positions. The higher the short ratio, the higher the potential profits when the shorts get squeezed.
Since tech stocks are among the quickest to react to market conditions, they also stand the biggest chance of squeezing first. That's why we're looking at a handful of
this week.
Digital Realty Trust
(DLR) - Get Report
took a double dose of bearish pressure in the last couple of years. With high-beta tech exposure and real estate holdings, this information technology REIT fell more than 50% in the latter part of 2008 alone. But that's proven to be a minor blip on the financial radar for shareholders of this stock: Shares are up more than 80% in the last year and nearly 300% in the last five years. Still, that market performance hasn't kept short-sellers at bay; the stock's current short ratio sits at 10.9.
Digital Realty owns technology infrastructure properties, such as datacenters, and leases them to tenants under long-term leases. That's an attractive business for the trust's investors because high switching costs and attractive triple-net lease agreements put the ball definitively in Digital Realty's court, a byproduct of years of prescient property acquisitions in key geographic regions such as metropolitan New York, San Francisco, and Los Angeles.
Among those betting on Digital Realty's continued success are the shareholders in the
(CGMRX), a real-estate-focused fund that holds Morningstar's coveted five-star rating and also owns stakes in
Simon Property Group
(SPG) - Get Report
and
Public Storage
(PSA) - Get Report
.
Stockpickr Tools Top 5 High-Yielding Tech Stocks
Touch screen computing devices have made their way from being a gimmick to the de facto mobile interface on the market today. But while most investors try to parlay that trend into profits by buying shares of the companies with their names stamped on the devices themselves, they're leaving out companies such as
Synaptics
(SYNA) - Get Report
, which develops the touch screen chips used in devices such as the HTC G1 phone and Blackberry Storm. With a short interest ratio of 17.9 right now, Synaptics presents some interesting short-squeeze potential in the near term.
While touch screens have become popular, the company's bread and butter is the laptop computer TouchPad, which is used in around 60% of mobile computers today. That stalwart revenue stream provides ample cash for the company to develop its next-generation touch screen technologies. While competition has made Synaptics' operating environment slightly more challenging, the company remains consistently profitable.
That's proven to be a good purchase justification for
, an $3.37 billion hedge fund. The fund also owns shares of
Microsoft
(MSFT) - Get Report
and
Citigroup
(C) - Get Report
.
Who Else Owns Synaptics? John Hussman

Although most college students would consider their education a part of the path to a high-paying job, for
Blackboard
( BBBB), the education market itself is the pathway to profits. Blackboard provides enterprise software to the education industry, allowing students to learn and collaborate through an online portal. The company currently has a short ratio of 19.2.
That high short interest ratio comes despite the fact that Blackboard's platforms are currently used at nearly 30% of post-secondary institutions in the U.S., and that number is growing. The company is looking for additional growth through the K-12 market as well as non-education channels: Blackboard's Transact software can be used in a number of off-campus applications. Ultimately, the company's industry dominance and ease of implementation should translate well into its to- line potential.
Henry Ellenbogen agrees. As the new manager of the
T. Rowe Price New Horizons Fund
(PRNHX), he manages one of the largest institutional stakes of Blackboard's shares. The fund also holds shares of
Panera Bread
(PNRA)
and
FactSet Research
(FDS) - Get Report
.
For the rest of this week's short-squeeze opportunities, including
Logitech
(LOGI) - Get Report
and
Internet Brands
( INET), check out the
Tech Stock Short-Squeeze portfolio
at Stockpickr.
And to find short-squeeze plays of your own, be sure to check out the
community for insights and investment ideas.
RELATED LINKS:
>>Five Carl Icahn Stocks for 2010
>>Beat the Dow: Will Collective Wisdom Prevail?
Follow Stockpickr on
and become a fan on
Facebook.
Jonas Elmerraji is the editor and portfolio manager of the
Rhino Stock Report
, a free investment advisory that returned 15% in 2008. He is a contributor to numerous financial outlets, including
Forbes
and
Investopedia
, and has been featured in
Investor's Business Daily
, in
Consumer's Digest
and on
MSNBC.com
.