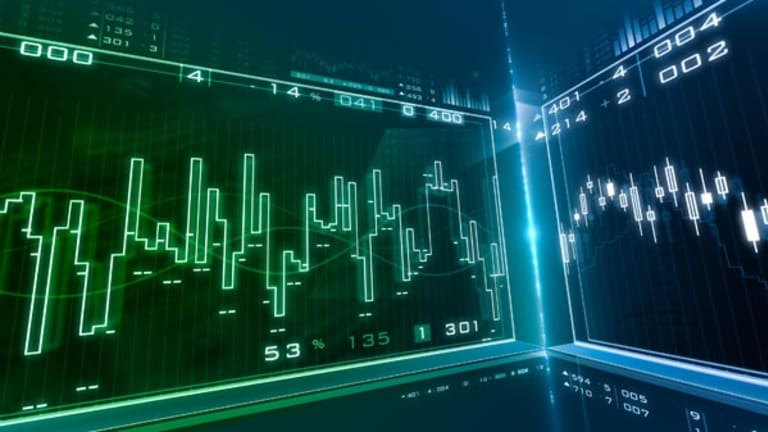 Tech Funds Get Wires Crossed
Investors are convinced that this sector has seen its day.
Not even record profits at some bellwether companies could stem the selloff in tech stocks this week. Investors have lost confidence that future sales and earnings will exceed perfection.
In the five trading days ended Jan. 18, the
and
Dow Jones Industrial Average
managed the slimmest of gains, up 0.19% and 0.46%, respectively. But the tech-heavy Nasdaq 100 index fell by 2.24%, while the 29 stocks tracked in the CBOE Technology Index sank 3.23%; the 19 members of the Philadelphia Semiconductor Index lost 5.8% of their value.
Over this period, the biggest tech wrecks included
Symantec
(SYMC) - Get Free Report
, which was walloped by 16.78% after the company disclosed that its third-quarter results would miss forecasts;
Advanced Micro Devices
(AMD) - Get Free Report
, which lost 11.20% amid a continued price war with
Intel
(INTC) - Get Free Report
that is cutting into gross margins and bottom line earnings at both companies; and
Broadcom
undefined
, down 10.07% amid speculation about its supply contracts to
Apple
(AAPL) - Get Free Report
for the iPhone and other devices.
Apple, now a bellwether of the technology industry, watched its shares lose 7.06% during the week as Mac sales missed forecasts, prompting some to question the sustainability of consumer demand.
The U.S. Supreme Court's decision in
MedImmune
undefined
vs.
Genentech
(DNA)
the previous week, which may make patents harder to protect and easier to challenge, also weighed on the tech sector. High-tech companies with a large percentage of revenue from patent licensing fees and the funds that hold them have the most exposure.
The average technology fund we track fell 2.73% from the close of trading on Jan. 11 though the close on Jan. 18. The fund hit the hardest was the
(SMPIX) - Get Free Report
ProFunds Semiconductor UltraSector Profund , which short-circuited by 8.43%. The fund, as designed, tracked 150% of the return of the Dow Jones U.S. Semiconductor index, which lost 5.56% during the week.
More than 96% of the fund's holdings are semiconductor stocks: it has 18.8% in Intel, 8.7% in
Texas Instruments
(TXN) - Get Free Report
, 4.7% in
Applied Materials
(AMAT) - Get Free Report
, 3.2% in
Broadcom
undefined
and 2.4% in Advanced Micro Devices.
The
(BFOCX) - Get Free Report
Berkshire Focus fund, which holds a core group of 20 to 30 large-cap companies with high growth potential, found that its concentration of tech industry stocks shed 7.13%, wiping out all the gains it had built so far in 2007.
In third place on the worst-performing list is the
(RYSIX) - Get Free Report
Rydex Series Electronics fund, which dropped 5.53%. The fund's largest holdings are Intel at 9.1% of the portfolio, Texas Instruments at 5.3%, Applied Materials and
Nvidia
(NVDA) - Get Free Report
. Although the fund has "Electonics" in its name, only 2% of its assets are in electronics stocks, with 96.2% of the holdings in semiconductors.
The only technology fund we track that was up for the period is the
(MATFX) - Get Free Report
Matthews Asian Technology fund. It is well diversified within the tech sector and also geographically. The funds' top sector is semiconductors, but that accounts for only 18.9% of assets. The other sector concentrations are telecommunications at 16.7%, Internet at 16.4%, electronics at 14.7%, software at 9.3% and computers at 6.1%.
The top five countries in which Matthew Asian Technology's holdings are based are Japan at 31.9% of assets, South Korea at 22%, Taiwan at 13.7%, China at 13.3% and India at 8.7%. The fund's three top holdings are not easily traded in the U.S. They are Samsung Electronics, HON HAI Precision and NHN. The fund's next-largest holding,
Taiwan Semiconductor
(TSM) - Get Free Report
, is available to U.S. investors through an American depositary receipt. Taiwan Semiconductor rose 3.1% in the last five trading days, while every other constituent of the Philadelphia Semiconductor Index fell.
Every fund on the worst-performer list and two in the best-performer list earned our lowest-possible rating of E-. The rating model ranks funds on a risk-adjusted return basis. Technology funds, like the ones listed above, tend to be more volatile than the overall market. They are therefore judged to be riskier investment choices. There is a place for tech funds in a diversified portfolio, but be sure not to over do it.
Kevin Baker became the senior financial analyst for TSC Ratings upon the August 2006 acquisition of Weiss Ratings by TheStreet.com, covering mutual funds. He joined the Weiss Group in 1997 as a banking and brokerage analyst. In 1999, he created the Weiss Group's first ratings to gauge the level of risk in U.S. equities. Baker received a B.S. degree in management from Rensselaer Polytechnic Institute and an M.B.A. with a finance specialization from Nova Southeastern University.