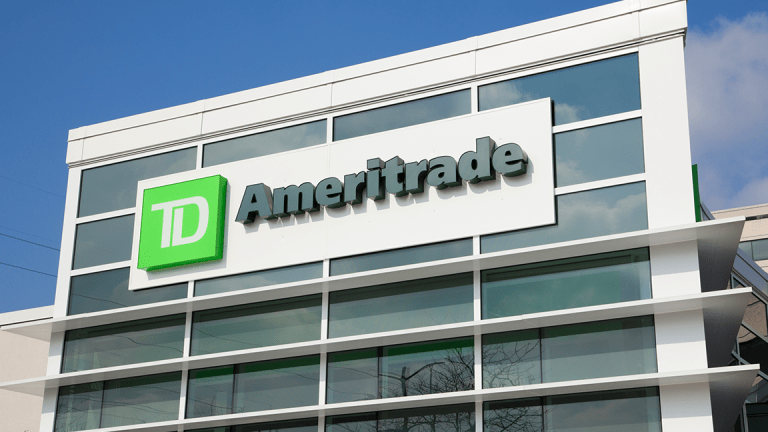 Next Stop, Snapchat? CEO Expands TDAmeritrade by Going Where the Cool Kids Are
TDAmeritrade CEO Tim Hockey used his company's chat bot to snap up 100 shares of Apple via Facebook Messenger.
TDAmeritrade CEO Tim Hockey used his company's chat bot to snap up 100 shares of Apple via Facebook Messenger.
A few years ago, TDAmeritrade (AMTD) - Get Report CEO Tim Hockey wouldn't have predicted that a chat bot from his own firm would let him buy stock over Facebook Messenger.
This week, he was able to do just that, snapping up 100 shares of Apple Inc., and he forecasts a growing number of similar innovations, taking advantage of messaging and voice-activated platforms as well as others yet to be invented.
"You have to be nimble as an organization," he said in a telephone interview after the Omaha, Neb.-based firm's earnings report on Tuesday, Oct. 24. After all, Hockey has heard the buzz about Facebook's dwindling cachet among younger people, who prefer services like Snapchat, which doesn't store conversations, and Instagram, which focuses on visuals.
"We want to make sure we are using technology to go to where the clients already are and want to interact," he said. "Let's face it, it's not like we're launching a chatbot on MySpace."
An early rival to Facebook, MySpace lacked its competitor's user-friendly interface and required users to build profiles by copying and pasting web codes. Owned briefly by News Corp., it was eventually converted to a music site and is today owned by Time Inc. (TIME)
More of What's Trending on TheStreet:
The Facebook Messenger bot and its successors illustrate TDAmeritrade's push to gain market share among millennials, the generation born between 1980 and 2000 whose population of 92 million makes it the largest in U.S. history.
Financiers of all stripes have been adapting their services to capture the segment's spending power, with American Express Co. (AXP) - Get Report adding rewards for shared-services companies like Uber to its popular Platinum card and JPMorgan Chase & Co. (JPM) - Get Report launching a mobile-only banking app called Finn.
Taking advantage of technology is just one of TDAmeritrade's growth strategies. The firm closed its $4 billion acquisition of Scottrade Financial Services in September, adding about 150,000 trades a day to its operation -- a 30% increase. The combined firm will keep about 250 Scottrade branches, and 87% of its clients will be within 25 miles of one of the firm's offices, executives said Tuesday.
Excluding costs related to that purchase, TDAmeritrade posted third-quarter earnings of 49 cents a share, slightly higher than the 46-cent average estimate from analysts surveyed by FactSet. Net income climbed 14% to $211 million as client trades, not counting those through Scottrade, rose 10% to a record 511,000 a day, according to a statement.
That increase occurred despite the lower volatility that hampered trading volumes across the industry. A year ago, Wall Street firms were benefiting as investors rapidly altered their portfolios in the wake of Britain's surprise decision to leave the European Union and the turmoil of the U.S. presidential election.
Since Donald Trump's victory in the American campaign, the blue-chip Dow Jones Industrial Average has surged 28%, topping 23,000, as investors bet on tax cuts and looser regulations from a Republican-controlled government.
The record high and others like it help explain how TDAmeritrade's volumes have expanded -- investors seeking to benefit from the gains have opened accounts.
"Accounts overall were up about 6% year-over-year," Hockey said during the interview. Even if the average number of trades had remained the same, that would have fueled some growth, but because "markets continue to reach new highs, we're seeing a little bit more trading per account."
More of What's Trending on TheStreet:
Editors' pick: Originally published Oct. 27.