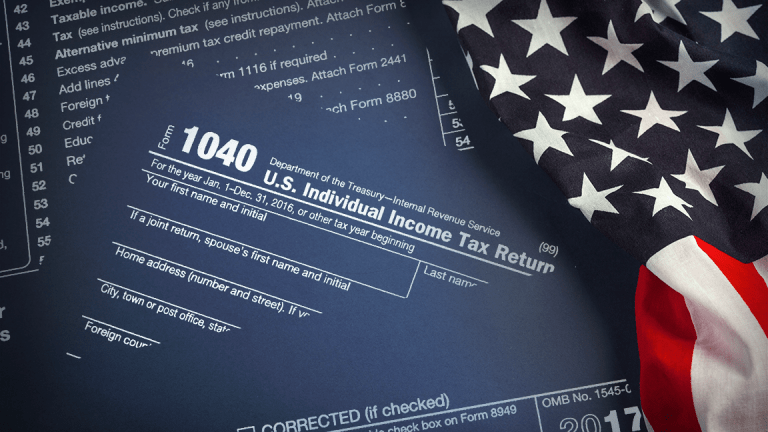 Tax Reform Benefits Workers and Their Wages, Says Former Fed Gov. Kroszner
Tax reform boosts economic growth and incentivizes investment. That could be welcome news for workers.
Despite a bumpy road to President Donald Trump's desk, the recently passed tax legislation has the right idea, former Federal Reserve Gov. Randy Kroszner told TheStreet.
"The tax reform's focus is to try to boost economic growth," Kroszner said. "And I think the key elements of it are focused on the right things."
But economic growth won't be the only side effect of the tax cut, which was the first in 30 years. Speaking to TheStreet from the sidelines of the Chicago Booth Economic Outlook event in New York, Kroszner explained what else could come of the country's new tax legislation.
Wage Growth in the U.S.
Wage growth has been a concern at the front of investors' minds of late. Even as unemployment remains at a 17-year low and job growth continues on a healthy trajectory, wages have been persistently low amid factors including technological changes, productivity issues, automation and the widespread retiring of baby boomers.
But the new tax law could help solve the problem.
"So by reducing corporate taxes and introducing full expensing, that'll give a strong incentive for investment," Kroszner said. "More investment leads generally to high productivity growth and that leads to higher wage growth."
Wall Street got a taste of that wage growth this week when Walmart Stores Inc. (WMT) - Get Report announced it will raise its minimum wage and offer bonuses to U.S. workers as a result of tax legislation benefits.
Kroszner pointed out that while it's important to note all the companies taking positive action following the tax reform bill's passage, Walmart is among the most significant. As the largest employer in the world, the fact that it's making this bold move so soon after the bill became law suggests the tailwinds could continue.
"If they are choosing to raise minimum wages and pay bonuses out and they say that's related to the tax reform, that's quite suggestive of one of the impacts," Kroszner said.
Labor Market Burden
Beyond just individual companies issuing higher wages, tax reform could reduce the overall burden laborers face in a high-tax environment.
"What we find is that the burden of increased taxes falls on both labor and on capital, so on both the owners and the workers," Kroszner noted. "Estimates range from around 30% to 50% of the burden falling on workers, and so if you see a tax reform like we've had that reduces the corporate taxes, that suggests that they may benefit up to a third of the reduction."
"But if you look not just at the individual names like Bank of America Corp. (BAC) - Get Report and AT&T Inc. (T) - Get Report and others ... if you look at the broader analysis, you find the negative impact of increased taxes on wages," Kroszner said.
"And so it would follow that if you reduce taxes you would also see a positive impact on wages. The exact sharing? That's going to depend on how things work out over time."
Supply/Demand Impact
Kroszner added that the reduction in individual tax rates leads to an increase in disposable incomes among American households. Growing disposable income means more demand from consumers who can now afford to, simply put, spend more.
"And so you have things that will help on both the supply side and on the demand side, and I think that's positive in both the shorter run and in the longer run," Kroszner pointed out.
Still, it remains unclear just how impactful tax reform will be on supply and demand and the interaction between consumer and merchant.
"We're going to have to see how exactly this is implemented and we're going to have to see how corporate/individual behavior responds to this," Kroszner said. "But I think the directions are broadly positive ones."
What's TheStreet Executive Editor Brian Sozzi thinks about Walmart's pay increases.
More of What's Trending on TheStreet: