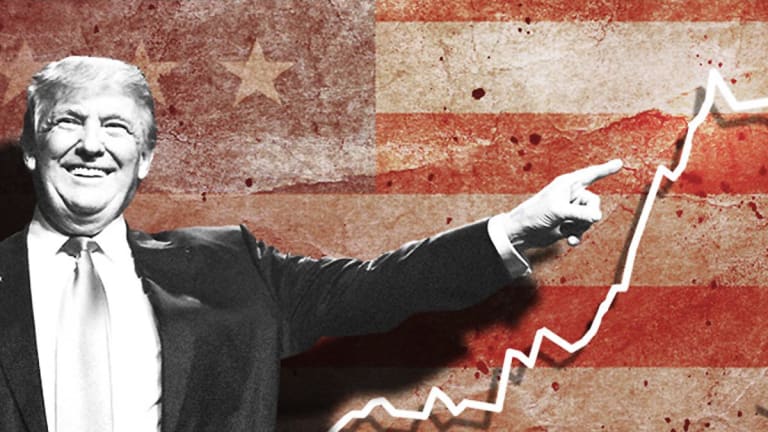 Tax-Cut-Fueled Stock Buybacks Retard Emergence of Trump's 'Greatest' Economy
President Donald Trump tweeted this week that the U.S. economy may be the "greatest in American history." But economists say that consumers appear less enthused, based on their spending patterns, while many company executives are using their tax windfall to buy back their own shares -- for a quick stock-price boost -- rather than investing in future growth opportunities.
President Donald Trump tweeted this week that the U.S. economy may be the "greatest in American history." But economists say that consumers appear less enthused, based on their spending patterns, while many company executives are using their tax windfall to buy back their own shares -- for a quick stock-price boost -- rather than investing in future growth opportunities.
President Donald Trump's tax cuts have prompted corporate executives use the cash windfall to reward their own investors instead of building factories, buying new equipment or accelerating wage increases that might spur consumer spending and stimulate the U.S. economy.
Companies in the Standard & Poor's 500 Index of large U.S. stocks are on pace to spend $2.5 trillion this year on shareholder dividends, stock buybacks or acquisitions, the Swiss bank UBS said Monday in a report. That would be a record, representing a $1 trillion jump over prior-year levels.
Many investors in turn have been using the money to buy bonds instead of higher-risk stocks, according to the report, typically an indicator that they'll be content to simply get their principal back with interest rather than betting on faster growth.
And because big investors tend to be richer, with less-pressing financial needs, a large portion of the extra money is likely to go into savings rather than immediate purchases that might lead to faster gains in consumer spending, said Beth Ann Bovino, chief U.S. economist at Standard & Poor's.
"Stock buybacks usually go to high earners, and high earners usually save rather than spend," Bovino said in an interview. "Whether businesses do invest in areas that improve productivity remains to be seen."
Economists are scrutinizing the latest data reports for early indications of whether Trump's tax cuts are delivering the promised fillip to growth - the primary argument for the passing new legislation, given the expected loss of government revenue at a time when the national debt is above $20 trillion and growing.
The nonpartisan Congressional Budget Office projected in April that the federal deficit would surge by 21% this year to $804 billion and increase at least through 2025. The CBO estimated that the economy will expand by 3.3% this year, faster than 2017's pace of 2.6%, before slowing back to 2.4% in 2019.
But that forecast was predicated on how the tax savings are deployed: "Most of the growth in output in the next two years is driven by consumer spending and business investment," the CBO said in its report.
Since the tax-cut law was passed in December, the unemployment rate has fallen to 3.8% from 4.1%, continuing a downward trend begun in 2009 under then-President Barack Obama. The labor market has been strong all year, with 223,000 jobs added in May, the highest for that month in three years.
Earlier this week, Trump tweeted that, "in many ways, this is the greatest economy in the HISTORY of America and the best time EVER to look for a job!"
Yet many economists say there are few signs so far that the tax cuts are making much of a difference in overall economic output. Steve Blitz, chief economist at the consultant TS Lombard, said he's seen "zero" impact, though he does expect businesses to eventually increase capital spending on such things as new plants, technology and equipment.
"All that's really occurred so far is that it's put more cash on corporate balance sheets," Blitz said in a phone interview. Corporate treasurers are investing much of that money in U.S. Treasury bonds or putting it into accounts at banks, which also often put money into Treasuries, he said. "That money is being lent to pay for the deficit."
Business capital expenditures - distinct from ongoing costs like salaries, maintenance and routine purchasing - have climbed at an annual rate of 7.2% in the first quarter, the highest for that calendar period since 2015, according to the Commerce Department's Bureau of Economic Analysis. Such investments are often seen as a harbinger of economic growth, since they signal confidence by business executives in future prospects.
But according to economists at Moody's Investors Service, the investment reading from the first quarter was a continuation -- not an acceleration -- of a trend begun late in Obama's term.
"We're not seeing a strong pickup in investment data yet," Elena Duggar, chair of the firm's macroeconomic board, said in a phone interview. Moody's expects U.S. gross domestic product - the broadest economic gauge -- to expand by just 2.7% this year.
Scott Wren, senior global equity strategist at Wells Fargo Investment Institute, said in an interview that he thinks much of the recent capital expenditures, or capex, went to buy aging equipment that needed to be replaced, rather than on new business opportunities.
"Some projects may have been brought forward a bit," he said. "But when we talked to our individual company analysts and sector analysts, they weren't jumping up and down and saying we're seeing executives go crazy on capex."
Consumers aren't rushing to spend their tax savings either. Personal consumption expenditures rose at an annual rate of 1% in the first quarter, a slowdown from the the year-earlier pace of 1.9% and 1.8% in 2016, according to the Bureau of Economic Analysis. (Tax returns aren't due until April, but many filers get refunds earlier in the year.) 
Wayne Winegarden, a senior fellow in business and economics at the Pacific Research Institute, which advocates for free-market policies, says it's too early to judge the effect of the tax cuts by looking at economic data. But he says the money put into investors' hands from stock buybacks and dividends will eventually be reinvested into different companies where executives are ready to take advantage of opportunities or looking to expand.
"Everything is proceeding positively, but it'll take time for these things to work out," Winegarden said. "If you have the right policy environment that's incenting opportunities, capital will be made available."
Scott MacDonald, chief economist at Smith Research and Gradings, said the tax cuts provided an "important psychological boost for many Americans" that should help drive growth. And the spate of share buybacks, which have helped to push major stock indexes up to new highs, offer a further boost to the "good-times feelings," he said.
The current economic recovery, which began in mid-2009, is the second-longest expansion in U.S. history and will set a new record if it extends for another year, he noted.
"The U.S. economy is enjoying a short-term pop in growth, fueled by lower taxes," he wrote in an e-mail. "But it is also setting the stage for a brutal recession, probably in 2020. It reminds me of what past populist governments have done in Argentina, Peru and Turkey. Pump-prime the economy for short-term gain and let the fiscal situation loosen, and ultimately be forced to pay the piper."
A gauge of small-business optimism declined to 104.8 in April, from 106.9 in January, according to the National Federation of Independent Business, a trade group. It's still close to an all-time high, and well above the 94.9 reading notched in October 2016, just before Trump was elected.
That said, the Trump's administration's trade tensions with China, Canada and Mexico could put an additional damper on U.S. business sentiment, given the likely increases in the cost of imported goods and the risk of retaliatory measures that might make exports less competitive.
"You can't say that those types of things are anything but a headwind," said Wren, of the Wells Fargo Investment Institute. "Trade tensions are not going to make CEOs any more confident."