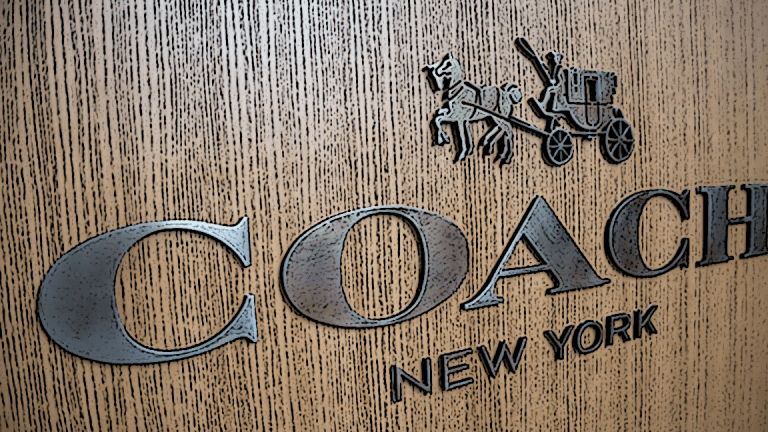 Tapestry Surges on Better-Than-Expected Earnings
Shares of Tapestry, parent company of Coach, Stuart Weitzman and Kate Spade, surge after the company weaves a fiscal third-quarter earnings report that exceeds analysts' forecasts.
Shares of Tapestry (TPR) - Get Tapestry Inc. Report , the parent company of high-end luxury fashion brands including Coach, Stuart Weitzman and Kate Spade, surged on Thursday after the company reported fiscal third-quarter earnings that beat analysts' forecasts.
The New York-based company said net income for its fiscal third quarter came in at $117 million, or 40 cents a share, vs. $140 million, or 48 cents a share, in the comparable year-ago quarter. While lower than a year ago, the results surpassed FactSet consensus estimates of 41 cents a share.
Stronger sales of Kate Spade shoes and handbags helped offset flat to slightly lower sales of the company's Coach and Stuart Weitzman offerings, Tapestry said. Sales totaled $1.33 billion compared with $1.32 billion in the same year-ago period. Inventories of goods on hand were $811 million at the end of the quarter vs. $714 million a year ago.
The company did weave a bright earnings story going forward, however, noting it expects full-year per-share earnings in the range of $2.55 to $2.60, reflecting $100 million to $115 million in cost-saving benefits resulting from its Kate Spade acquisition.
The consensus estimate of analysts polled by FactSet for Tapestry's fiscal year is currently $2.58 a share.
Shares of Tapestry surged more than 13% to $34.70 in early trading on the New York Stock Exchange.