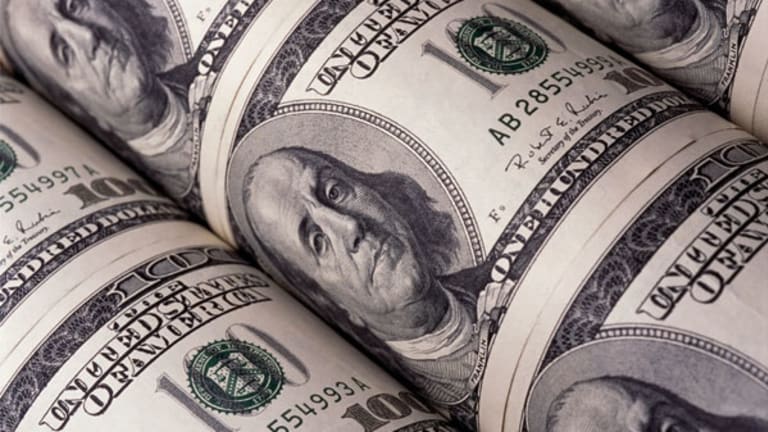 Tale of 2 Techs; the Game Plan: Cramer's Best Blogs
Catch up on Jim Cramer's thinking over the past week, including two tech stocks that explain the market and the latest game plan.
Catch up on Jim Cramer's thinking over the past week, including two tech stocks that explain the market and the latest game plan.
NEW YORK (
) --
fills his blog on
RealMoney
every day with his up-to-the-minute reactions to what's happening in the market and his legendary ahead-of-the-crowd ideas. This week he blogged on:
ChannelAdvisor and Hewlett-Packard; and
the latest game plan.
for information on
RealMoney
, where you can see all the blogs, including Jim Cramer's -- and reader comments -- in real time.
Two Tech Stocks Explain This Market
Posted at 3:31 p.m. EDT on Thursday, May 23
ChannelAdvisor
(ECOM) - Get Report
and
Hewlett-Packard
(HPQ) - Get Report
, the two standout names today, represent polar opposites, and yet both are up big today, a phenomenon that explains a lot of this market's innate strength.
Most market participants thought that Hewlett-Packard would be a disaster, given the rapid secular decline of the personal computer and the hideous results of competitor
Dell
(DELL) - Get Report
. Instead we got the opposite, a totally solid positive-cash-flow quarter that showed a dramatic improvement in the balance sheet and a nice bump in the dividend.
None of this was expected. Consequently, Hewlett has rallied significantly, something that makes a ton of sense, because the issue of the company's viability, which was in question not that long ago, has been taken off the table entirely. CEO Meg Whitman has reined in expenses, improved supply-chain management and billing and is doing much more with far less.
Also see: The Mystery of Mag Whitman's HP >>
All that said, though, the revenue for just about every single line item was horrendous, particularly personal computers, which were down 20%. I like the lineup of new personal computers, which includes new form factors with Android operating systems and
ARM Holdings
(ARMH)
chips instead of the usual
Microsoft
(MSFT) - Get Report
software and
Intel
(INTC) - Get Report
Inside semiconductors. Still, as David Faber stated this morning, there's no doubt that the personal computer market could be shrinking right before our eyes, with no conceivable turn in sight.
In short, Hewlett-Packard, a once-great growth company, is now a cash cow without the kind of sales boom that the market ultimately wants. Hewlett is a quintessential value play, and if we don't get world economic growth, it will be the quintessential value trap. We will look back and say it was down 44% in 2012 because it looked like the company was doomed but bounced back 40% for the year so far because it's not going out of business. Of course, a stock that plummets 44% then rallies 40% is far from back to even, but it's still something worth writing home about.
ChannelAdvisor is the exact opposite of Hewlett-Packard. Here's a brand-new company, just came public today, and it roared to an immediate premium. Unlike Hewlett-Packard, this company is losing money, and it states right in its offering document that it expects "our operating expenses to increase significantly in the foreseeable future which may make it more difficult to achieve profitability."
Also see: TIPS ETFs May Not Protect You From Rising Rates >>
So why was it loved? Why did it go to a premium immediately? Because ChannelAdvisor has growth, specifically accelerating revenue growth, as it offers solutions to 27% of the top Internet retailers that help them get the most out of their ads on
Google
(GOOG) - Get Report
,
Groupon
(GRPN) - Get Report
,
Yahoo!
(YHOO)
, Bing,
eBay
(EBAY) - Get Report
and
Amazon
(AMZN) - Get Report
.
You want to see ChannelAdvisor's handiwork? Go to eBay's men's clothing section, as you might want to do for Father's Day. Then go to men's suits. Notice that
Jos. A. Banks
(JOSB)
ad to the right, the one that's offering suits for as low as $99? That's ChannelAdvisor's client, which pays ChannelAdvisor a subscription fee to manage the ad and a revenue share if the sales perform above expectations.It's a growth business. In fact, it is such a growth business that unlike Hewlett-Packard, which is returning its money to shareholders, it's seeking as much money as possible to be able to build up its sales force and build out its infrastructure to take advantage of the moment, as it is the dominant cloud play for retail sales.Now I hope you recognize how a money-loser like ChannelAdvisor can roar on the same day as a moneymaker like Hewlett-Packard. It's all about growth and value, both of which satisfy the needs of today's bipolar investment styles.
At the time of publication, Action Alerts PLUS, which Cramer co-manages as a charitable trust, was long EBAY.
People Are Losing It
Posted at 3:27 p.m. EDT on Wednesday, May 22
So, rates are going higher and we have to sell everything that's rate sensitive. That's the game plan.
Or is the game plan to sell stuff that's been up a lot because it's a good thing to take profits?
Or is the game plan to just go along with the futures selling because you never know what the
Fed
is going to do.
Or is there just no game plan at all?
I think it's the latter. We have a lot of people who have come in during the last few months because the market can do no wrong.
They are freaking out. Right now. I see it on Twitter. There are people, literally, begging for advice about what to do because they are in totally over their heads and know nothing about what they own.
Now, I don't think there's anything really different today from other days. We are just higher than we were before.
But the lack of depth of these people who are experiencing this downturn -- measured by the people who follow me on Twitter -- is shocking. There are people who are freaking out if a stock's down 80 cents. There are people who want to slit their throats because a stock's down 3%.
So it looks like we are going to get a little cleansing and shake-out because there's no way these people can make money. Many are just PowerBall players who hit a couple of times then think that they hit all of the time.
Now, because so many people have missed this rally, the tendency will be, as has been the case every time in 2013, to immediately conclude this is the big one. Let those people short the market and accentuate the decline.
Also see: Crowdfunding at Internet Week >>
Give it some room. Most stocks are up so much you just ruin your basis if you buy here.
But there are plenty of stocks that are pulling back hard that I like, stocks like
Joy Global
(JOY)
and
Vale
(VALE) - Get Report
, because they haven't moved yet. There's a stock like
EOG
(EOG) - Get Report
, which is getting crushed or
Wells Fargo
(WFC) - Get Report
, which is giving you still one more chance to get in.
Plenty to look at and start bidding for, but let's get some of these summer soldiers -- who have never experienced any pain -- to bolt before putting any serious capital at risk here because they create the best bargains in their own panic.
At the time of publication, Action Alerts PLUS, which Cramer co-manages as a charitable trust, was long JOY, VALE and WFC.