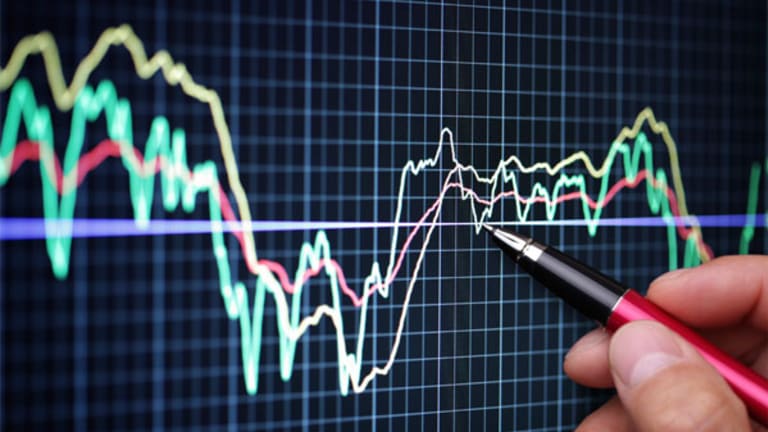 Doug Kass fills his blog on RealMoney every day with his up-to-the-minute reactions to what's happening in the market and his legendary ahead-of-the-crowd ideas. This week he blogged on:
How the week's trading went.
How to tactically approach an uncertain market.
Click here for information on RealMoney, where you can see all the blogs, including Doug Kass'--and reader comments--in real time.
Takes From This Week's Trading
Originally published April 21 at 5:17 p.m. EST
From my perch, I have several takes from the day's (and the week's) trading:
* Fixed Income Rallies: Today's reversal in bond yields from down two basis points to unchanged to up modestly reinforces my view that Tuesday (of this week) may have represented a buying climax in bonds. Of all the trades I have on, I am most confident in the investment short in iShares Barclays 20+ Yr Treas. Bond (ETF) (TLT) - Get iShares 20+ Year Treasury Bond ETF Report .
* Kill The Quants Before They Kill Our Markets: The lack of consistency and trend suggests to me that machines, algos, price trending strategies and ETFs (rebalancing late in the day) form the basis of exaggerated intraday moves. The role of risk parity and volatility trending strategies is chopping up experienced traders and leading a number of high profile hedge hoggers to close down. This provides an ideal setting for us "littler guys," opportunistic traders who unemotionally buy weakness and sell strength.
* A Stock Market Top(?): I am growing more confident that an important stock market top has been forming over the past 3 to 4 months. But, tops are processes.
* Shorten Your Horizon: I am more convinced that shortening one's time frame and investing horizons is an appropriate strategy for now.
* Tune Out the Noise: There is an increased amount of "noise" and senseless commentary in the business media. I have no axe to grind but, in general, the pabulum is getting worse than ever. Start tuning it out. Instead of watching, read as much as possible and develop value added resources for fundamental research and creative technical analysis. My pal, Richard Bernstein wrote a great book on the subject--"Navigate The Noise: Investing in the New Age of Media and Hype." Check it out--I see you can get a used copy on Amazon as low as $2.49! (I will update my list of recommended books on the investment business on Monday).
* "Stick With Cramer": Jim "El Capitan" Cramer has been on a family trip to the Pacific Northwest but he is now back writing his terrific commentary this week. I am not applauding his efforts because he founded TheStreet. I am writing this because his experiences flow effortlessly in his writings and serve as keen insights and good damn investment advice. His logic of argument and power of dissection gets better and better. One good example is today's "You Only Need To Get Rich Once." It is a good sample of something that is never written about but should be. Jim can be nuanced (in a complicated investment backdrop) or he can be in your face in his columns--regardless of approach in the particular article, the guy is getting better with age.
I wanted to sincerely thank everyone for reading my Diary this week and for making Real Money Pro a destination for investing ideas and commentary!
There is some very good stuff happening at Real Money Pro in the months ahead which will enhance your experience and knowledge.
Position: Short TLT.
My Tactical Trading Approach to an Uncertain Market
Originally published April 21 at 8:12 a.m. EST
So, let me paint a picture of a shorter-term view than expressed in my opener that guides me in executing my short-term trading strategy.
I recently have sanctioned the notion that most should have above-average cash reserves in an uncertain investment world and, as mentioned in my opener, most should be patient and wait for the right pitch.

However, as a money manager, I have different mandates than some and I want to capitalize on what Mr. Market presents to me. I see frequent trading opportunities in a market that Donald Trump has made volatile and uncertain again and I am relatively fast on the trigger. So, I have engaged in a recently profitable path toward opportunistic trading based on these sets of factors: intuition, years of experience, willingness to buy weakness and sell strength, an analysis of very short-term influences that include sentiment and political and geopolitical events, and the "it" factor (i.e., how the market is setting up). All are variables that frequently are changing in context and significance.
Trading in this manner isn't easy and it leads to abrupt changes in the decision-making process.
So, what am I looking at now that makes me locked in market-neutral?
There have been some emerging positive signs over the last few days, though the markets have alternated in preference between economically sensitive cyclicals and growth stocks. Meanwhile, some prior losers--among them banks, materials, retailers, small-caps and transports--prospered mightily on Thursday.
Yesterday growth prospered and value (consumer discretionary and industrials) caught up while rate-sensitive defensive areas such as REITs and utilities weakened.
But the move was not conclusive. Inconsistencies still exist and are reflected in a search for clear-cut market leadership. Importantly, the move was "newsy" (e.g., we heard hints of policy moves on taxes and another try on health care and had earnings from CSX (CSX) - Get CSX Corporation Report and IBM (IBM) - Get International Business Machines (IBM) Report ) and I typically like selling "newsy" market rises and buying "newsy" market drops as they don't seem to have staying power.
Technical conditions are mixed:
While breadth was 2-1 on Thursday it was not as explosive as the large market boost implied.
However, NYSE "all issues" is back to a new high and Thursday's market rise came off a moderate oversold.
The Summation Index indicates momentum is far from oversold
Put/call data indicated less interest in downside protection; the CBOE 10-day P/C ratio stood at 0.98, a low for the last five to six weeks.
I believe a key to the advance continuing or, by contrast, a inconsistent market without memory from day to day, will be seen in market breadth.
With an important French election this weekend, I plan to stay in market-neutral mode.
Position: Short IYR Small.
Action Alerts PLUS, which Cramer manages as a charitable trust, has no positions in the stocks mentioned.