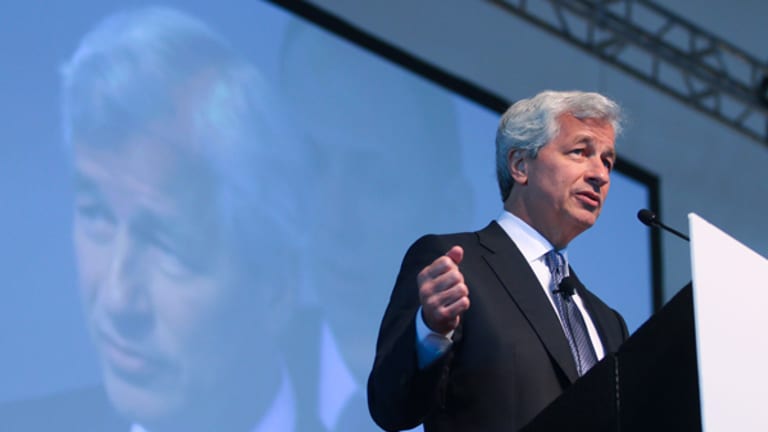 Here's Why This Top Money Manager Is Now Short Banks Like Bank of America and JP Morgan
This top mind also shares his thoughts on the shape of the market.
Here
Takeaways and Observations
I spent most of the time in my Diary discussing banks.--and why I am now short the sector and have placed three money centers on my Best Ideas List (short).
And I consistently noted the correlation between yields and banks...and, in turn, a moderating rate of growth in the economy and (in theory) a vulnerable stock market.
At least one of those correlations held--lower bank prices. A good start for the multiple "Trades of the Week." JPMorgan (JPM) , BankofAmerica (BAC) and Citigroup (C) all lower.
There are divergences aplenty.

Stocks were downright boring with the narrowest trading range in weeks. Volume anemic. As an example, SPY usually trades 70 million shares daily. We will be lucky to do 30 million today.
But if you told me bond yields would be down by four basis points, iShares Russell 2000 Index (ETF) (IWM) a beaner lower and Goldman Sachs (GS) shares -$4+ I would have thought we would be down -0.5% to -1.0%.
No such luck!
* The U.S. Dollar continued to weaken.
* The price of crude oil declined by -$0.17 to $49.64. Energy Select Sector SPDR (ETF) (XLE) suffered.
* Gold fell by -$6. I recently sold SPDR Gold Trust (GLD) and I am pleased I did so.
* Ag commodities were a land mine today: wheat -8,corn -8, soybeans -15 and oats -3.
* Lumber -7.
* As mentioned, bond yield fell from low levels (-3 to -4 bps).
* The 2s10s 2-3 bps lower to 91 basis points. Growth slowing?
* Municipals and high yield caught bids.
* Banks suffered. Phew!
* Insurance was mixed. Hartford Financial Services  (HIG) held in.
* Brokerages in pain, led by GS.
* Autos had a bid.
* Ag equipment was lower
* Old tech was mixed.
* Retail caught a small bid.
* Consumer staples were mixed. Campbell Soup (CPB) conspicuously weaker--but I dont see a reason why (Does anyone else have a reason?)
* Media weakened.
* Biotech taken to the woodshed. Celgene  (CELG) . Speculative biotech mixed.
* Big pharma was slightly higher.
* Energy broadly lower.
* (T)FAANG was stronger--led by Tesla (TSLA) and Alphabet  (GOOGL) . What else is new?
Here are some value added contributions on our site today:
1. Jim "El Capitan" Cramer has a diet like my Grandma Koufax.
2. Ed Ponsi "Scheme" gets alliterative with Smuckers and Starbucks.
3. RevShark warns about a Trading Jones.
4. Ken Goldberg spits the bit(coin).
5. "Stormin" Mike Norman remains bearish on bonds.
Position: LONG CPB large HIG large SDS large SDS calls SQQQ large XLE SHORT SPY small IYR small BAC JPM C.
Originally published May 30 at 4:11 p.m. EST
I am putting three money center banks-- Bank of America (BAC) , Citigroup (C) and JPMorgan (JPM) --on my Best Ideas List (short).

Shorting Financials


This will make seven financials on my Best Ideas List (short)--the others are Morgan Stanley (MS) , Goldman Sachs (GS) , MetLife (MET) and Lincoln National (LNC) .
Position: Short BAC, C, JPM.
Originally published May 30 at 1:30 p.m. EST
Jim Cramer and the AAP team hold positions in Facebook and Alphabet for their Action Alerts PLUS Charitable Trust Portfolio. Want to be alerted before Cramer buys or sells AAPL? Learn more now.
Special Note
Doug Kass shares his views every day on RealMoneyPro. Click here for a real-time look at his insights and musings.
Read More Trending Articles:
'I Am Positioned Aggressively for a Stock Market Correction,' Says Doug Kass
11 Countries to Visit With Caution