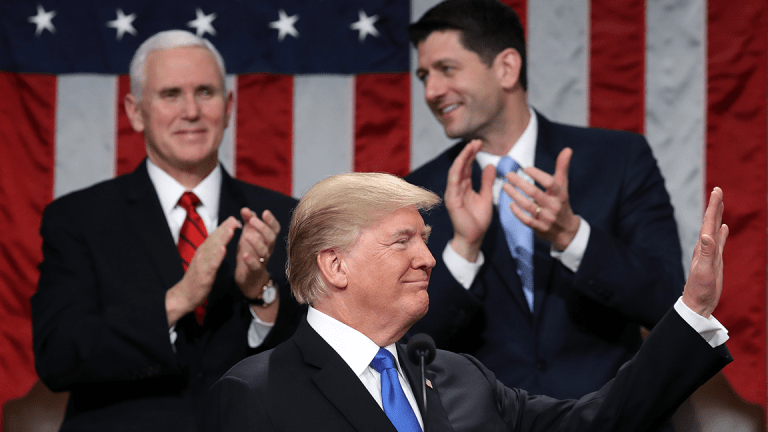 4 Big Takeaways From President Trump's Speech That Investors Need to Know About
As investors prepare to digest all that President Donald Trump covered, these are the quick takes as Washington heads home.
President Donald Trump delivered his first State of the Union address on Tuesday, Jan. 30, covering immigration, infrastructure, foreign policy and the booming economy.
It was one of the longest State of the Union addresses on record, closing in on one hour and 20 minutes. What the president had to say has the power to move markets. Here are quick takes as Capitol Hill files out of the Congressional chamber.
One speech does not a revered leader make
"More than a year after delivering a surprising, historically atypical and divisive inaugural address, President Trump opted to try a different script, one in which he embraced the traditional role of the president mostly urging bipartisanship instead of as a candidate speaking only to his base," said Bankrate senior economic analyst Mark Hamrick.
"But this speech doesn't take place in a vacuum and can't erase history. This one event alone can't heal all of the wounds opened during his candidacy and first year in office. It remains to be seen whether he has sufficient political capital left to press for his top priorities," Hamrick said.
"I don't think any one speech is going to do anything," said David Nelson, chief strategist at Belpointe.
Look for the responders
President Trump was, clearly, the man in the spotlight Tuesday. But those who retorted are important to keep in mind, too, especially looking ahead to the 2020 election.
While Rep. Joseph Kennedy of Massachusetts is giving the official Democratic response, at least four others will join him in speaking out following the State of the Union address.
The list includes Sen. Bernie Sanders of Vermont, who delivered his own response at Trump's congressional address last year, too. There is also Virginia Delegate Elizabeth Guzman, who will deliver the Spanish language response, Rep. Donna Edwards of Maryland with the Working Families Party response and Rep. Maxine Waters of California, who boycotted the speech and will deliver her response on BET.
"Anybody who wants to run for president in 2020 will step up to some podium somewhere," Nelson said.
What about drug prices?
"Remaining true to his populist themes, the president loves to hammer the drug industry for high prices while pledging that lower prices are coming thanks to his administration. Will his choice of a former drug industry executive, Alex Azar, now the head of Health and Human Services, deliver results on that front?" Hamrick asked.
"I'd prefer to place my bet on the partnership just announced by Berkshire Hathaway (BRK.A) - Get BRK.A Report (BRK.B) - Get Berkshire Hathaway Inc. Class B Report , JP Morgan Chase & Co. (JPM) - Get JPMorgan Chase & Co. (JPM) Report and Amazon.com Inc. (AMZN) - Get Amazon.com, Inc. Report . In any case, the problem and the need for a solution are real: The burgeoning costs of health care are creating a financial stranglehold on the U.S. economy and Americans."
The economic gains
"There are a lot of reasons why you hate Trump," Nelson said, "but the economy is not one of them."
Coming off broad losses at the closing bell earlier in the afternoon, stocks responded strongly to Trump's comments by the evening. Dow Jones Industrial Average Futures gained 0.33%, S&P 500 futures gained 0.34% and Nasdaq futures gained 0.38% late Tuesday night.
Twitter's reaction
More of What's Trending on TheStreet: