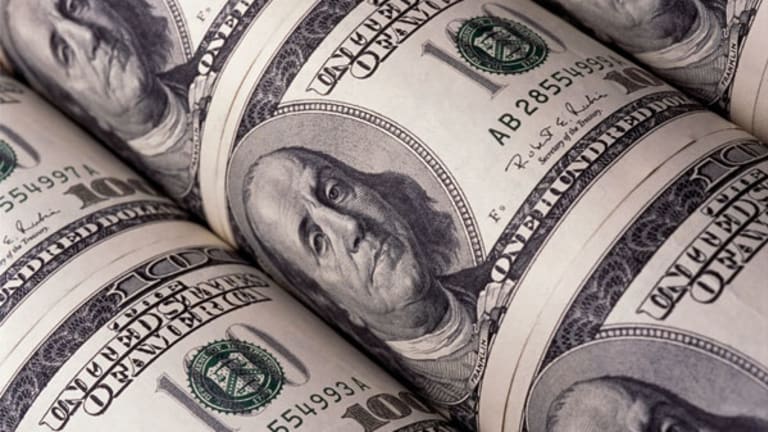 Takeaways and Observations; What's Driving My Approach: Doug Kass' Views
Doug Kass shares his thoughts on Twitter, Apple and Alphabet.
Doug Kass shares his views every day on RealMoneyPro. Click here for a real-time look at his insights and musings.
Adding to Twitter Long
Originally published April 26 at 12:59 p.m. EST
I have added (small) to my Twitter (TWTR) - Get Twitter, Inc. Report long--just now at slightly under $16.
My update and analysis of the Twitter quarter (I liked!) will be delivered on Monday as I have to scoot out for two days at a teaching assignment at Tulane University in New Orleans.
Position: LONG TWTR large .
Here's What's Driving My Approach

Originally published April 26 at 10:40 a.m. EST
Here is a synopsis of my short-term thinking as it relates to my near-term trading tactics:
The market has been buoyed by a handful of stocks of a technology kind.
From my perch, (T)FANG has been materially exploited.
The Nasdaq is getting overbought now.
As mentioned at the outset, SPDR S&P 500 ETF (SPY) - Get SPDR S&P 500 ETF Trust Report short interest has been materially reduced and is now back to 2007 levels, and as Peter Boockvar related earlier, bullish investor sentiment has risen in the last week.
The long-expected tax reform package is now on our doorsteps, though approval and execution without impacting the deficit is likely problematic. The rumor of the package has been bought--perhaps the news will be sold.
The 10-year U.S. note yield has risen by about 17 basis points from last Tuesday's low yield of 2.16%. Yields again could test the resistance at 2.32% (it is now 2.329%). If bonds rally in price and decline in yield, this could get the risk-parity crowd to sell stocks and buy bonds.
The key to me is the Nasdaq, and I am laser-fixed on the near-term action of that Index.
I will be selling more aggressively if the Nasdaq begins to slip, which is quite possible. If not, I will continue to probe on the short side, taking baby steps as mentioned earlier.
Position: Long SQQQ, SDS; short TLT large .
Takeaways and Observations

Originally published April 24 at 4:00 p.m. EST
'Til April in Paris, chestnuts in blossom
Holiday tables under the trees
April in Paris, this is a feeling
That no one can ever reprise

--April in Paris, Vernon Duke and Yip Harburg--(rare video with Ella Fitzgerald!)
The market gapped higher and spent the day in a narrow range--not sure what that means.
Here is an analysis from RevShark:
"...but the only thing I'm worried about is the inability of this market to generate momentum. Gap and flat action doesn't give us many opportunities, and that is of far greater concern to me than poor technical action."

- Rev Shark, Did You Sleep Through Big Market Move?
It was "Springtime in Paris" as investors saw the sunny side of the street over there and here. (Doing legends today, so here is Billie Holiday!)
But here is "What Troubles Me and Should Trouble You." "He likes it, hey Rosie!"
I remain bearish of self-confident "talking heads" who are often wrong but never in doubt.
"Trade of the Week"--Hartford Financial Services Hartford Financial Services (HIG) .
"For Traders Only"--buying out of the money HIG calls.
Dipped on the short side--but in a minor way.
At 3:45 p.m., the S&P is near the top end of its daily trading range.
* The US Dollar got schmeissed after a salutary reaction to the French elections.
* The price of crude oil settled -$0.37 to $49.25.
* Gold fell by -$13. As I wrote last week, no likey.
* Ag commodities: wheat -3, corn +2.50, soybeans +8,75 and oats +2.50.
* Lumber fell by three beaners.
* Bonds declined in price and rose in yield (by 4- 4 1/2 basis points)
* The 10-year U.S. note yield is at 2.275% -- but below 2.32% it hit before trading commenced. (I thought that rollover in yields would cause stocks to take a breather from the highs -- but so far, no).
* The 2s/10s spread expanded by only one basis point to 104 bps.
* Municipals got hit but high yield was well bid on relief regarding EU economic growth.
*Blackstone/GSO Strategic Credit Fund (BGB) - Get Blackstone / GSO Strategic Credit Fund Report + a penny, I would not own here.
* Banks bolted higher as rates turned up. Seems to be exaggerated by machines, we will see throughout the week. Money centers ++. EU banks particularly strong (e.g. Deutsche Bank (DB) - Get Deutsche Bank AG Report --which I would be selling).
* Insurance strong, though "Trade of the Week" (HIG) - Get Hartford Financial Services Group, Inc. (HIG) Report is lagging. I plan to add to very small Metlife (MET) and Lincoln National (LNC) shorts on any further gains (after covering lower).
* Brokerages had a "dead cat" bounce--looking to short both Morgan Stanley (MS) - Get Morgan Stanley (MS) Report and Goldman Sachs (GS) - Get Goldman Sachs Group, Inc. (GS) Report after covering lower.
* Auto stocks underperformed.
* Ag equipment higher despite so-so Caterpillar (CAT) - Get Caterpillar Inc. Report retail sales for March.
* Retail was mixed with Home Depot (HD) - Get Home Depot, Inc. (HD) Report /Lowe's (LOW) - Get Lowe's Companies, Inc. (LOW) Report remodeling complex upside leaders. Nike (NKE) - Get NIKE, Inc. (NKE) Report , Kohl's (KSS) - Get Kohl's Corporation (KSS) Report and Macy's (M) - Get Macy's Inc Report disappointing--and lower.
* Biotech stormed +2% as Celgene (CELG) - Get Celgene Corporation Report led the parade. Speculative biotech was strong (ACADIA Pharmaceuticals (ACAD) - Get ACADIA Pharmaceuticals Inc. Report etc.)
* Big pharma played catch up from recent weakness.
* Old tech stronger led by Microsoft (MSFT) - Get Microsoft Corporation (MSFT) Report , Cisco (CSCO) - Get Cisco Systems, Inc. Report and Intel (INTC) - Get Intel Corporation (INTC) Report .
* Media was conspicuously weaker--Disney (DIS) - Get Walt Disney Company Report lower in a strong tape.
* Consumer staples prospered with a lower currency--my fave (but much hated), Campbell Soup (CPB) - Get Campbell Soup Company Report almost one dollar better.
* (T)FANG broadly higher. Amazon (AMZN) - Get Amazon.com, Inc. Report and Alphabet (GOOGL) - Get Alphabet Inc. Class A Report continue their market leadership.
* In individual stocks, DuPont (DD) - Get DuPont de Nemours, Inc. Report and Radian Group (RDN) - Get Radian Group Inc. Report stood out to the upside. As did Apple (AAPL) - Get Apple Inc. (AAPL) Report , a small short. Everyone has forgotten about Twitter (TWTR) - Get Twitter, Inc. Report --that's probably a good thing (up a nickel).
Here are some value added contributions on our site today:
Jim "El Capitan" Cramer on the train leaving the station.
RevShark (mentioned earlier) on sleeping through today's move.
Bobby Lang on the yield curve.
Alex "Phew" McMillan on regulators and technology.
Divine Ms M on patterns (over there).
Position: Long SQQQ small SDS small HIG large CPB large TWTR large DD small RDN SHORT LNC small MET small CAT.
Action Alerts PLUS, which Cramer manages as a charitable trust, is long KSS, CSCO, GOOGL and AAPL.