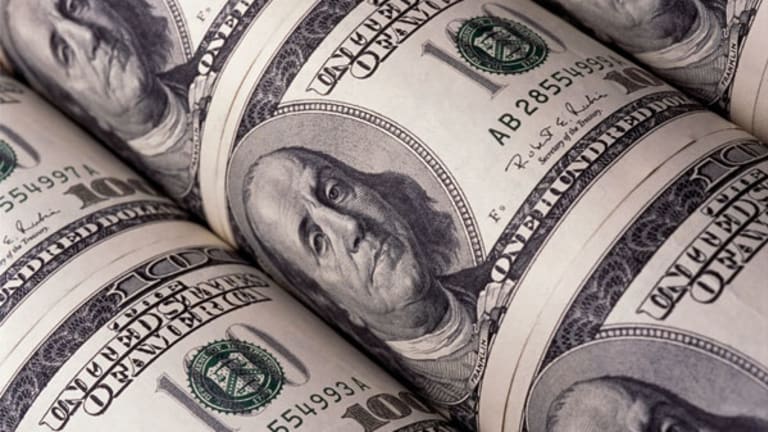 Doug Kass shares his views every day on RealMoneyPro. Click here for a real-time look at his insights and musings.
Takeaways and Observations
Originally published April 20 at 4:13 p.m. EST
"The modern mind is in complete disarray. Knowledge has stretched itself to the point where neither the world nor our intelligence can find any foot-hold. It is a fact that we are suffering from nihilism." -- Albert Camus
My core theme Thursday and this week is to be opportunistic and flexible in a market without memory from day to day. Stated simply, for now I have materially shortened my investment horizons.
That is not to say I have abandoned longer-term investing. I have not, and I have not made any changes in my long-term longs and shorts. But my modus operandi in the near term is to be moving my net exposure around more aggressively and with greater frequency--that is, "Trade Opportunistically and Trade More Often."
I moved from market neutral, to slightly net long, to small net long and back to market neutral (wth S&P +22 handles)-- in one day. Phew!
And, for a change, I made good buys and maybe even good sales Thursday.
Am I a Clever Man or a Fool?Time will tell.
The Princess Bride poison scene is a metaphor for this market because the unexpected will continue to occur in a market without memory from day to day. And, another lesson (as it relates to the movie) is that it is not a good time to be a smart aleck in terms of an inflexible market view.
I don't see Thursday as a new bull market leg and maybe not even as a trend--just as I didn't extrapolate the recent market weakness.
From my perch, since Thursday-- like Tuesday-Wednesday--was not a trend-making day, I would not chase strength (just as I didn't short weakness).
My sense is that the market's gyrations will make most (like Vizzini) dizzy in the weeks ahead.
I added to my bond short Thursday--I felt Thursday and Wednesday's fixed-income price action may confirm my notion of a "buying climax" in bonds on Tuesday.
The market benefited from some favorable EPS releases-- Foot Locker (FL) - Get Foot Locker, Inc. Report , CSX (CSX) - Get CSX Corporation Report etc.--polls in France and a better leading economic indicator print. As well, the Fear/Greed Index reading had moved way to the left.
Stocks were up from the "get go"--faltering a bit near the end of the trading day.
* The US Dollar weakened.
* The price of crude oil was down fifteen cents after yesterday's -$2 loss. Closed at $50.26.
* Gold fell small.
* Ag commodities got schmeissed: wheat -13, corn -4.50, soybeans -3.50 and oats+3.50.
* Lumber +4.40.
* Bonds fell in price (rose in yield - by 3 bps) for the second day in a row.
* The 2s/10s curve was flat at 104 basis points.
* Municipals got hit and so did closed end muni funds.
* Junk bonds continue to be well bid - a signpost to me of economic health. ( Blackstone/GSO Strategic Credit Fund (BGB) - Get Blackstone / GSO Strategic Credit Fund Report flat.)
* Banks rallied, as did insurance and brokerages. Hartford Financial Services (HIG) - Get Hartford Financial Services Group, Inc. (HIG) Report lagged its brethren.
* Autos got a bid, finally. Still, value traps, imho.
* Retail did well following the good EPS at Foot Locker. Upside in Nordstrom (JWN) - Get Nordstrom, Inc. (JWN) Report , Macy's (M) - Get Macy's Inc Report , Kohl's (KSS) - Get Kohl's Corporation (KSS) Report and Walmart (WMT) - Get Walmart Inc. Report .
* Old tech settled down after IBM (IBM) - Get International Business Machines (IBM) Report digested Wednesday's big fall.
* Big pharma was slightly better bid.
* But biotech was essentially flat--a disappointment. Though, Allergan (AGN) +$2 (I added Wednesday).
* Consumer staples were mixed. KimberlyClark (KMB) - Get Kimberly-Clark Corporation (KMB) Report led the downside. CampbellSoup (CPB) - Get Campbell Soup Company Report , down early (and looking like it might be breaking down) recovered in the afternoon to show a gain on the day.
* Ag equipment ++ with Caterpillar (CAT) - Get Caterpillar Inc. Report up by almost two beaners.
* Media strong.
* Rails better after blow out EPS at CSX (CSX) - Get CSX Corporation Report . UnionPacific (UNP) - Get Union Pacific Corporation Report +.
* Energy stocks were slightly higher despite a lower crude oil price.
* Media was quite strong.
* Optical stocks failed to rally after Wednesday's schmeissing. Be careful out there in this space--as I cautioned Wednesday.
* (T)FANG mixed and generally underperformed Thursday. Tesla (TSLA) - Get Tesla Inc Report hit on a recall and small moves away from it.
* Twitter (TWTR) - Get Twitter, Inc. Report better for a second day, after a Steve Ballmer endorsement Wednesday.
Here are some value added contributions on our site:
1. Back from the Pacific Northwest Jim "El Capitan" Cramer is singing a sweet song after spending quality time with his daughter.
2. Mark " Nashville Cats" Sebastian has some "inside baseball" comments that are well worth reading.
3. RevShark writes the bulls get some Rolaids.
4. Antonia "The Big 'O'" Oprita on the worrisome outlook for French banks.
5. I am solidly in simpatico with Divine Ms M's blueprint for the markets. Rally and then go down.
Position: LONG CPB large HIG large AGN large TWTR large; SHORT DIS small CAT small TLT large .
Trade Opportunistically and Trade Often

Originally published April 20 at 1:10 p.m. EST
The market without memory from day to day--the theme of a series of columns in my Diary this week--continues in place.
My response? Trade opportunistically and often!
With solid leading economic indicators and a healthcare vote coming as early as next week--the key feature, at least to this observer--is the more than five basis point rise in the 10-year US note yield
This supports my notion that we saw a possible buying climax in bonds on Tuesday.
With the 10-year yield now at 2.255% we are close to resistance at 2.27%.
My guess, is if the French election cooperates over the weekend, that figure will be easily breached.
As to stocks, I have gradually moved to a tactical position of being long (in net exposure terms).
So far, so good.
While I am leaning long--it is my full intention to re-establish shorts, but I plan to give this move (abetted by ETFs and price momentum strategies like risk parity and volatility trending) to exaggerate the upside relative to the fundamentals and extended valuations.
Position: Short TLT .
Action Alerts PLUS, which Cramer manages as a charitable trust, has no positions in the stocks mentioned.