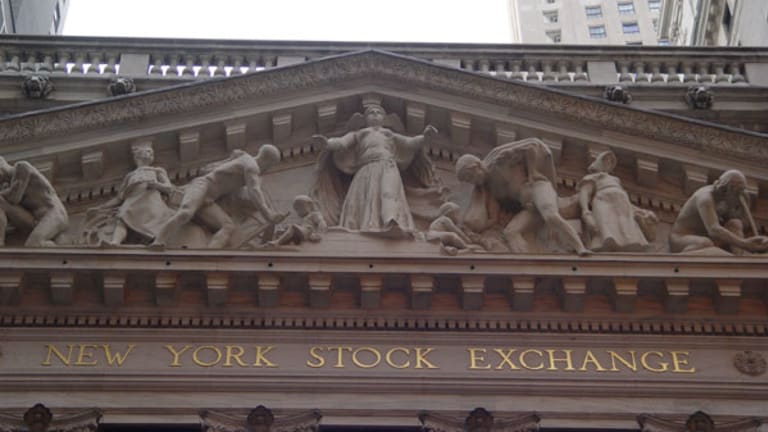 Takeaways and Observations; The Good, the Bad and the Ugly: Doug Kass' Views
Doug Kass shares his thoughts on Apple, Allergan and Western Digital.
Doug Kass shares his views every day on RealMoneyPro. Click here for a real-time look at his insights and musings.
Takeaways and Observations
Originally published April 10 at 4:36 p.m. EST
"Doug Kass wrote an article today about how he fears the lack of fear in this market. I agree with Doug that lack of fear is an issue, but it goes further than that. What this market has missed for quite some time is strong emotion. There may not be much fear, but there isn't much euphoria either. I can't recall the last time market players were celebrating the action like they did at times prior to the Great Recession of 2008-09. There is no high-fiving and celebration. In fact, bulls are more likely to grumble about being underinvested and being in the wrong stocks than they are to talk about how the indices are at new highs.."
- Rev Shark, Yes, Market Lacks Fear, but There's No Emotion Either

Several columns from me on the same theme:
* I Fear the Absence of Fear of Loss
* More Wall Street Nonsense on Display
* Thinking and Trading Opportunistically on the Short Side
Trade of the Week--Long a current fave-- Allergan (AGN) - Get Allergan plc Report ! Goldman issued some sweet talk on the name this morning.
I leaned short into the small rally today. And I added to my Treasury short. And to ProShares UltraShort S&P500 (ETF) and to SDSProShares Trust UltraPro Short QQQ ETF (SQQQ) - Get ProShares UltraPro Short QQQ Report longs.
A positions update after my prime broker changeover.
A Reminder Why Telsa Doesn't Turn My Crank!
On the market, I remain unimpressed. While the BOTDers are clearly still around, they have been unable to mount a sustainable rally over the last week or two.
I should be shorter than I am, but I want to remain more disciplined in waiting for the market to give me a green light on the short side--so I am less anticipatory!
* The US Dollar weakened today.
* The price of crude oil rose by +$0.76 to $53/barrel.
* Gold lost -$2.
* Ag commodities: wheat +4, corn +7, soybeans flat and oats -1.
* Lumber -$4.40.
* Bonds rallied in price, declining by about one basis point. The 10-year US note closed at 2.366%. I shorted more TLT at $121.40.
* The 2s/10s curve was flat on the day.
* Municipals caught a small bid.
* High yield also was stronger. Blackstone / GSO Strategic Credit Fund (BGB) - Get Blackstone / GSO Strategic Credit Fund Report up three cents, back near $16/share.
* Banks, however were lower again. Thursday is a key day for the money center profit reports--my guess is they are a penny or two better than consensus and that the stocks have discounted the reports and could
be vulnerable to profit taking. I am a short seller on any eps induced strength later in the week.
* Insurance stocks rose modestly, Hartford Financial Services (HIG) - Get Hartford Financial Services Group, Inc. (HIG) Report is starting to turn back up (+$0.40). I am a short seller in Metlife (MET) - Get MetLife, Inc. (MET) Report and Lincoln National (LNC) - Get Lincoln National Corporation (LNC) Report on a 3% or more rally.
* Brokerages were mixed with Morgan Stanley (MS) - Get Morgan Stanley (MS) Report down and Goldman Sachs (GS) - Get Goldman Sachs Group, Inc. (GS) Report up better than a beaner. I would be a short seller +3% to +5% rallies.
* Autos caught a small bid after recent underperformance and EPS downgrades. Value traps, still!
* Retail continues to rally-- JCPenney (JCP) - Get J. C. Penney Company, Inc. ReportHome Depot (HD) - Get Home Depot, Inc. (HD) ReportNordstrom (JWN) - Get Nordstrom, Inc. (JWN) ReportTarget (TGT) - Get Target Corporation Report and Kohl's (KSS) - Get Kohl's Corporation (KSS) Report upside leaders as BAT disappears into the background.
* Biotech was dead flat. There was some pressure on spec biotech on Monday. (AERI, SAGE, etc.)
* Big Pharma was mixed with Bristol-Myers Squibb (BMY) - Get Bristol-Myers Squibb Company Report and Eli Lilly (LLY) - Get Eli Lilly and Company (LLY) Report , up and Merck (MRK) - Get Merck & Co., Inc. (MRK) Report andJohnson & Johnson JNJ down.
* Consumer staples were broadly higher. Campbell Soup (CPB) - Get Campbell Soup Company Report rallied--there is a buyback put under the stock.
* Old tech was weaker.
* Ag equipment was much stronger. Caterpillar (CAT) - Get Caterpillar Inc. Report is back into my shorting zone.
* Media weakening late in the day. Disney (DIS) - Get Walt Disney Company Report down. I should be adding to my short!
* (T)FANG, everybody's favorite (I mean EVERYBODY'S!)--broadly higher with Tesla (TSLA) - Get Tesla Inc Report (on a stupid analyst upgrade), and Amazon (AMZN) - Get Amazon.com, Inc. Report leading the pack.
Here are some value added contributions on our site today:
1. Jim "El Capitan" Cramer on up, up and away.
2. Ben "Goldfinger" Cross explains why gold wont swoon.
3. RevShark on an emotionless market -- addressing my " Lack of Fear" post this morning. His is a good one -- and discusses emotion, in a broader sense. Rev doesnt think a market lacking fear is a negative or contrary to contend with. By contrast, I believe it's a measure of complacency -- we need not be euphoric to be complacent. Weigh both arguments and pick a side!
4. Oil Vey from Dan Dicker.
5. Carolyn Boroden wants to protect her Apple (AAPL) - Get Apple Inc. (AAPL) Report profits. I want it to go down!
Position: LONG CPB large, HIG large, AGN large, SDS, SQQQ; SHORT DIS small, CAT small, AAPL small.
The Good, the Bad and the Ugly

Originally published April 11 at 2:05 p.m. EST
"It's not a joke, it's a rope, Tuco. Now I want you to get up there and put your head in that noose. --Blondie, " The Good, the Bad and the Ugly"
So let's move to the abbreviated Monarch Notes form of "Takeaways, " with "The Good, The Bad and The Ugly."
The Good
* Thus far, the "flight to safety" trades worked today--bonds, bond equivalent stocks, yen/dollar, gold.
* The market brought in dip buyers--though I am not sure it will last today.
* Lumber +$10 - an outsized move.
* Thus far, though down modestly, (T)FANG remains the place to be.
* Seagate Technology (STX) - Get Seagate Technology PLC Report and Western Digital (WDC) - Get Western Digital Corporation Report +.
The Bad
* The opposite of " flight to safety" trades didn't work today - financials, industrials.
* Despite better fixed income, high yield was offered.
* Apple (AAPL) - Get Apple Inc. (AAPL) Report and its suppliers.
* New lows in "value trap" auto OEMs.
* Biotech not so hot with Celgene (CELG) - Get Celgene Corporation Report , Gilead (GILD) - Get Gilead Sciences, Inc. (GILD) Report , Allergan (AGN) - Get Allergan plc Report lower. But speculative biotech was worse-- SAGE Therapeutics (SAGE) - Get SAGE Therapeutics, Inc. Report , Intrexon (XON) - Get Intrexon Corporation Report , and Valeant Pharmaceuticals (VRX) weaker.
* Optical space lower on China and Apple fears. If you own the smaller ones for takeover--I would reconsider for now.
The Ugly
* Alliance Data Systems (ADS) - Get Alliance Data Systems Corporation Report , Mallinckrodt (MNK) - Get Mallinckrodt Plc Report , Royal Caribbean Cruises (RCL) - Get Royal Caribbean Cruises Ltd. Report , United Continental (UAL) - Get United Airlines Holdings, Inc. Report , Micron Technology (MU) - Get Micron Technology, Inc. (MU) Report and Franklin Resources (BEN) - Get Franklin Resources, Inc. (BEN) Report all weak.
Position: Short AAPL small .
Action Alerts PLUS, which Cramer manages as a charitable trust, is long AAPL, WDC and AGN.