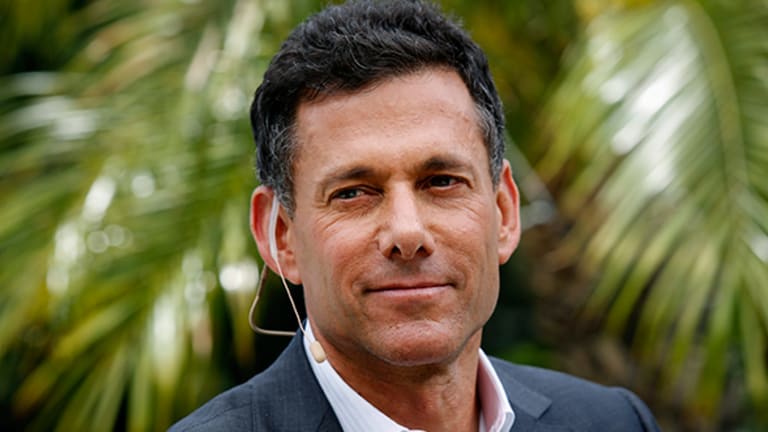 Take-Two Interactive CEO Strauss Zelnick: 'We're Here to Delight Customers'
As the E3 electronic gaming convention closes, the publisher of hit franchises such as 'Grand Theft Auto' and 'NBA 2K' discusses the impact of mobile games, eSports and virtual reality.
Video game publisher Take-Two Interactive (TTWO) - Get Take-Two Interactive Software, Inc. Report is on a roll.
The company behind mega-hit franchises such as Grand Theft Auto, Red Dead Redemption, NBA 2K, Civilization, and WWE 2K ended fiscal 2016 with the third consecutive year of stronger-than-expected revenues and profits, and its stock price is up more than 33% over the last 12 months, compared to a decline of almost 2% for the S&P 500.
At the Electronic Entertainment Expo (E3) this week, Take-Two's 2K division showcased new games such as Mafia III, Sid Meier's Civilization VI, WWE 2K17, and NBA 2K17. And the company's Rockstar Games division continues to expand Grand Theft Auto V with new online content, including the recently released update, "Further Adventures in Finance and Felony."
Take-Two chairman and CEO Strauss Zelnick talked with us in an exclusive interview just prior to E3 about the game industry's changing landscape, the importance of E3, and the opportunities virtual reality and eSports open up to the industry.
What is Take-Two doing in the mobile games space?
What we found so far is that when we bring our beloved franchises and brands to the casual and smartphone and tablet market space, we can achieve great success. So we've brought some of our catalog titles that can run well on tablets, including Grand Theft Auto: Liberty City Stories, Grand Theft Auto: San Andreas, and Grand Theft Auto III: 10th Anniversary Edition.
We've also brought Max Payne, Sid Meier's Civilization Revolution, and BioShock. And we've brought a number of titles that play well on smartphones like WWE Super Card, which has been downloaded more than 10 million times, and the My NBA 2K Companion App, which is a significant driver of virtual currency sales.
We tend to not use the word "mobile" because whether something is connected by a wire isn't really the issue. The issue is what's the size screen you are playing the title on, how deep is the title, how much processing power does the device have, and what's the nature of the experience.
Typically, when playing titles on the smartphones, the free-to-play titles for example, they're playing for seven to 10 minutes. But if they're playing a console title -- even if it's on a PC or on a big screen -- they play for many hours. It's a very different type of engagement.
We also tend to look at it through the lens of the model. Are you paying for the experience? [If so,] we're monetizing 100% of the audience, and it's a very engaged audience. Or is it a free-to-play experience, where there's an opportunity to spend money but fewer than 10% percent of players actually do?
You recently hosted the first live competition of NBA 2K12 players. What opportunities is eSports opening up for Take-Two?
We're really excited about what we're seeing in eSports. In the case of our first foray with this tournament, more than 100,000 teams competed in over 2.3 million games for a chance to win a $250,000 and a trip to the Finals. We had livestreaming on Twitch and it was very exciting and very compelling entertainment. 
It's too early for us to see this as a revenue-creating tool, although we remain optimistic. Right now, it's really a brand-building tool. It's a marketing tool for the title. It remains to be seen over time whether there's meaningful sponsorship revenue to be had, or whether the in-game virtual currency sales will be positively influenced by all of this excitement. But it is super exciting in these early days for eSports.
What are your thoughts on virtual reality, and how is Take-Two preparing for this new platform?
There's no doubt there's a lot of excitement about virtual reality and in fact there is hardware now on the marketplace. But there's not a lot of software yet in the marketplace. It remains to be seen how powerful a platform this will be from a commercial point-of-view, and specifically for the entertainment business. And then more specifically for the interactive entertainment business.
The way we look at all new technology is we're here to delight consumers. And if they find a piece of hardware compelling, it's our job to develop and deliver the software to make that the most exciting entertainment experience that one could have. We think with the highest-rated software in the interactive business, we're uniquely positioned to do that.
It's still early and so far not much of an economic opportunity exists, and not much of an install base. So even if we had something ready to bring to market, there aren't enough people with headsets to buy it that would really be meaningful to us. It's more likely that we will continue to follow the market closely and continue to do R&D. We'll be well-poised to bring titles to market if and when there's a meaningful install base.
Sony is launching PlayStation VR this October. What impact do you see that new platform having on the VR ecosystem?
Sony (SNE) - Get Sony Corp. Report is a great consumer marketing company. They're obviously experts in interactive entertainment. They've done a great job with the launch of PlayStation 4. They're a standard in much of the world, so they're incredibly well-positioned. But we still don't know how the consumer will respond to VR.
One thing that's different about this year's E3 is that big publishers like Electronic Arts (EA) - Get Electronic Arts Inc. Report and Activision (ATVI) - Get Activision Blizzard, Inc. Report didn't have booths on the show floor. What role doe E3 play in the industry today?
E3 remains incredibly important in terms of presence among retailers, the professional people that are involved in the business, and the media exposure of the business. The media play that comes in around E3 is always huge, so there's a real benefit to participating in E3, which is why we're front and center.
I do understand that if someone doesn't have much to talk about, it may not seem like something they want to do in a given year. And certain companies have the point of view that they want to put more of their marketing dollars against purely consumer-related shows, so reasonable people can approach things differently.
The show remains the standard bearer of the business, and whether someone chooses to participate in a given year isn't really the point. Generally speaking, all companies choose to participate in E3 over time.
Nintendo (NTDOY) - Get Nintendo Co., Ltd. Report has already announced Nintendo NX will be coming out in spring 2017. What impact will new consoles from the major players have on the gaming industry over the next couple of years?
It could be very exciting. You never want to count Nintendo out. They go quiet for a while and then they come to market and do something really exciting. We are very interested and watching closely the development of what Nintendo plans to do next.
This article is commentary by an independent contributor. At the time of publication, the author held no positions in the stocks mentioned.