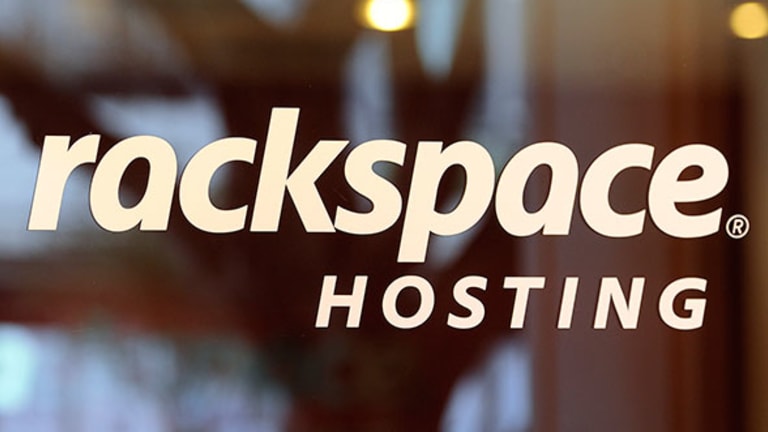 It's now time to take some profits from Rackspace Hosting (RAX) off the table and wait for clearer signs of the stock's next direction.
Rackspace is set to report second-quarter earnings results after the closing bell Monday. The data-hosting tech company saw its shares soar more than 18% on Friday, reaching a high of $31.53 on rumors it may be acquired. The stock ended the day up 10.2%. But this isn't the first time M&A speculation has taken hold of Rackspace stock.
What we do know is that trading Rackspace has been profitable, up 47% in six months and delivering 30% gains since I first recommended buying the shares in May at around $22 per share. On June 6, at around $24 per share, the charts told us Rackspace stock was heading higher. I also recommended doubling down on July 15 at around $23. If you followed these trades, you've made money.
Take a look at the chart, courtesy of TradingView.
Rackspace shares closed Friday at $29.27. The stock, which is up 15.6% year to date, has risen 31% in the past three months and 47% in the past six months. This compares with a 6.8% year-to-date rise in the S&P 500 (SPX) index. The stock has now risen some 43% since falling to a low of $20.49 on May 10.
At this point, there is nothing in the chart that suggests Rackspace stock should be held, given that the shares have surpassed every key metric used to assess its next direction.
Neither the technicals nor the fundamentals are at play here. It's all rumor.
The stock is now trading almost 13% above its average analyst price target of $26.
The risk-vs.-reward calculation has turned negative, as the stock could immediately fall if nothing regarding M&A happens. With 30% gains in three months on the table, it would be a smart move to take some profits and wait for the dust to settle.
This article is commentary by an independent contributor. At the time of publication, the author held no positions in the stocks mentioned.