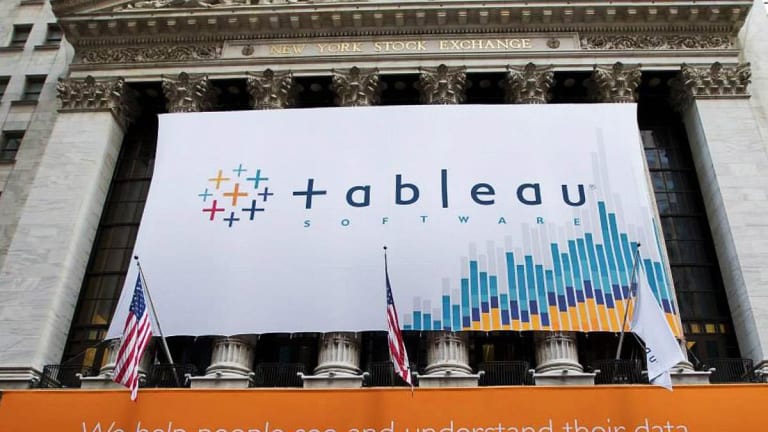 Tableau Execs Talk About New Software, Battling Microsoft, M&A and More
CFO Damon Fletcher and product chief Francois Ajenstat see new features helping Tableau's analytics software win over more rank-and-file office workers.
Ten months after launching a cheaper version of its analytics software that's aimed at non-technical users, Tableau Software (DATA) - Get Tableau Software, Inc. Class A Report  has rolled out an update that makes it easier for such workers to interact with its platform.
This week, Tableau, a top provider of business intelligence and data visualization software, officially launched Ask Data, a feature that lets users of its software make natural-language data requests (for example, "What were our sales in Italy in January?," or "How much did our inventory grow over the last week?"). The feature, which leverages technology obtained from Tableau's 2017 acquisition of startup ClearGraph, is part of a new release for Tableau's analytics software known as 2019.1.
In addition to Ask Data, 2019.1 adds a revamped mobile app, support for a data management software add-on and the ability to quickly export charts and dashboards to Microsoft (MSFT) - Get Microsoft Corporation Report PowerPoint. It follows the April 2018 launch of a low-cost Viewer subscription option for Tableau's software that aimed to grow the company's reach with rank-and-file office workers. Like prior releases, 2019.1 is being rolled out to all users of Tableau's platform.
The launch of Ask Data and 2019.1 came eight days after Tableau posted a Q4 beat and reiterated its 2019 revenue guidance. The company reported its revenue -- pressured a bit in the short-term by a business model shift towards software subscriptions relative to up-front licenses -- rose 11% based older ASC 605 accounting rules. In 2019, based on the ASC 606 accounting rules it adopted last year, revenue is expected to grow 15% to 21%, with annualized recurring revenue (ARR - it stems from software and maintenance subscriptions) expected to grow about 35%.
I recently had a chance to talk with Tableau CFO Damon Fletcher (previously interviewed last August) and chief product officer Francois Ajenstat about the Ask Data launch, as well as several other things. Here's a look at some of the topics discussed.
How Ask Data Uses Machine Learning
"Tableau's mission has always been to help people see and understand data....we're always trying to find ways to make data easier to use by more people," said Ajenstat as he began going over Ask Data's feature set. He highlighted Tableau's role in making interactive data analysis more accessible through its launch of a drag-and-drop interface, and noted the company claimed over 86,000 customers at the end of 2018 (up by 15,700 annually).
Ask Data extends this mission, Ajenstat argues, not just through its ability to handle natural-language queries out of the box, but by using machine learning algorithms to better understand a user's intent as more queries are handled. "Instead of having people learning how to interact with the software, we're making the software learn how people think," he said, while adding Tableau is trying to learn how users in different industries ask questions.
Tableau is also relying on machine learning to show a list of recommended questions (based on what queries other users going through the same data have asked) underneath the Ask Data search box. And it's trying to have a good grasp of which query terms are synonymous in order to pull up the right info from a database -- for example, knowing that "LTV" is the same as "long-term value," or that "revenue" might be synonymous with "bookings" at a particular company.
Separately, Tableau is less than seven months removed from launching a programming interface (API) known as Extensions that lets users access (among other things) third-party AI/machine learning models -- including ones developed using the cloud machine learning services provided by the likes of Google and Microsoft -- simply by dragging and dropping the models into Tableau's software. Once this is done, non-technical users can easily use the models to do things such as gauge financial risk or perform sentiment analysis.
Ask Data Versus the Competition
Tableau is far from the only analytics software firm to add support for natural-language queries. Top rival Microsoft (MSFT) - Get Microsoft Corporation Report , for example, has added a natural-language tool known as Q&A to its Power BI analytics software, and last year, Salesforce.com (CRM) - Get Salesforce Inc. Report  added natural-language support to its Einstein Analytics platform.
When asked about what sets Ask Data apart from an offering such as Power BI's Q&A, Ajenstat argued a key differentiator relative to rivals is that Tableau's solution doesn't require data to be moved to its platform to work, thus eliminating data duplication and lag times. He also claimed rival solutions such as Q&A often require a lot of setup to work, and that while they allow users to create charts based on natural-language queries, they don't "let you continue to explore the data or think with the data or ask follow-on questions of that data."
During a recent talk with Jim Cramer, Tableau CEO Adam Selipsky also talked up Ask Data's ease of use. "We think it's the type of technology that, over time, can enable millions or even tens of millions of people to work with data without being data scientists," he said.
Microsoft and Salesforce.com are holdings in Jim Cramer's Action Alerts PLUS member club. Want to be alerted before Jim Cramer buys or sells MSFT or CRM? Learn more now.
Large Deals and Customer Growth
The last time I talked with Fletcher, he asserted the launch of Tableau's Viewer plan, which at a cost of just $12 per subscriber per month is easily cheaper than Tableau's more feature-rich Explorer and Creators plans, would open the door to more large-scale customer deployments. This time, he said the plan was a key reason Tableau had 36 customer accounts last quarter that purchased more than $1 million, up from 27 a year earlier.
However, while Tableau has been growing the number of large deals it closes, its total customer adds slowed to 3,900+ last quarter from 4,700+ a year earlier. When asked about this, Fletcher attributed it to Tableau's decision to stop selling a low-cost personal edition for its Tableau Desktop product, which can run on PCs and workstations, and instead try and migrate users to its feature-packed, $70/month, Creator plan.
Fletcher added many deployments of Tableau Desktop's Personal Edition, which cost $35/month, consisted of single users. "[Discontinuing] it has impacted the number of new customer adds, but we believe we're getting more seats with new customers with the new Creator and Viewer offerings," he said.
Competing Against Microsoft
When asked about which competitors Tableau is seeing more or less of these days -- the company's rivals include not just Microsoft and Salesforce, but also firms such as IBM (IBM) - Get International Business Machines Corporation Report , Oracle (ORCL) - Get Oracle Corporation Report , SAS and Qlik Technologies -- Fletcher said Microsoft's Power BI "is the one competitive rival we're probably seeing more these days." But he insisted Tableau, aided by the Viewer plan's launch, is still seeing strong win rates against Microsoft's analytics platform.
In research firm Gartner's 2019 Magic Quadrant report for analytics and business intelligence platforms, Microsoft was (as was the case in 2018) the only one of the 20-plus firms studied to get a higher ranking than Tableau. In addition to selling Power BI subscriptions on a standalone basis, Microsoft bundles the relatively cheap Pro version of the product with the E5 version of Office 365, which goes for $35/user/month.
International Growth and Margin Expansion
Tableau received 31% of its Q4 revenue from international markets, and has said it will invest this year to grow its overseas footprint. Though declining to offer a target for what percentage of Tableau's revenue will come from outside the U.S. this year, Fletcher did say he expects the percentage to gradually "trend upwards," and suggested his company has a long-term goal of getting half its revenue from international markets.
Tableau has a long-term goal of having a 20%-plus adjusted (non-GAAP) operating margin and a 25%-plus free cash flow margin. However, with the company still investing aggressively in sales and R&D, its 2019 goals are more modest. On the Q4 earnings call, Fletcher guided for a 2019 operating margin of 12% to 14%.
M&A Strategy
Tableau has historically shied away from large acquisitions, preferring to buy smaller firms that can provide useful technology assets. The ClearGraph acquisition is a good example, as is Tableau's 2018 purchase of Empirical Systems, a firm developing tools that can automate statistical analysis and data modeling.
When asked about M&A, Fletcher insisted Tableau is willing strike a bigger deal under the right circumstances. "If we felt like there was a strategic opportunity to expand our addressable market and the valuation was right, we would take that opportunity to do a larger acquisition," he said.
And speaking more broadly about M&A, Fletcher said Tableau remains interested in "adjacencies" to analytics. "Anything that makes our customers be able to leverage the use of their data in a more efficient manner are certainly areas that we would target," he said.
Ajenstat added, however, that product integration is a major concern for Tableau when exploring deals. "A lot of times these companies that make big acquisitions...end up with this portfolio of disconnected products and experiences," he said. "One of the things that we think about is connecting the dots."