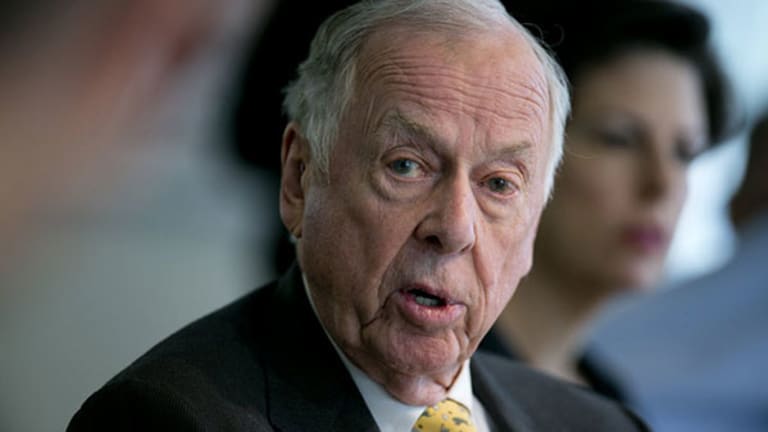 T. Boone Pickens, Famed Corporate Raider, Takes 'Texas-Sized' Fall
Pickens's first billion came after he retired.
Energy magnate T. Boone Pickens said he was in his fourth quarter of life after taking a "Texas-sized fall" last week. The well-known takeover artist who played a starring role in the raucous buyouts of the 1980s said he was still feeling mentally strong after the fall and remained optimistic, but that he no longer feels immortal as he once did.
"Many of those who face adversity like this at 89 choose to hide it," Boone wrote on his LinkedIn page Thursday, July 20. "My life has always been an open book. Some chapters of my life have been great. Others not so much."
Pickens made his money in the oil sector in the frothy period before the stock market crash of 1987. While he did not always manage to take over the companies he targeted, he nearly always profited - selling shares after they skyrocketed in a technique critics call "greenmail."
The financier made tens of millions of dollars for himself and his firm, Mesa Petroleum, between 1982 and 1985, famously attempting takeovers of oil giants like Cities Service, Gulf Oil, Phillips Petroleum and Unocal. In the Unocal bid alone, Pickens made his firm an after-tax profit of more than $80 million, according to the New York Times.
Pickens's first billion came after he retired from Mesa Petroleum and founded BP Capital Management. "Back in 1996, at age 68, I left Mesa Petroleum, the company I founded and directed for close to four decades," he wrote on LinkedIn. "Walking out, I had a goal headline: 'The Old Man Makes a Comeback.' "
Years later, Pickens published his book "The First Billion Is The Hardest," about making a billion dollars in retirement.