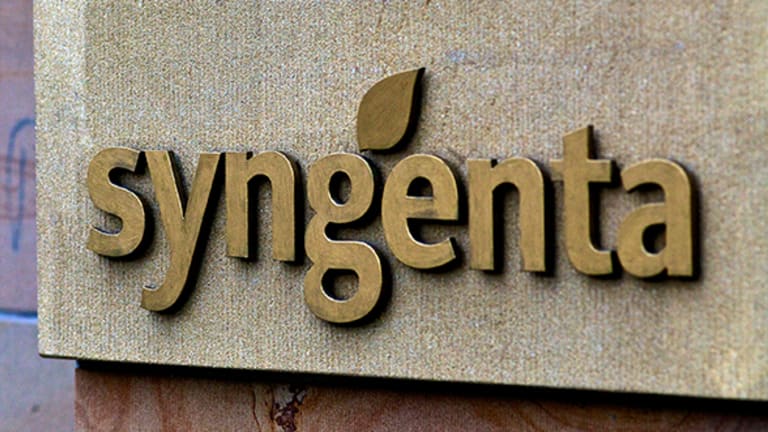 Publish date:
Syngenta Warns of Delay in $43 Billion Takeover by ChemChina
The Swiss fertilizers maker says regulators in the EU and elsewhere have demanded more information.
The Swiss fertilizers maker says regulators in the EU and elsewhere have demanded more information.
Swiss fertilizers maker Syngenta (SYT) on Tuesday warned its $43 billion takeover by ChemChina would close later than expected after antitrust regulators worldwide demanded more information.
The Basel target has since the deal's inception in February said it would close by year-end. But in a third-quarter update on Tuesday it said the completion could happen up to three months later.
"The process of obtaining regulatory approvals is well underway, with CFIUS clearance and 11 anti-trust approvals already received. In a context of industry consolidation, regulators in the EU and elsewhere have recently requested a large amount of additional information, and we now expect the regulatory process to extend into the first quarter of 2017," said CEO Erik Fyrwald in a statement. "ChemChina and Syngenta remain fully committed to the transaction and are confident of its closure."
The takeover, which would be the largest outbound acquisition by a Chinese company, is one of three "mega" deals in the chemicals sector currently wending their way to completion.
The others are Dow Chemical's (DOW) - Get Report complex, $130 billion combination with DuPont (DD) - Get Report , which the EC is subjecting to an extended review amid worries that too much of the market for farm inputs would be in the hands of just a few suppliers; and Bayer's (BAYRY) - Get Report $66 billion bid for Monsanto (MON) , which is seen certain to require disposals to pass muster with antitrust watchdogs.
On Monday it emerged that ChemChina and Syngenta hadn't submitted concessions - such as offers to sell businesses to promote competition - in the EC's preliminary review of the deal by a deadline of last Friday.
The EC has until Friday to wrap up that initial probe.
Syngenta's statement means European regulators look sure to refer the transaction to an in-depth Phase Two probe lasting up to another 135 working days. Companies during an extended investigation can also offer remedies to allay competition worries even if they failed to do so in the preliminary probe.
As well as antitrust issues, another complicating factor in the union is the Chinese government's reported - but as yet unconfirmed - desire to have ChemChina merge with Sinochem Group as part of its wider shakeup of Chinese state-owned enterprises.
But a sign that the deal may escape the perceived security-inspired pushback in the West against Chinese takeovers came in August, when the companies secured clearance from the Committee on Foreign Investment in the U.S. On Monday it emerged that the German government had unexpectedly backtracked on previous clearance of the takeover of semiconductor materials maker Aixtron by a Chinese investor.
Syngenta announce the revised timeframe as it said that third-quarter sales fell 3% to $2.5 billion because of a change in the terms of Brazilian sales.
It reported a "strong recovery in Asia Pacific; solid growth in Europe and North America." It said the Asia Pacific recovery, which propelled sales 22% higher in the quarter, should continue in the fourth quarter and it sees no further impact from the change in sales terms in Brazil.
Fyrwald said Syngenta is still expecting slightly lower sales at constant exchange rates, with a mid-single digit decline in reported sales, in the full year. Its Ebitda margin is expected to be around last year's level.
Syngenta shares in Zurich closed Monday down 5.8% at Sfr397.50. That's well under the Sfr480 price of the ChemChina bid as of February.