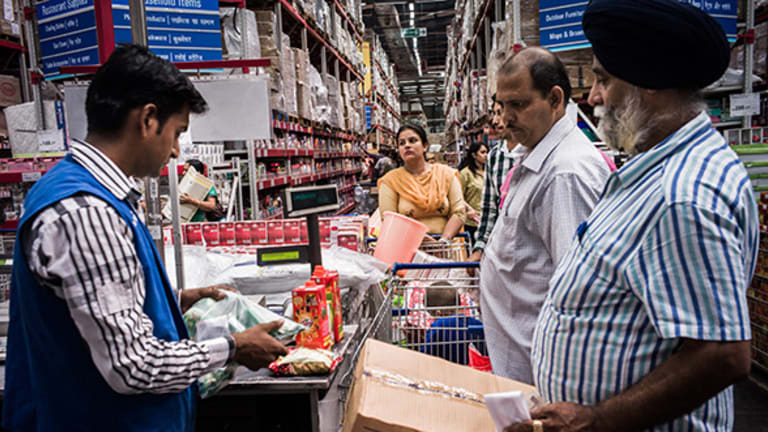 Synchrony Surges on Strong Earnings, Truce and Deal With Walmart
The financial services company issues strong fourth-quarter net earnings; confirms dismissal of lawsuit and extension of partnership with Walmart's Sam's Club.
Shares in financial services company Synchrony Financial (SYF) - Get Report  surged Wednesday after it announced strong fourth-quarter earnings and an extension of its lucrative and long-standing partnership with Walmart Inc.'s (WMT) - Get Report Sam Club.
The Stamford, Conn.-based company said it earned $783 million, or $1.09 a diluted share, in its fourth quarter, vs. $385 million, or 70 cents, a year earlier. Net interest income increased 11% from the fourth quarter of 2017 to $4.3 billion, while loan receivables grew $11 billion, or 14%, from the fourth quarter of 2017 to $93 billion.
Shares of Synchrony rose 10.7% on Wednesday to close at $29.40.
Separately, Synchrony announced an extension of its strategic partnership with Walmart'sSam's Club segment to continue offering club members enhanced financing options through Sam's Club-branded credit cards.
As part of the extension, Synchrony will continue to manage and service the credit card programs for Sam's Club members across the retailer's nearly 600 clubs.
Synchrony also announced it  reached agreement on the sale of the Walmart loan portfolio currently serviced by Synchrony. The portfolio is expected to transfer late in the third quarter or early in the fourth quarter of 2019.
The company further announced that it has reached an agreement with Walmart to dismiss its lawsuit against Synchrony. WalMart in November filed a lawsuit in an Arkansas federal court that sought damages of at least $800 million against Synchrony for allegedly breaching their agreement for credit cards issued to Walmart's shoppers.
"Obtaining certainty around the Walmart portfolio and a renewal on Sam's Club is a great outcome for the company," Synchrony CEO Margaret Keane said in a separate statement. "We look forward to continuing to deliver innovative products and excellent customer service to Sam's Club members."