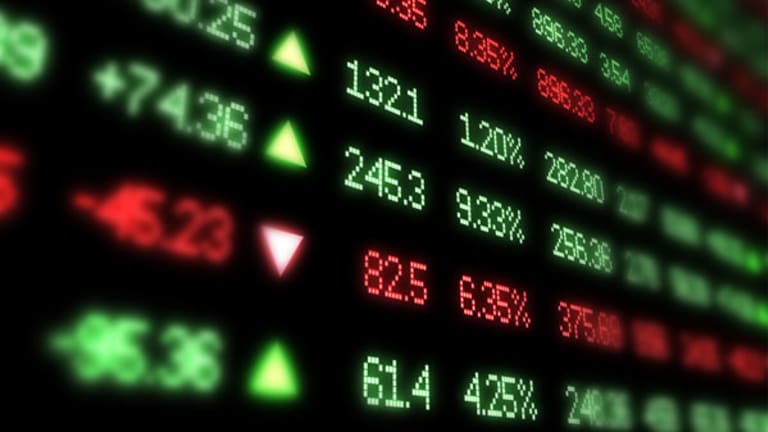 Jim Cramer shares his views every day on RealMoney. Click here for a real-time look at his insights and musings.
Cramer: Listen to the Sweet Sounds of These Numbers
Yes, at last, the preponderance of evidence is apparent.
Originally published April 20 at 1:34 p.m. EST
I am talking about how so many more companies are doing well that their stocks are overwhelming the politics, the bonds, oil, anything standing in the facts' way.
Just think about it. American Express (AXP) - Get American Express Company Report says things are good and getting better. CSX (CSX) - Get CSX Corporation Report delivers the first good quarter, I mean clean good quarter, in ages. I really liked not just coal--which could be distorted by Australian weather--but minerals and autos and chemicals.
Then Foot Locker (FL) - Get Foot Locker, Inc. Report says things are going well in April, with comps up by double digits. This happens at the same time that Matthew Boss, who is the best in retail, tells us February may have been the trough in sales and he upgrades Gap (GPS) - Get Gap, Inc. (GPS) Report stores, saying the turn in Old Navy is sustainable.
Then we get good numbers from both Unilever (UL) - Get Unilever PLC Sponsored ADR Report and Nestle? Two for two in these gigantic packaged-goods companies, with emerging markets, the bane of our existence for ages, really catching fire.
Or how about Snap-On (SNA) - Get Snap-on Incorporated Report , which had become the shorts' favorite whipping boy, betting that it was advancing way too much credit to small businesses that can't afford it. Not true. It was organic sales, as we will find out tonight when I interview CEO Nick Pinchuk.
Then Key (KEY) - Get KeyCorp (KEY) Report delivers the best regional number with excellent net interest margins, which had helped reignite the group.
Of course, the research then kicks in: two positive notes about Apple (AAPL) - Get Apple Inc. (AAPL) Report , a very positive note on Disney (DIS) - Get Walt Disney Company Report and ESPN, of all things, a solid piece about Alphabet (GOOGL) - Get Alphabet Inc. Class A Report saying it should be the numbers, something that seems pretty likely given that outfits like American Express are getting 60% of their new business from digital, which is usually code for Google or Facebook (FB) - Get Facebook, Inc. Class A Report . Starbucks (SBUX) - Get Starbucks Corporation Report catches another upgrade, this time from Stifel. They are talking about 5%-6% U.S. comps, which would be a big deal given that business had slowed. (KEY, AAPL, GOOGL, FB and SBUX are part of TheStreet's Action Alerts PLUS portfolio.)
Then a real semiconductor skeptic, Chris Danely at Citi, says it is "time to back up the minivan" for the semis including Texas Instruments (TXN) - Get Texas Instruments Incorporated Report , Micron (MU) - Get Micron Technology, Inc. (MU) Report and Microchip (MCHP) - Get Microchip Technology Incorporated (MCHP) Report , two of which we highlighted in Off the Charts last night.
The only stinkers? EBay (EBAY) - Get eBay Inc. Report , United Rentals (URI) - Get United Rentals, Inc. Report , Travelers (TRV) - Get Travelers Companies, Inc. Report and Verizon (VZ) - Get Verizon Communications Inc. Report . The first had issues for certain--spent a lot of money and didn't get as good a return. I would tell them to go buy Live Nation (LYV) - Get Live Nation Entertainment, Inc. (LYV) Report to build up StubHub. I am not kidding. They would own the entertainment market. United Rentals? I didn't feel nearly as negative after listening to the conference call because rates improved sequentially. Travelers did a great job underwriting but storms will be storms. And then there is Verizon, which suffered a bad loss in post-paid connection. What can I say? That business is incredibly competitive and Verizon had to drop rates. Perhaps they will pick up new subs next quarter from those lowered rates. In the meantime, that big dividend protects you.
In other words, it is all coming together.
The data support a higher market.
And people are paying attention to the data.
Action Alerts PLUS, which Cramer co-manages as a charitable trust, is long KEY, AAPL, GOOGL, FB and SBUX.
Cramer: Have Faith in International Strength
Originally published April 17 at 1:48 p.m. EST
How far can we go on a failed missile test and the end of tax season?
Historically, we are in the stronger part of April, a good month until we get the "sell in May" nonsense.
We are right on the cusp of earnings season, and I remain a believer in the international strength.
But the narrative of rate hikes and a bond sell program into what is most certainly a weaker time in the economy makes you blanch about the opportunities. I do believe the oil price, as I mentioned last week, is on the downslide given that north of the $50s is where massive U.S. oil futures selling by real companies comes out because they are locking in such fabulous prices.
We are really in a difficult place if rates go lower because there is simply no way every piece of data can create a counterstory, save a win for Trump.
All weekend I have been thinking that if this administration were simply to start pushing for repatriation as a parallel track in order to save what is increasingly looking like an embittered moment, then there could be an opportunity.
In other words, something positive from Washington combined with decent earnings from international companies based at home could produce some decent gains.
My hesitation comes from JPMorgan (JPM) - Get JPMorgan Chase & Co. (JPM) Report . That was a truly great quarter. We can find flies on anything and I know they have been found on that one, but it is just too hard to reconcile a big run with that stock down so hard from its highs.
It's my key to this market and I want to be sidelined except for some victory profit-taking in Arconic (ARNC) - Get Arconic, Inc. Report until I see the whites of IBM's (IBM) - Get International Business Machines (IBM) Report and Bank of America's (BAC) - Get Bank of America Corp Report eyes. (Arconic is part of TheStreet's Action Alerts PLUS portfolio.)
Random musings: Yes, we like Lilly (LLY) - Get Eli Lilly and Company (LLY) Report and Incyte (INCY) - Get Incyte Corporation (INCY) Report and are hoping for some second-day down moves to perhaps get even more interested.
Action Alerts PLUS, which Cramer co-manages as a charitable trust, is long ARNC.
Action Alerts PLUS, which Cramer co-manages as a charitable trust, is long SNA, KEY, AAPL, GOOGL, FB and SBUX.