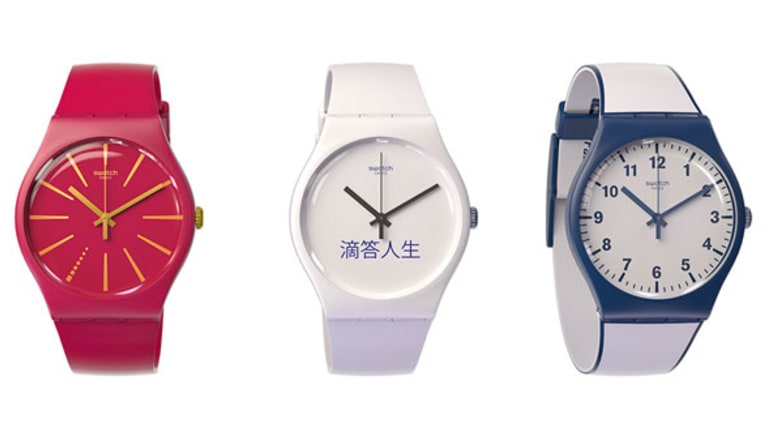 Swatch Says Time Has Come for a Sales Rebound but Misses Analyst Expectations
Switzerland's biggest watch maker is bullish for 2017.
Swatch Group AG (SWGAY)  shares gained in Zurich Friday after the luxury watchmaker said it expected a strong second half of the year driven by new product launches and the return of Chinese buyers.
Swatch said it had a "positive outlook for the second half of 2017 with many new product launches (and) good development in production, which will mainly profit from the growth of the own brands, not only in value but also in volumes" despite reporting revenue of Sfr3.7 billion ($3.9 billion) that narrowly missing analyst expectations. 
Swatch shares rose 0.51% in early trading to changes hands at Sfr71.60 each and taking them into positive territory for the three month period.
Swatches operating margins increased almost 25% over the first half, rising to 13.2% from 10.7%, despite negative currency effects due to the strong Swiss franc. Operating earnings rose 5.1% to Sfr371 million on an operating margin of 10%, up from 9.5% over the same period last year.
Analysts had been hoping for a first half revenue figure of about Sfr3.74 billion, based on the Bloomberg compiled consensus, and Ebit of Sfr389 million.
"The main driver of the miss appears to stem from the production division...as third party brands have delayed production orders to meet their current demand levels, highlighting the time lag for an industry reset through the supply chain post two years of slow growth," noted Goldman Sachs analysts including Jamie Bajwa and Alberto D. Agnano.
Swatch's production division makes watch parts and components for third party watchmakers and jewelers.
The Swiss watch market had suffered a three-year downturn that began in 2013, and saw sales fall by about 10% last year to their lowest level since 2011 due to a crackdown on corruption in China, a downturn in the Russian economy and a dip in European tourism following a series of terrorist attacks. Sales of mid-market watches have also come under pressure due to competition from connected watches made by Apple Inc. (AAPL) - Get Apple Inc. Report and Samsung (SSNLF) amongst others.
Swatch on Friday appeared hopeful that the market had hit the bottom in 2016, noting that it had "recorded significant growth" in sales in mainland China, and "very positive sales" in the Middle East. European sales were mixed, while sales in North America rose in local currency terms but were hurt at the group level by the weaker US dollar. 
Exports of Swiss watches increased by 9% in May to Sfr1.7 billion ($1.74 billion) compared with the same month last year, according to data from the Federation of the Swiss Watch Industry. The numbers were significantly higher than April, which saw exports fall 5.7% to Sfr1.53 billion.