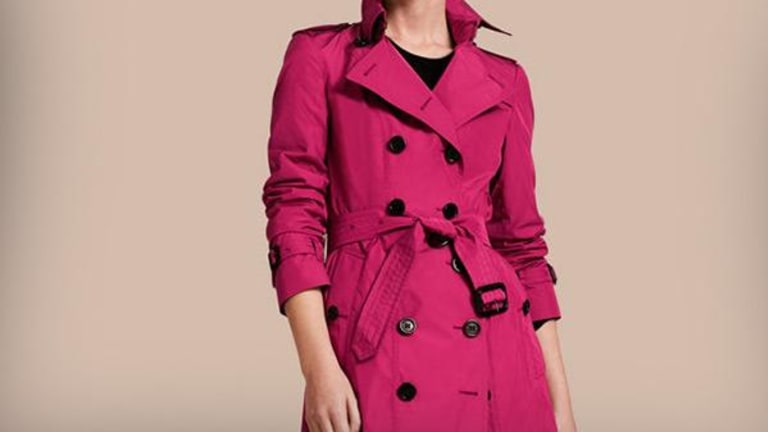 Swatch and Burberry Set to Profit From Luxury Spending Renaissance in China
China's renewed demand for luxury and growing love of sports brands should drive growth over 2017, but not all brands will profit equally.
China will be a motor for luxury good sales growth for the rest of the year, particularly among brands adapted to the country's hunger for online shopping, according to Exane BNP analysts, who are tipping Burberry (BURBY) , Swatch (SWGAY) , Richemont (CFRUY) and Prada (PRDSY) to prosper.
"We expect China and the Chinese market to make a good contribution to global luxury spend growth in 2017," the broker noted in a special report on China titled "The Red Dragon Comes Back."
Luxury goods makers have already noted the resurgence in Chinese demand following a years-long dip in consumption that began with Beijing's crack down on spending by government officials in 2012 and continued as economic growth slowed and house prices fell over 2014, 2015 and into early 2016. Earlier this month, French spirits maker Remy Cointreau (REMYF)  and watchmaker Richemont both beat analyst expectations for the three months to the end of December, citing a rebound in Chinese consumption as key driver.
"We regard Swatch (47% sales exposure to Chinese buyers and 34% to Greater China), Burberry (40% and 21%), Richemont (46% and 24%) and Prada (35% and 20%) as best positioned to benefit from this increasing spending trend," noted Exane BNP's analysts.
It is not only luxury goods brands that are poised to benefit from increased Chinese spending. Exane BNP noted that the multi-year uptick in interest in sport and lifestyle brands and predicted the trend to continue providing improving sales for sports brands including Adidas (ADDDF)   and Lululemon (LULU) .
The bank's report included a number of caveats too, noting that the second half of 2017 is likely to be softer as the economy slows in the lead up to Beijing's annual political congress in the Autumn. It also predicted growing competition from Chinese brands, such as clothes maker Icicle, which are becoming genuine luxury sector competitors, and that many luxury goods sellers still have a weak online presence in a country where digital shopping is increasingly important.
"Digital (in China) is roaring in consumer goods (where)...25 of the 28 major consumer goods companies in China are declining in physical retail," noted Exane. "Consumer goods companies are selling almost 20% of their products on the internet. The fate of U.S. department stores and online penetration in the U.S. seems mild by comparison."