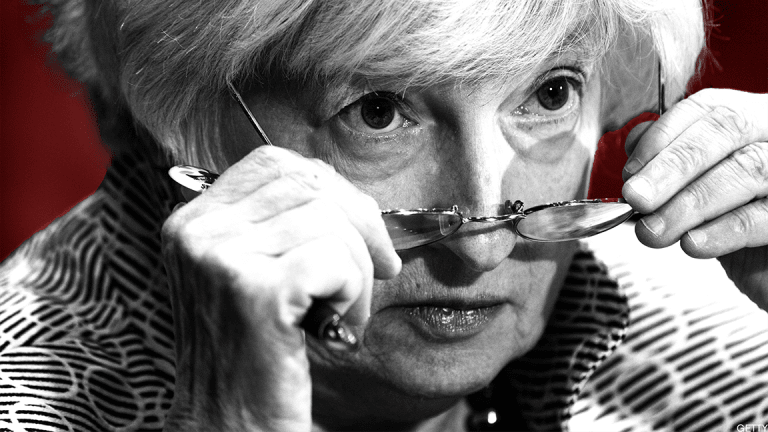 Bitcoin's Explosion and Booming Stock Market Must Terrify Federal Reserve
Even as the Fed raises interest rates, money keeps pouring into equities and bitcoin, which must be disconcerting to the Fed despite what Chairwoman Janet Yellen has said.
The "massive amount of confidence" about where the U.S. economy is going may not be entirely justified and this, coupled with high valuations for equities and the surging bitcoin, must be scary for the Federal Reserve, in the opinion of Vertical Group banking sector analyst Richard Bove.
On Tuesday, the Fed starts its two-day meeting to decide on interest rates. Market participants widely expect the Fed to announce on Wednesday that it is raising interest rates by a quarter of a percentage point for the third time in this tightening cycle, taking them to between 1.25% and 1.5%.
Last Friday's jobs report was better than expected, cementing expectations that the Fed will go ahead and raise rates. But despite the prospect of tighter monetary policy and the terrorist explosion in New York, the Dow Jones Industrial Average and the S&P 500 hit new closing records on Monday.
The S&P 500 is up 21% year to date, the Nasdaq Composite is up almost 28% and the Dow is up more than 23%, according to data from FactSet. The MSCI Emerging Markets index has risen by almost 33% since the beginning of the year.
After Monday's 9% rise to more than $17,150, bitcoin is up a whopping 1,680% this year, drawing comparisons to the dot-com era and to Dutch tulip mania in the 1630s.
"I think the amount of money pouring into the equity markets and other places like Bitcoin, essentially, it must be very frightening for the Fed," Bove told TheStreet in an interview. "I know Janet Yellen said it's not frightening, but it is."
The Fed and other major central banks have held interest rates at record lows for years and have been printing money, which has pushed valuations in the U.S. capital markets at very high levels, levels that cannot be justified looking at the growth of the economy, of incomes or corporate earnings, in Bove's opinion.
The advance in the stock market has been "based on expectations of what it is going to be a big increase in the growth rate, and I don't know why people can feel so confident about that," Bove said.
Some market analysts have cited the Trump administration's tax reform plan, which Congress currently is debating, as a possible catalyst for faster growth for the U.S. economy. But Bove noted that in his first year as president, Ronald Reagan cut taxes, whereas Bill Clinton, in his first year, increased taxes.
"Eight years later, which economy grew faster? The Clinton economy grew faster. Real GDP was faster by a very small amount. The point is that cutting taxes didn't stimulate growth in the U.S. economy more than increasing taxes. But, who the heck wants to look at facts? That always disturbs people's way of thinking," he said.
Currently, U.S. asset prices are supported by money flowing in from abroad and particularly from Europe, where interest rates on many government bonds are still negative, Bove said. But "if (European Central Bank President) Mario Draghi were to start increasing rates in Europe, the dollar would weaken, money would flow out of here, the stock market would crack," he added.
The Fed "doesn't control the system anymore," and though there has been no significant impact of its actions so far, this Goldilocks scenario cannot go on forever, Bove said.
"If you call me a year from now and the Fed has pulled $1.0 trillion from the economy and at the same point in time the fed funds rate is 3% ... I feel very strongly that something very significant will in fact happen. But we haven't seen it yet," Bove said.
More of What's Trending on TheStreet:
Employees of TheStreet are restricted from trading individual securities.