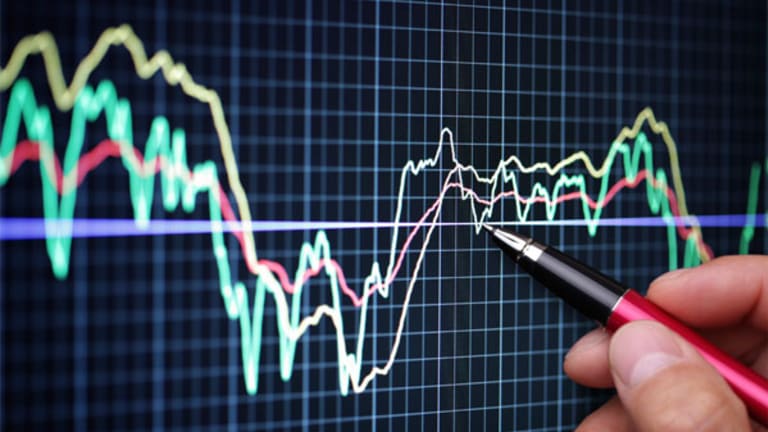 Publish date:
Subpar Reports by Union Pacific, Southwest Are a Puzzlement; Joy Solved: Jim Cramer's Best Blogs
Jim Cramer talks about the mystery of Union Pacific's and Southwest Air's reports and the solution to the puzzle of Komatsu's Joy.
Jim Cramer talks about the mystery of Union Pacific's and Southwest Air's reports and the solution to the puzzle of Komatsu's Joy.
Jim Cramer fills his blog on RealMoney every day with his up-to-the-minute reactions to what's happening in the market and his legendary ahead-of-the-crowd ideas. This week he blogged on:
How Union Pacific's and Southwest's subpar reports are head-scratchers
How the mystery of Komatsu's Joy has been solved
Click here for information on RealMoney, where you can see all the blogs, including Jim Cramer's -- and reader comments -- in real time.
Cramer: Airline and Rail Kingpins Throw a Wrench Into the Earnings Works
Posted on July 21 at 11:15 a.m. EDT
You know I think the economy is getting better. We have seen numerous better-than-expected quarters.
At the time of publication, Jim Cramer's charitable trust Action Alerts PLUS has no positions in the stocks mentioned.
But Thurday, I find myself scratching my head because two of the best transports I follow, Union Pacific (UNP) - Get Report and Southwest Air (LUV) - Get Report , the jewels of their respective industries, gave you distinctly subpar reports with some pretty mealy commentary.
First, Southwest announced a very rare miss and said the business had become very competitive. Revenue per average seat mile, the key metric, was very disappointing, down 3.5%. Capacity, the equivalent of inventory when it comes to the bane of the industry, is gunning up 5%-6%. That means more fare cuts in the future as price wars have broken out all over the place.
Union Pacific was stunningly weak. Look at these volume growth numbers: agricultural products plus 2%; automotive down 2%; chemicals off 3%; industrial products losing 11%; intermodal (the trucks on the trains) down 14%; and coal off 21%. That's a total decline of 11%.
That's not the stuff booms are made of.
You need the facts to buttress the strength that I see out there. You didn't get it with these two fine companies.
It's a chink and, given the declines in the stocks, a big one.
The odd fact here? Delta (DAL) - Get Report and American (AAL) - Get Report both reported better-than-expected months recently. They are not as well run as Southwest. I liked CSX (CSX) - Get Report , which reported first, much more than Union Pacific. Again, highly unusual.
All I can say is I am scratching my head about this.
Working on trying to resolve the conflict of good and bad.
Haven't been able to do it yet.
Cramer: Komatsu's Bid for Joy Was in the Charts
Posted on July 21 at 6:52 p.m. EDT
Wonders never cease with this market. Every weekend, I look at the charts, searching for anomalies, for things that make no sense, technicals that have you scratching your head -- saying "What the heck?"
For several weeks now, I kept coming back with Joy. The fabulous-looking chart of Joy Global (JOY) , that is -- the company that makes and services mining equipment that's principally used for coal.
I did nothing with it. What was there to do? The coal mining business has been going away for years, both here and overseas -- including in China, where it has a ton of business. There are only a handful of publicly traded companies that have anything to do with coal. After an amazing spike in 2010 to 2011 -- the coal supercycle, according to Peabody Energy (BTUUQ) , which was the largest coal concern at the time -- many firms have since filed for bankruptcy, including Peabody. Musk Manifesto or not, we know there aren't going to be any new coal plants built in this business.
So without a reason to buy, I dismissed it week after week. I thought the chart was lying.
Now I know why. It had to have been the chatter of a potential takeover, which was made manifest today with Komatsu's (KMTUY) $28.3 per share bid for this venerable machinery maker.
I used to have Joy's former CEO, Mike Sutherlin, on the show all of the time in the old days of Mad Money.
Joy and Bucyrus International, which was bought at the top of the cycle by Caterpillar (CAT) - Get Report , Komatsu's arch-rival, have been locking horns in this market for years. When CAT snared Bucyrus for $7.6 billion -- Komatsu is paying a little more than half that figure for what I think is the superior competitor -- I know that Joy looked like it was a goner. If you liked Bucyrus, you loved Joy, which had a much better after-market business that amounted to an annuity stream.
But coal collapsed. And Joy, which was at $77 at the time of the Bucyrus bid and then rallied to $102 on the coal hoopla, began the long fall that ended at around $9 this year. Joy is now in the mid $20s.
People shorted it all the way down and all the way back up -- 17% is short. Talk about a time to cover.
Now Komatsu is in there with Joy's clients, giving them the rest of the business -- which is not dumb, because people still use coal.
But more important for me, at least, the mystery is solved. It wasn't errant buying. It was accumulation.
The charts don't lie, after all.
Action Alerts PLUS, which Cramer co-manages as a charitable trust, has no positions in the stocks mentioned.
At the time of publication, Jim Cramer's charitable trust Action Alerts PLUS has no positions in the stocks mentioned.