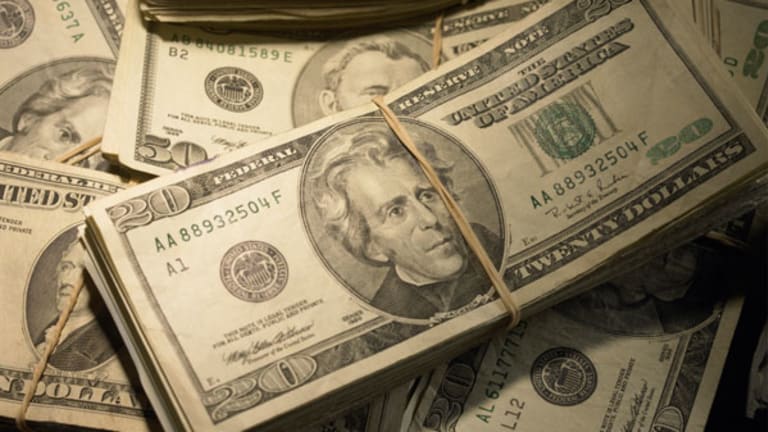 Strength of the Market; Peak Oil Price: Jim Cramer's View
Cramer shares his views on how the market is stronger than you think, and discusses how ConocoPhillips is telling us we're at peak oil price.
Jim Cramer shares his views every day on RealMoney. Click here for a real-time look at his insights and musings.
Cramer: Market's Stronger Than You Think
Posted at 11:11 a.m. on Monday, March 27, 2017
Wait a second. The dollar is weak, helping exports. Interest rates are down, making stocks more attractive. Inflation is low and oil is going down.
That's pretty fabulous for every single kind of stock other than the banks, and I would start to buy the banks here off deregulation.
Now if the stock market is simply nothing but the approval ratings for Trump, then, yes, I could see why you would sell the market.
And if the stock market is totally reliant on the Fed raising rates three times, I could see why you would want to sell stocks.
But if the market is made up of stocks of companies that could do well on their own without tax reform in 2017, then why would you sell other than you are scared that you have been paying too much?
If you are like me, there are many stocks you have been waiting to get in, including some of the banks.
And if you are like me, you are regretting that Micron (MU) or Oracle (ORCL) , two that we know are doing well, didn't come in.
But that's because the market ex the financials is stronger than you think because the world is getting stronger and earnings are pretty darned good.
Action Alerts PLUS, which Cramer co-manages as a charitable trust, has no positions in the stocks mentioned.
Posted at 7:03 a.m. on Thursday, March 30, 2017
Cramer: ConocoPhillips Is Telling Us We're at Peak Oil Price
In one fell swoop, ConocoPhillips (COP) confirmed a lot of what's become the accepted wisdom in the oil patch: the price of crude's not going to roar higher any time soon.
With this decision to sell a huge portion of its Canadian oil sands holdings to Cenovus (CVE) , a smallish Canadian producer, for $10.6 billion in cash and $2.7 billion in stock, Conoco's admitting that its gigantic bet on the ever-higher price of oil is over.
The management don't say it point blank on the call, but the holdings the company is giving up simply aren't all that profitable below $50. It's much better to pay down debt and buy back stock with the cash than to keep pouring money into the dirtiest and most nasty form of oil around, the tar sands.
It would much rather offload the 265, 000 barrels of oil a day net and 1.3 billion barrels of proven reserves and double its three-year buyback from $3 billion to $6 billion and take debt down to $20 billion, well ahead of its targets set just last November.
Why not? At these prices, the gains that the company will attain by paying down debt exceed how much it can make from selling this oil.
And therein lies the key to this whole transaction: the tar sands just aren't worth it below $50. Your stock is a better buy, especially when the transaction drops Conoco's average cost of supply from $40 to $35 and the project being sold actually lowers the company's operating cost.
No wonder it wanted out.
One can only speculate that the economics from Royal Dutch Shell's (RDS.A) undefined offload of much of its tar sands oil to Canadian Natural Resources (CNQ) two weeks ago for $7.5 billion are similar. Better for Royal Dutch to pay down some of its humongous debt load with cash than bet that oil prices will roar someday. The tar sands oil costs a great deal to bring to market because this kind of bitumen oil has to be mixed with expensive diluent to be able to go through a pipeline to get to the refinery.
Now, I am sure some of these sales were in the works before President Trump OK-ed the Keystone Pipeline that would take this oil to the big refineries in the Southeast, a pipeline that surely would have been blocked by Hillary Clinton.
More important, though, it's a statement that the five-year curve for oil, the one that shows oil is going to stay at $50 a barrel for well into the next decade, is correct. Royal Dutch and Conoco are making a pretty severe judgment that the way to make higher profits in oil is to downsize to your best properties and plumb them with recently improved technology than to keep plugging away at expensive, dirty oil that pays off big only at much higher prices.
What does it say about the group? I think it says that the more oil you have in areas like the Permian, where the costs can be as low as half the current price of oil and the pipes are or will soon be available to ship the relatively clean oil to the southeast, the higher your stock price will go and, frankly, vice versa, if you don't upgrade.
This is a stunning retreat. It's an acknowledgement that the glut is real and long-term. It's also a statement that it no longer pays to develop the dirtiest of oil. Of course, Cenovus will attempt to do so and that stock has become a great call on the price of oil.
To me though, I would rather own an almost Canadian Tar Sands-free Conoco then a debt-laden play on that once grand and glorious project.
Action Alerts PLUS, which Cramer co-manages as a charitable trust, has no positions in the stocks mentioned.
Action Alerts PLUS, which Cramer manages as a charitable trust, has no positions in the stocks mentioned.