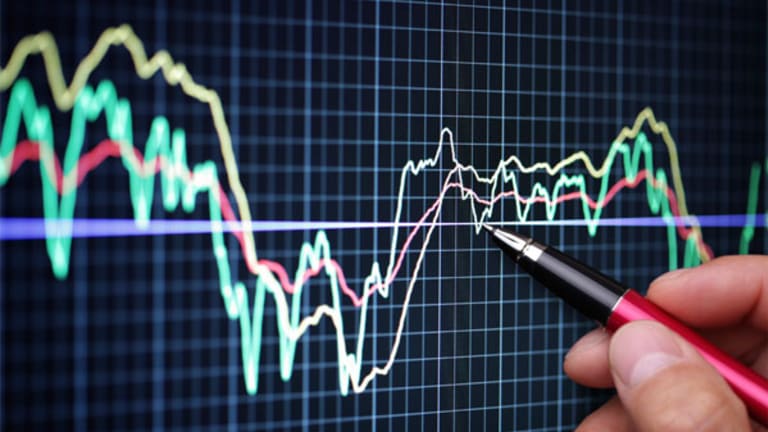 Doug Kass fills his blog on RealMoney every day with his up-to-the-minute reactions to what's happening in the market and his legendary ahead-of-the-crowd ideas. This week he blogged on:
How he is refreshing his near-term strategy.
How Twitter will continue to fly solo.
Click here for information on RealMoney, where you can see all the blogs, including Doug Kass'--and reader comments--in real time.
The Good, the Bad and the Ugly
Originally published Oct. 5 at 4:34 p.m. EDT
"I've never seen so many men wasted so badly."
-- Blondie in The Good, the Bad and the Ugly.
And now it's time to run down the Good, the Bad and the Ugly ... The Bad
The Ugly
I ended the day slightly net long, but that will not last long.
The Good

Bonds (though off their day's low) land bond surrogates in the equity market. Good for me, though, as I remain with a large short position in iShares Barclays 20+ Yr Treas.BondETF (TLT) - Get iShares 20+ Year Treasury Bond ETF Report . The 10-year yield is closing at 1.72%. The 2s/10s spread is back up to 87 basis points.
Dollar Stores (FDO) weak for the second day in a row. (I would continue to avoid; here is my thesis).
Of that I can almost guarantee.
Position: Long DD, HIG; Short TLT (large), NFLX (small), CAT (small).
Refreshing My Strategy for the Near Term
Originally published Oct. 5 at 11:50 a.m. EDT
Bank and insurance company shares have had a spirited advance this week based on better-than-expected U.S. economic data and talk of the ECB tapering its QE.
Bonds have declined in price, and yields have risen to multi-week highs.
Given my negative market outlook and my view that economic growth will show signs of decelerating in the weeks ahead, it appears unlikely to me that the move higher will carry much further.
Which gets me to Hartford Financial Services Group (HIG) - Get Hartford Financial Services Group, Inc. (HIG) Report , my "Trade of the Week." Hartford's shares have risen from $42 to $44.30 -- over 4% in a lackluster market -- since I discussed the ideaon Monday.
Today I plan to reduce HIG from a large-sized to medium-sized position (on a scale higher), and at the same time I am going to expand my insurance short book of Lincoln National (LNC) - Get Lincoln National Corporation (LNC) Report and Metlife (MET) - Get MetLife, Inc. (MET) Report , which are currently small-sized positions.
I am also watching Financial Select Sector SPDR Fund (XLF) - Get Financial Select Sector SPDR Fund Report for an entry point on the short side in the days ahead. Goldman Sachs (GS) - Get Goldman Sachs Group, Inc. (GS) Report and Morgan Stanley (MS) - Get Morgan Stanley (MS) Report , on further strength, will also be short candidates.
On the ProShares UltraShort S&P500 ETF (SDS) - Get ProShares UltraShort S&P500 Report , I live at under $16.40 as another entry point, which would imply one more surge higher in the indices. Same for $217-ish for a short re-enter.
I plan to add to gold on any further weakness as a hedge against central bank lunacy.
Finally, I plan to maintain a large short on iShares Barclays 20+ Yr Treas. Bond ETF (TLT) - Get iShares 20+ Year Treasury Bond ETF Report , reflecting my continued view that bond yields made a generational low in July and will track a slow but steady rise higher in the months ahead.
Again, I am trading opportunistically and will remain flexible, though I have a negative market outlook over the next six months; I do not plan to take on many long-term leases.
Position: Long HIG (large), Short MET, LNC (small).
Look for Twitter to Continue to Fly Solo
Originally published Oct. 5 at 9:06 a.m. EDT
In "Twitter is Either a Strikeout or Home Run," Jim "El Capitan" Cramer outlines the possible deals and market implications of a Twitter (TWTR) - Get Twitter, Inc. Report takeover.
Like Jim, I believe any acquiring company's shares (save Alphabet (GOOGL) - Get Alphabet Inc. Class A Report ) will be vulnerable to a relatively meaningful share price decline.
I put Twitter on my Best Ideas List at $14.60 and took it off about $8 higher a week or so ago because I applied exactly the same rationale that Jim did today in his well-crafted analysis.
I sold the stock because I felt the reward versus risk was about even for Twitter's shares, consequently not justifying continued ownership of the shares at $23.60 (the price at which I took Twitter off of my Best Ideas List).
My view is that given the weak near-term profit/monthly average usage outlook when combined with the dilutive impact of a deal, Twitter may not attract a reasonable price that justifies agreeing to an acquisition and that it likely will remain independent over the next few years despite the numerous indications of interest of late.
With very heavy operational and financial lifting ahead, investors would sell the stock on this outcome immediately, and an opportunity to purchase the stock in the mid-teens might reappear in the very near future.
I don't think there is anything to do with the stock at this time, but we will find out soon enough if I am correct in view.
Position: None.
My Tactical Strategy in the Months Ahead
Originally published Oct. 5 at 8:38 a.m. EDT
S&P futures are trading up six after a slightly weaker-than-expected ADP payroll report.
On weakness I covered all my index shorts earlier in the week and I am currently at my lowest gross and net exposure of the year. I am now at market neutral.
I did initiate a small starter position in gold toward the end of yesterday into the 3 1/2 standard deviation move and the second-largest daily price change in three years.
Overall, given political, monetary policy and other uncertainties, I prefer over the balance of the year to be balanced and not tilting in either direction. Rather, an opportunistic trading style is my near-term desired course.
On Monday I likely will expand upon the artificiality of stock prices, which not only is the provenance of loose central banks' policy but also is delivered by risk parity and volatility trending Quant strategies.
That said, over a three- to six-month time frame I remain unequivocally bearish on both stocks and bonds.
I will also address more peaks (including increased evidence of Peak Autos and Peak Housing) in the days ahead that are illustrative of slowing aggregate domestic economic activity.
Position: Long GLD small; short TLT large.
Action Alerts PLUS, which Cramer co-manages as a charitable trust, is long GOOGL.
At the time of publication, Kass and/or his funds were long/short XXX, although holdings can change at any time.
Doug Kass is the president of Seabreeze Partners Management Inc. Under no circumstances does this information represent a recommendation to buy, sell or hold any security.