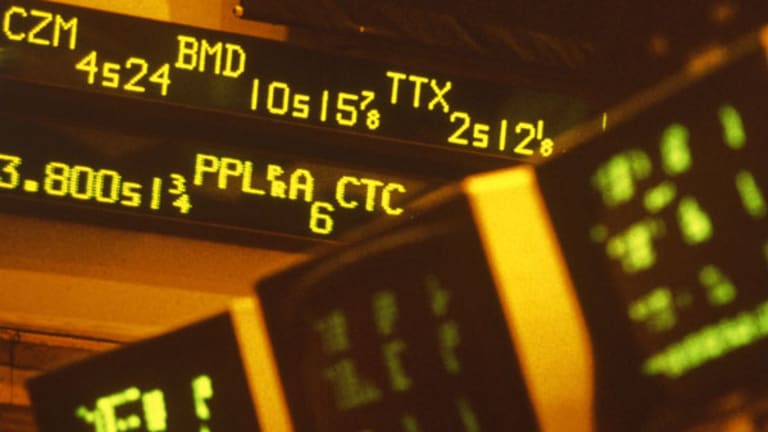 Strategists Focus on Entry Points as S&P Hits Record
Market entry points are critical as the S&P 500 hit a record on Monday, strategists warn, with several predicting a pullback this year amid tighter monetary policy.
NEW YORK (TheStreet) -- Market entry points are critical as the S&P 500 hit a record on Monday, strategists warn, with some predicting a pullback this year amid tighter monetary policy.
Barclays U.S. chief market strategist Barry Knapp said downside risk for equities was limited but warned clients that "paying a slightly above average price for somewhat below average earnings" implied entry points to the market were crucial.
He noted outlook guidance from many companies amid earnings season had been poorly received. Knapp said stronger economic data and firming inflation would likely trigger an equity market drop this year, as the Federal Reserve moved to normalize monetary policy -- with implied rate rises -- at a faster than expected rate.
"Ultimately we believe as the weather gets better so will the U.S. (economic) data and, though the European recovery is flattening out, there are signs global growth is improving," he said.
Wells Fargo Institutional Equity Strategist Gina Adams predicted scant gains from the market from here -- forecasting a year-end finish for the S&P 500 of 1,850. She echoed Knapp's sentiment on the tepid corporate earnings outlook. "We point to two major trends -- emerging market struggles and a weakening consumer outlook -- as largely responsible for downward adjustment to forward expectations," she told clients. Markets were buoyed on expectations of an EU aid package to the Ukraine on Monday, though the outlook for many indebted emerging markets remains fraught.
Greenwood Capital chief investment officer Walter Todd said he would avoid buying the S&P index at these levels but that parts of the market were attractive. "We like tech, though not social media stocks like Facebook (FB) - Get Free Report while financials have lagged in this move up, with opportunities there," he said in a phone interview. Todd also favors industrials, but avoids biotechs. 
Market bulls persist. "This isn't too high an entry point (for the S&P) given we had our fifth 5% correction in January over the past 15 months," Wells Fargo Funds Management chief equity strategist John Manley told The Street. "The basic trend is still up."
He said the market had risen on greater stability in Europe as the Ukraine crisis receded, along with better domestic earnings. On equity drivers, Manley argued the Fed would remain accommodative to an extent that would not crimp further gains. "The S&P is also at 15 times earnings and people say that's expensive, but it doesn't matter as earnings are still coming through," he added.
Meanwhile, strategists are divided on sector-specific outlooks, with Adams favoring financials and shunning consumer staples while Knapp does the reverse. Both avoid utilities and materials but like technology. Key tech stocks were gaining Monday, with Netflix (NFLX) - Get Free Report up 2.5% after agreeing to pay Comcast (CMCSA) - Get Free Report to ensure smooth content streaming. eBay (EBAY) - Get Free Report rose 3.4% after activist investor Carl Icahn pushed for the divestment of its PayPal unit while Facebook was up 3.5% following its controversial $19 billion WhatsApp acquisition.
Monday's equity gains leave the Dow Jones as the only major bourse still below its 2013 close.
-- Written by Jane Searle in New York