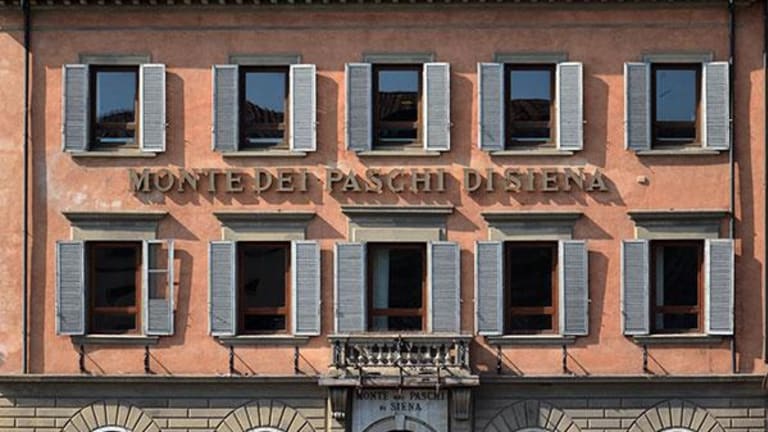 Storm Clouds Gather Over Monte dei Paschi Cash Call as Deadline Looms
Monte dei Paschi will enter January as a new bank -- or it may not see the New Year at all.
Storm clouds gathered over Monte dei Paschi (BMDPY)  Friday after it extended the life of its debt swap program and set the stage for a conclusion to its private-sector cash call.
The Tuscan lender said bondholders now have until Dec. 21 to swap their debt for new equity in the business, representing a five day extension of the original deadline. The decision came in tandem with the board having formally approved the bank's recapitalization plan, which must be carried out before the end of the year in order to comply with the European Central Bank.
Monte dei Paschi had asked the ECB to extend its deadline for the recapitalization into January but the bank rejected the request, saying it would endanger Monte dei Paschi's prospects of survival and wouldn't necessarily make a successful recapitalization any more likely.
Monte dei Paschi shares were trading around 1% higher at €2.81 ($2.99) Friday in Milan, but have lost around 85% of their value so far this year.
The ECB decision may have prevented Monte dei Paschi from merely delaying the inevitable.
In July, it announced that it would sell its €27 billion nonperforming loan portfolio and carry out a €5 billion rights issue in order to shore up its balance sheet, after being pressured over its regulatory capital position by the ECB and imploding during earlier European Banking Authority stress tests.
But the lender, reported to be the world's oldest, has floundered throughout the summer months.
Multiple reports of possible anchor investors have failed to materialize into anything concrete while the bank as said little about progress toward achieving the disposal of its nonperforming loan portfolio - which is a condition of it being able to complete the rest of its capital increase.
Monte dei Paschi said Monday that the syndicate of banks advising on its capital increase, led by JPMorgan Chase (JPM) - Get Report , are no longer underwriting the equity issuance and that this will now be carried out on a 'best effort' basis.
Should it fail to secure a buyer for the NPLs and for the new equity it intends to issue, then Monte dei Paschi could face a so-called resolution - an orderly winding-up at the hands of regulators, in which equity holders lose everything and bondholders are forced into accepting aggressive haircuts.
In this case, the bank will not even see the New Year. 
Monte dei Paschi's rescue was made more complicated last week when rival UniCredit (UNCFF) announced an in-the-bag sale of its own €17 billion bad-loan portfolio and a €13 billion rights issue.
Although both UniCredit transactions are effectively done-deals, they risk sapping any remaining appetite for Italian debt and equity from the market right at a time when it is needed the most.
For his part, UniCredit CEO Jean Pierre Mustier told reporters Tuesday that "the Monte dei Paschi situation will be solved, and by the year-end," but said nothing of how he expects the situation to reach its conclusion.