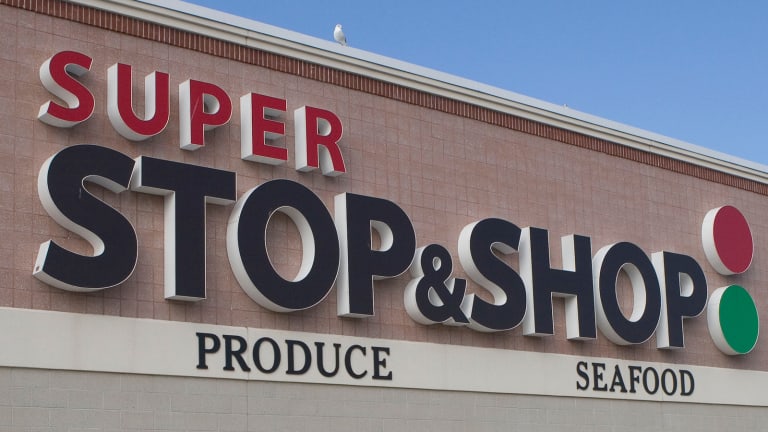 Stop & Shop Owner Ahold Delhaize Stock Spikes on Fourth-Quarter Growth
Ahold Delhaize's stellar growth in Holland offsets mixed U.S. performance.
Ahold Delhaize's stellar growth in Holland offsets mixed U.S. performance.
Ahold Delhaize (ADRNY)  led European blue chip gainers Thursday after the newly-merged Dutch retailer reported better-than-expected sales growth in the fourth quarter.
Ahold Delhaize shares rose 4.71% to €20.39 in the first hour of trading in Amsterdam, extending a their 52 week gain past 10% and topping the Euro Stoxx 50 index of the biggest European companies.
The grocery store group, whose brands include Hannaford, Food Lion and Stop & Shop, reported sales in the fourth quarter were up 2.8% on a pro forma basis. For the full year, sales reached €62.3 billion, up 3.4% on a pro forma basis.
Sales were boosted by a strong quarter in the Netherlands, where comparable sales were up 6.6%. The Zaandam, Netherlands-based company said the performance was driven by innovation and improved service in stores and strong sales growth for its online businesses in the country.
The sales surge in the Netherlands offset a mixed performance in U.S. Ahold, which operates the Stop & Shop brand and saw sales fall 0.2% amid an increase in market share. Delhaize America, whose brands are Food Lion and Hannaford, reported sales growth of 2.2%, prices fell in the quarter by 1.7%. The company did warn that price deflation is still in play in the U.S. with prices down 1.2%.
The Dutch and Belgian groups completed a €25 billion ($26.6 billion) merger in July, giving it greater scale in the U.S. The combination created the fifth-largest retailer in the U.S. and the fourth-largest in Europe. It has more than 6,500 stores and 375,000 staff.
In December, the company said that it intends to doubles it online sales by 2020 from a 2016 level of €2.3 billion in a bid to compete with rival Walmart (WMT) - Get Report .
The grocery store group said it expects free cash flow in 2017 to be around €1.6 billion, up from the €1.3 billion forecast for 2016. It is also targeting a 40% to 50% dividend payout ratio based on pro-forma underlying income for continuing operations.