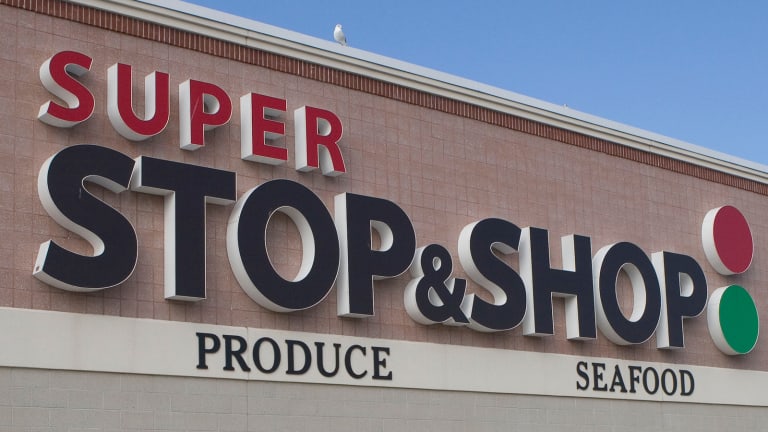 Stop & Shop Owner Ahold Delhaize Plows Ahead With Online Sales
Ahold Delhaize announces a $1.1 billion share buyback following its merger.
Ahold Delhaize announces a $1.1 billion share buyback following its merger.
Ahold Delhaize (ADRNY)  shares gained Wednesday after the Dutch/Belgian retailer launched a €1 billion ($1.1 billion) share buyback and an e-commerce investment plans as it prepares to take on rival Walmart (WMT) - Get Report . 
The grocery store group, whose brands include Hannaford, Stop & Shop and Food Lion, said it intends to double its online sales by 2020 from a 2016 level of €2.3 billion.
Ahold shares gained 1.7% in Amsterdam to trade at €19 each by 10:20 a.m. GMT, trimming the full-year loss to around 3%.
In a statement released ahead of its capital markets day Wednesday, the grocery store group expects free cash flow in 2017 to be around €1.6 billion, up from the €1.3 billion forecast for 2016. It is also targeting a 40% to 50% dividend payout ratio based on pro-forma underlying income for continuing operations.
In July, the Dutch and Belgian groups completed a €25 billion merger giving it greater scale in the U.S. The combination created the fifth-largest retailer in the U.S. and the fourth-largest in Europe. It has more than 6,500 stores and 375,000 staff.
The Zaandam, Netherlands-based company said it expected to generate €500 million in net synergies in 2019. Ahold Delhaize CEO Dick Doer said, "We are convinced more than ever that our merger is the right combination at the right time."
In November, the group reported third-quarter earnings below analysts' estimates. It reported a 4.3% rise in operating income to €513 million in the three months ending in September. Analysts had expected €520 million.
The company was hurt by Food Lion sales due to heightened competition in the U.S. and food deflation. Boer said sales were hit by Walmart slashing prices in key markets such as North and South Carolina. He didn't expect the deflation to ease in the fourth quarter.
At constant exchange rates, third-quarter sales growth in the U.S. slowed to 2.4% at Ahold and 1.1% at Delhaize, the company reported.